Using Faux Wallpaper to Elevate Interiors by Maximizing Visual Impact
What is Faux Wallpaper?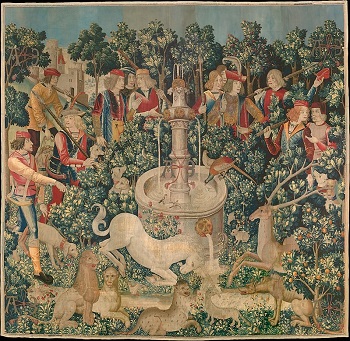 One of the tapestries in the series The Hunt of the Unicorn: The Unicorn is Found, circa 1495-1505, The Cloisters, Metropolitan Museum of Art, New York City, Image in Public Domain, https://en.wikipedia.org/wiki/Tapestry#/media/File:The_Hunt_of_the_Unicorn_Tapestry
Once hand-painted by artisans, wallpaper has evolved significantly since its creation due to centuries of innovation, development of new uses for the product, and the covering's many available variations.
"Faux wallpaper," a wall covering that mimics a texture or material other than paper through high quality printed images, can be traced back to two distinct trends in wallpaper history: scenic wallpaper and mock tapestry.
The first printed wallpaper was created as a substitute for luxe fabrics that often covered the walls of the homes of 16th century royals and wealthy merchants. Many faux wallpapers on the market today are intended to take the place of fabric wall coverings like suede, linen and velvet.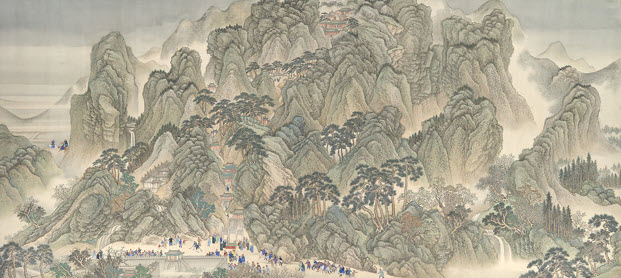 The Kangxi Emperor's Southern Inspection Tour, Scroll Three: Ji'nan to Mount Tai,
Wang Hui, Qing Dynasty, ink and color on silk handscroll, datable to 1698, Image from the Metropolitan Museum of Art, Public Domain, https://www.metmuseum.org/art/collection/search/49156
In the 18th century, "scenic wallpaper" became popular thanks to increased trade between European countries and the Far East. Chinese screens and other landscape-painted pieces were brought from China to England by merchants and traders, inspiring designers to recreate the scenes on sheets of wallpaper.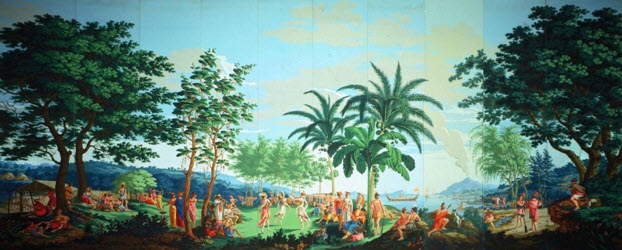 Sauvages de la Mer Pacifique, panels 1-10 of woodblock printed wallpaper designed by Jean-Gabriel Charvet and manufactured by Joseph Dufour, Image in Public Domain, https://en.wikipedia.org/wiki/Wallpaper#/media/File:'Sauvages_de_la_Mer_Pacifique',_panels_1-10_of_woodblock_printed_wallpaper_designed_by_--Jean-Gabriel_Charvet--_and_manufacturered_by_--Joseph_Dufour--.jpg
Early 19th century French wallpaper manufacturers found an opening in the market as the Wallpaper Tax in England continued to stunt the previously monopolistic hold of the British on the industry. French companies jumped on the popularity of idealized scenic imagery and created "panoramic view" wallpaper, which depicted tropical jungles that transported viewers to another world. This type of wallpaper was immensely popular throughout Europe from the early to mid-19th century.
Faux wallpaper imparts a similar effect, as previously bare walls can be suddenly converted into Travertine stone, Spanish tile, cowhide, aluminum, concrete, grasscloth, and much more. Though traditional panoramic and scenic wallpaper took a backseat in interior design after the 1930s, its spirit of transformation has been revived in modern-day faux wallpaper.
Why Use Faux Wallpaper?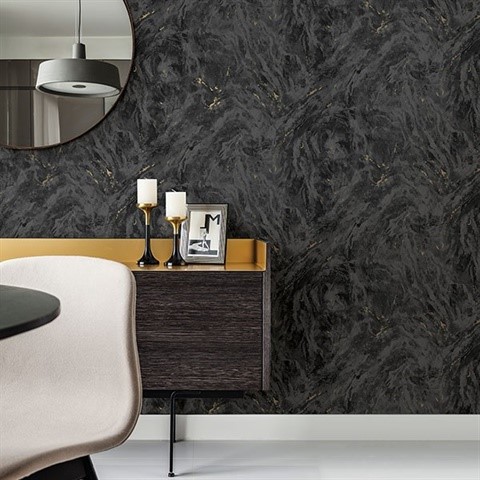 "Titania Black Marble Texture Wallpaper," Image from Wallpaper Boulevard, https://www.wallpaperboulevard.com/product/titania-black-marble-texture-wallpaper-45999.aspx
Adding faux wallpaper to a living room, bedroom, office, or kitchen allows one to try on a Japanese aesthetic, achieve a European flair, or jump on the here-to-stay Scandi trend without breaking the bank or making a long-term interior style commitment.
Faux wallpaper can be used to create the illusion of new architectural elements, to add depth to wall niches and built-in elements, or to provide texture, structure, and dimension to a simple studio apartment.
Faux textile, wood, or metal wallpapers also provide the desired appearance without the high cost, care, or attention required of real fabric, wood, or metal. Some faux wallpapers incorporate actual texture, providing additional detail to an already interesting wall covering.
Textured wallpaper has become such a desired design element that the Wallstreet Journal dedicated a 2011 article to it: "Wallpaper Stands Out – Literally."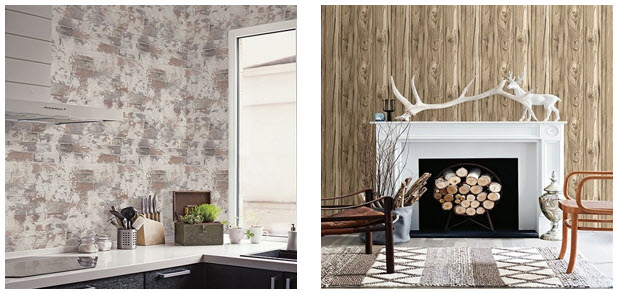 (Left) "Red Deconstructed Faux Brick Wallpaper" from Wallpaper Boulevard, pictured on kitchen wall, Image from Wallpaper Boulevard, https://www.wallpaperboulevard.com/product/red-deconstructed-faux-brick-41178.aspx and (Right) Living space with ornamental fireplace, Features "Paneling Brown Wide Plank" faux wallpaper from Wallpaper Boulevard, Image from Wallpaper Boulevard, https://www.wallpaperboulevard.com/product/paneling-brown-wide-plank-15169.aspx
Faux wallpaper can also be used to modernize a home or achieve a certain atmosphere. A condo surrounded by Mediterranean bungalows can quickly become an East Coast brownstone by adding a distressed brick wallpaper to the interior. An outdated kitchen can be revived by papering the walls with faux-concrete, marble, or geometric tile.
Fashionable interior design themes become instantly achievable: a driftwood wallpaper turns the home into a coastal getaway, wooden paneling wallpaper turns a den into a ski lodge or cozy cabin, and more, faux-stone wallpaper can be added to elevate a simple attic bedroom.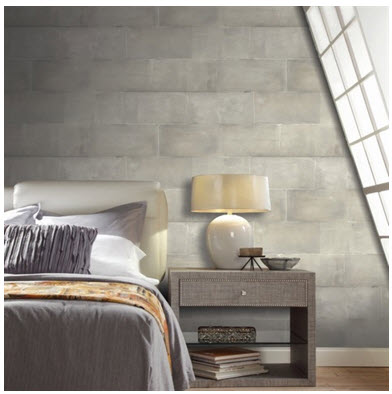 "Quarry Block Wallpaper," https://www.wallpaperboulevard.com/product/quarry-block-36649.aspx
The many available variations in color, implied texture, scale, and more skews makes faux wallpaper versatile and designing around it easy.
For example, the soft gray Quarry Block Wallpaper pictured above can be feminized with complimentary mother of pearl and gold accents, mirrors, and soft textiles, but can also be made more masculine by adding industrial lamps, geometric elements, and dark metal accents.
Faux Wallpaper Styles for Exciting Design Trends
Modern Mediterranean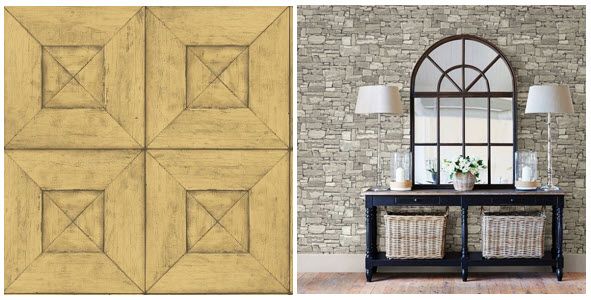 (Left) VERITY WHEAT WOOD WALLPAPER , https://www.wallpaperboulevard.com/product/verity-wheat-wood-37954.aspx and (Right) TALLULAH TAUPE STONE WALLPAPER, https://www.wallpaperboulevard.com/product/tallulah-taupe-stone-36458.aspx
In her article "Everything You Need to Know About Mediterranean-Style Houses" for Elle Décor, Monique Valeris explains the timelessness of Mediterranean-style villas, many of which were built on the West Coast of the US during the Roaring Twenties.
The desire for a Roman holiday or Greek getaway has never subsided in the imaginations of American designers and many wealthy residents (like Grey's Anatomy's Ellen Pompeo, who recently shared photos of the interior and exterior of her Los Angeles villa with Architectural Digest) continue to invest in sprawling terracotta-roofed properties.
Valeris describes the key interior elements of a Mediterranean style home as "stone details, carved doors and…warm woods," all of which can be achieved with faux wallpaper.
Patterned Tile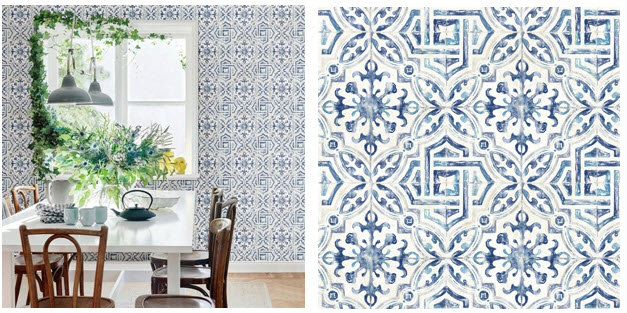 "Sonoma Navy Spanish Tile Wallpaper," https://www.wallpaperboulevard.com/product/sonoma-navy-spanish-tile-wallpaper-45483.aspx
One of the forecasted interior design and décor trends for 2020 is patterned tile. The most significant style so far this season has been blue and white tile. An April 2020 article by Kacie Goff for Fresh Home, titled "Patterned Tile: What the Portuguese Can Teach Us About Style," describes the azulejo technique of painting ceramic style, which has been created throughout Portugal for centuries.
According to Goff, these blue and white painted tiles are a hit for bathrooms, kitchens, stairs, and patios. However, ceramic tiles are pricy and require careful installation; a similar look can be achieved by choosing Wallpaper Boulevard's Sonoma Navy Spanish Tile Wallpaper (pictured above).
Scandinavian Simplicity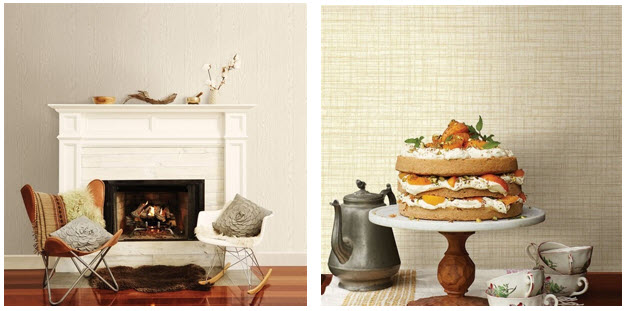 (Left) GREENWICH CREAM WOOD WALLPAPER, https://www.wallpaperboulevard.com/product/greenwich-cream-wood-30226.aspx and (Right) MENDOCINO LIGHT YELLOW LINEN WALLPAPER, https://www.wallpaperboulevard.com/product/mendocino-light-yellow-linen-wallpaper-43652.aspx
Scandinavian style trends have recently experienced a surge in popularity in both the United States and throughout Europe; the Danish lifestyle concept of Hygge has become especially poignant over the last year and mid-century Swedish textiles and ceramics have also peaked renewed interest.
As such, it is no surprise that the Scandinavian sensibility has found its way into full-scale home interior design.
Pale wood, whites and creams, and soft woven textiles, each key aspects of Scandinavian design, are all elements that can be expressed with faux wallpaper, whether the choice is a linen textile wallpaper like the Mendocino Light Yellow Linen Wallpaper shown in the above right image, or a pale wood covering like the Beige Faux Wood Chevron Wallpaper or the Simpson Light Brown Geometric Wood Wallpaper in the below images.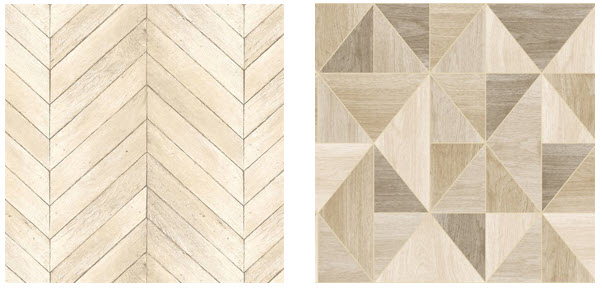 (Left) BEIGE FAUX WOOD CHEVRON WALLPAPER, https://www.wallpaperboulevard.com/product/beige-faux-wood-chevron-41145.aspx and (Right) SIMPSON LIGHT BROWN GEOMETRIC WOOD WALLPAPER, https://www.wallpaperboulevard.com/product/simpson-light-brown-geometric-wood-wallpaper-40341.aspx
Limitless Uses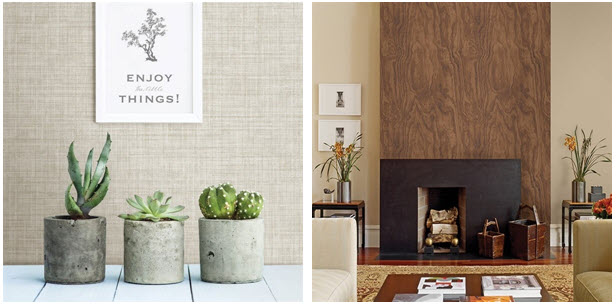 (Left) Concrete potted plants with background of MENDOCINO BEIGE LINEN WALLPAPER https://www.wallpaperboulevard.com/product/mendocino-beige-linen-wallpaper-43634.aspx and (Right) BENTHAM BROWN PLYWOOD WALLPAPER, https://www.wallpaperboulevard.com/product/bentham-brown-plywood-wallpaper-21122.aspx
Faux wallpaper was designed as a wall covering but can be used for many other home decorating projects.
Faux wallpaper is ideal for decorating home furnishings and accessories, as well as adding excitement to ceilings and doors. Use it to improve cheap accessories and less exciting design elements like plastic planters, manufactured wood shelving, doors, picture frames, storage containers, blanket ladders, scarred tabletops, ceiling fan blades, lampshades, and so much more.
Add a cement effect wallpaper like those shown in the images below to turn plastic planters into chic pots with a cast-concrete look like those above.

(Left) Wooden chest with JONA MULTICOLOR TRAIL WALLPAPER in background, https://www.wallpaperboulevard.com/product/jona-multicolor-trail-wallpaper-43623.aspx, (Center) DRIFTWOOD GRAIN WALLPAPER, https://www.wallpaperboulevard.com/product/driftwood-grain-36643.aspx, (Right) BENTHAM BROWN PLYWOOD WALLPAPER, https://www.wallpaperboulevard.com/product/bentham-brown-plywood-wallpaper-21122.aspx
One may also apply faux wood wallpaper on the ceiling to create a special feel, especially in an attic or room with sloped ceilings or walls or use wood wallpaper to create a wood grain effect on plastic or manufactured wood surfaces.
Used in the latter manner, faux wood wallpaper, such as one of the above pictured from Wallpaper Boulevard, can turn a basic sideboard into a bespoke piece of furniture.
The applications of faux wallpaper are practically endless, allowing anyone to transition their home, hotel, or commercial space towards a new aesthetic!