Change your home's dynamics in a snap with a fresh wallpaper pattern. The common rooms in your home are usually the first to be upgraded, and hardworking bathrooms deserve upgrades.
If you've been hesitant to wallpaper your bathroom for fear of water damage, the powder room may be your best bet.
Most full bathrooms are well-suited for wallpapering, but since the powder room has no shower or bathtub to steam up the small space, there's no reason not to elevate this humble room with exciting new wallpaper.
The powder room is usually a quick stop for guests, so choose wallpaper that makes a great first impression. This is the perfect place to embody your elegant style, wow your guests with exciting prints, or share your love of marine life.
Whatever your taste, Wallpaper Boulevard has the perfect piece. Check out some of our favorite powder room ideas!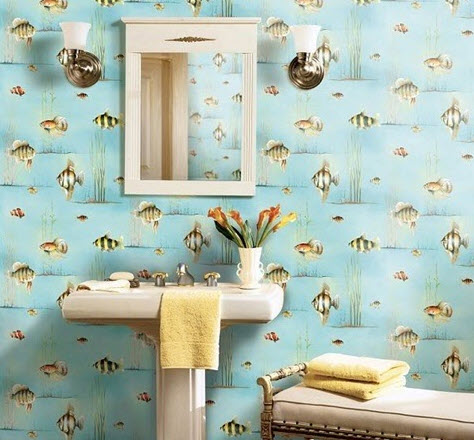 Small Space, Big Impact
At an average of only 20 square feet, the powder room doesn't require much to make an impression. "But just because these small half-baths—as they're sometimes called—aren't known for being spacious doesn't mean that they can't be some of the most characterful rooms in a home," says Dwell.
For some, this means choosing a subtle pattern is the best choice. This is perfect for people who wish to keep their rooms looking elegant, clean, and tidy like this champagne and gold powder room. We love the honeycomb-inspired design and timeless color palette.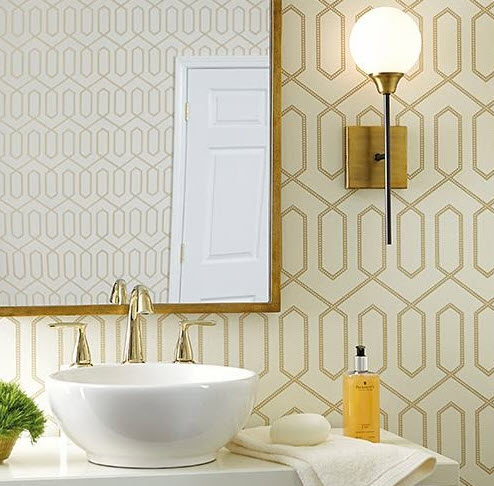 Other decorators see the small space as an opportunity to go big. A small space with even a few rolls of wallpaper will speak volumes.
This blue and purple tropical leaf pattern explodes with tropical enthusiasm. With wallpaper this adventurous, there's little need for additional decor. Just a mirror and basin will do!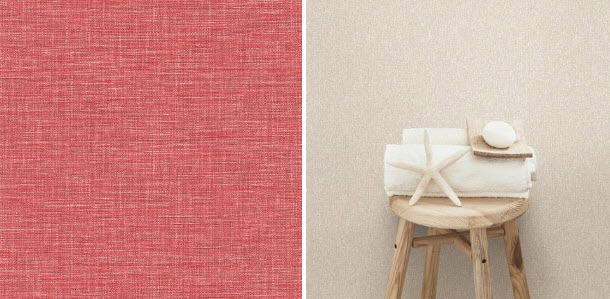 Super Solids
An undecorated powder room is white or cream with surfaces and fixtures to match -- an uninspiring palette on its own. Solids, however, are welcome in a small space where intricate patterns may feel overwhelming. This Old House advises decorators to "Find the perfect wallpaper design for your bath by taking color cues from your hard surfaces. For a striking look, pair neutral hard surfaces with a contrasting color; similar tones will create a soothing environment."
This coral faux grasscloth pops with personality. Try this sweet textured wallpaper with smooth gold finishes for a fresh and flirty feel.
Beige linen wallpaper looks beautiful in any home, opening the door to endless color combination possibilities.
Total Immersion
Already have enough solids in your home? Ready to make a splash in the half bath? This small space is perfect for entertaining your guests with four walls of fun wallpaper.
White wainscoting and light-colored decor keep the powder room light and formal, no matter what the wallpaper pattern. Equally enjoyed by cartoon-loving children and avante-garde adults, this yellow pineapple wallpaper brings a smile to anyone's face in this sunny half-bath.
Blue crab print wallpaper combines classic Cape Cod colors with an eye-catching crustacean motif. These two bathrooms look like traditional designs at first glance, but up close, the homeowners' personalities really shine.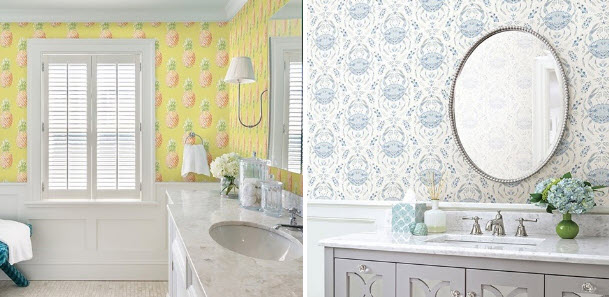 For homes with a rich color palette, Rifle Wallpaper Co specializes in intricate patterns like this colorful leaf and berry motif. The depth of color against white surfaces and handsome wood makes this half bath bright and relaxing.
The Parisian fashion print in the powder room on the right packs a punch of personality. Petite spaces allow you to indulge in your favorite patterns or themes without committing your whole home to a particular style.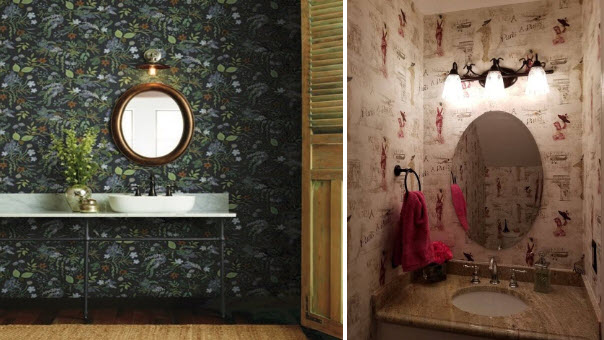 Go Green
Every room of the house looks great in florals or leaf patterns, but we especially love bold tropical leaf patterns in the powder room. This modern classic feels contemporary and fun with a throwback floral twist. Enjoy a lush forest, minimalist fern pattern, or outside-the-box rainforest flora complete with fauna.
This spa-inspired powder room features Wallpaper Boulevard's many green leaf patterns in a vibrant green. A light colored wood vanity with sleek design elements keeps this look from becoming overwhelming.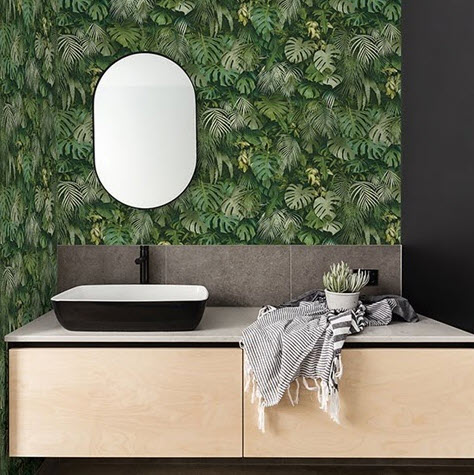 Fun in the Sun
Bathrooms and powder rooms are a natural fit for your favorite nautical prints. Classic nauticals, like waves, seashells, and ships are perfect for coastal homes. Choose one aquatic wallpaper to indulge in a fully nautical experience, or opt for a matched pair of papers to entertain your seaside fantasies.
These sea life sketches would make a handsome accent wall when paired with these simple wide stripes. Emphasize the grayscale design with silver surfaces and decor, then add a pop of color. Navy blue wall hangings would complete this elegant nautical powder room. If blue is your favorite color, match faux wood slats with relaxing blue hammocks for a casual, yet classy half bath.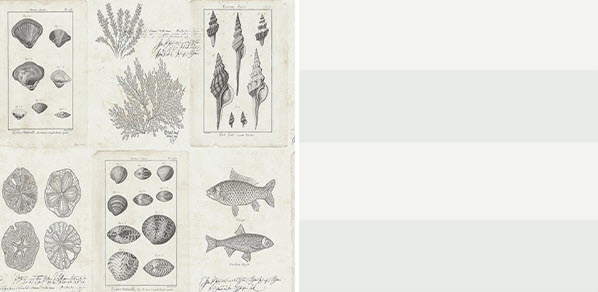 Evoke the feel and texture of the salty ocean with rich blue faux grasscloth on three walls, then match the sandy palm trees pattern for your accent wall. When you can't be on the beach, these tropical colors will make your powder room your in-home oasis.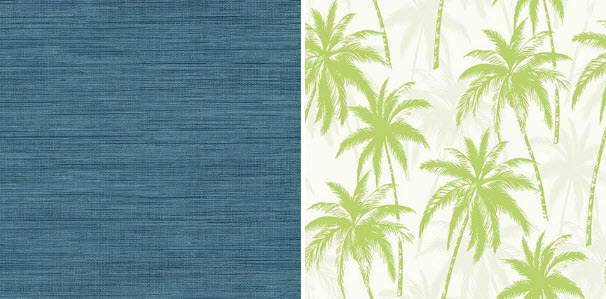 Jewelry Box
New York Times's Tim McKeough aptly calls the powder room "the hummingbird of the home." To us, that means shimmering foils, rich jewel tones, and gemstone-inspired patterns are welcome in the powder room. The small working space inspires creativity and boldness that might not work elsewhere. "Dark, saturated colors and large-scale patterns that might seem overwhelming in a living room or bedroom are often ideal for a powder room," McKeough adds.
Candice Olson's designer print, Onyx, takes the fascinating striations of gemstones and blends them into a flowing, soothing pattern. Paired with gold and white decor, this little powder room is a crown jewel.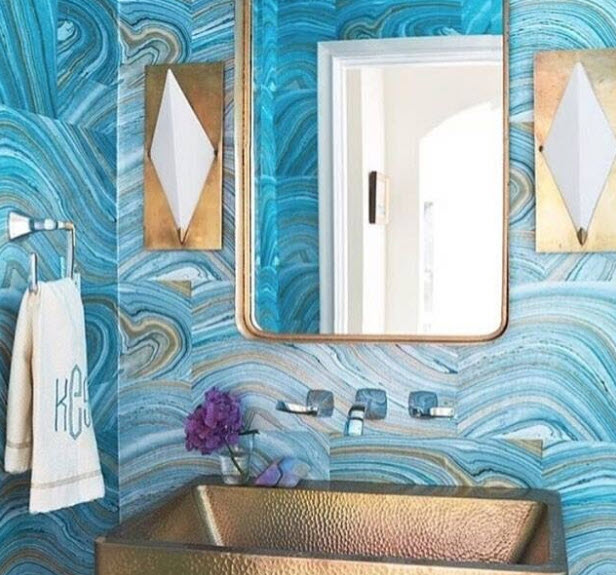 Dive Deep
Rich colors and luxurious textures are perfect for the powder room. The low moisture levels of the room mean that you can indulge in opulent touchable wallpapers. These masculine faux wooden slats make this powder room a handsome addition to any home.
Use gentle lighting to complete the sensual effect. Faux leather is a luxurious textured wallpaper option for a romantic half-bath off a master bedroom.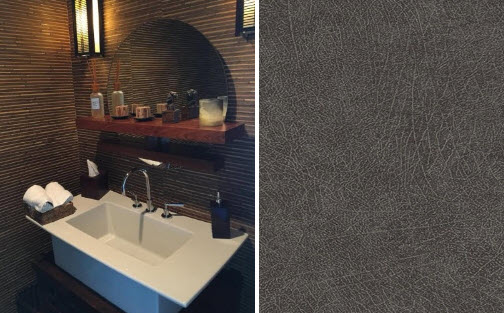 Mad for Plaid
Plaid is on trend in 2021. The simple criss-cross patterns and textures fit seamlessly into almost any design, and what better room to try out the trend than the powder room?
Try this Instagram-ready pattern in the powder room on its own or with coordinating colors. The woven buffalo check (left) pairs well with woodland scenes or shabby chic solids. We like this blue and yellow plaid that works equally well in country cottages and beach resorts.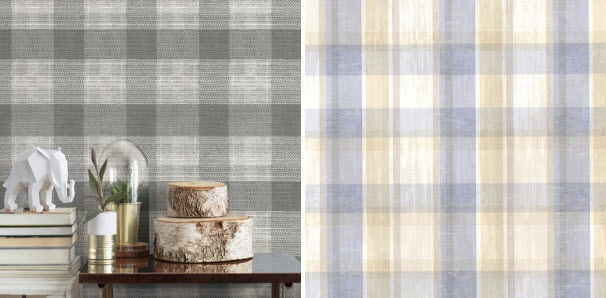 That Iconic Zebra Print
If you're shopping for wallpaper, it won't take you long to come across a ubiquitous red zebra wallpaper. According to the designer, "Zebras features an animated sketch of two Zebras prancing around politely placed arrows on top of a lively colored wallpaper." With a description like that, it's no wonder that Wes Anderson used it on the set of his film, "The Royal Tenenbaums."
You'll find Scalamandré's cheerful safari animals in any room of the house, but thanks to their placement in the 2001 film, they've set up camp in modern powder rooms around the world. Wallpaper Boulevard offers this iconic print in a rainbow of colors.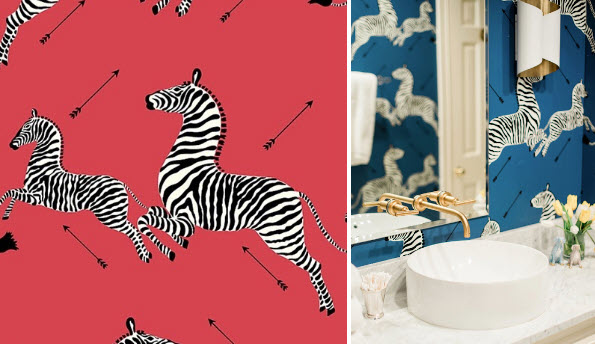 Designer Style
If you've had your eye on premium wallpapers from A-list designers, redecorating the powder room may satisfy your craving for luxury. Since the powder room doesn't require very many rolls of wallpaper, renovators on a budget can enjoy top of the line wallpapers without worry.
Wallpaper Boulevard carries patterns from celebrity designers including Candice Olson and the Scott Brothers, Stacy Garcia, Missoni, and more. Explore the higher-end designs
We love Riga Sfumato from the Missoni Home collection as a sunset-like accent to your beautiful half-bath. Subtle and shimmering Alchemy adds intense visual interest to the powder room. Paper the entire room, one accent wall, or above wainscoting with exclusive designer wallpaper. No matter your design preference, it's sure to be a showstopper.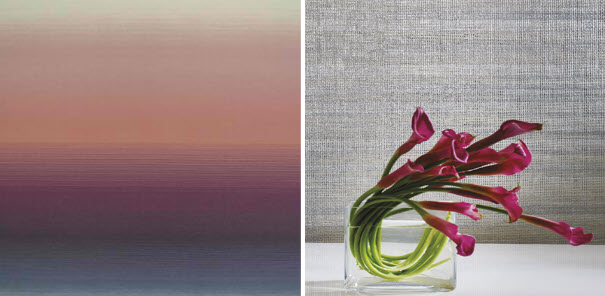 The powder room is the small room to make a big splash. Clean neutrals, textured solids, and evocative classics are sure to impress guests. For nontraditional designers, an all-over fun print may speak to your personality best.
We love seeing rooms that fully embrace a family's uniqueness. With so many options and such a small amount of space, you can change your style again and again. The powder room is the place to experiment and push the decorative envelope.
When renovating the powder room, the possibilities are nearly endless. When you don't need to worry about excessive water damage, closely matching to the rest of the home, or going over budget, the powder room will quickly become your favorite room to decorate.