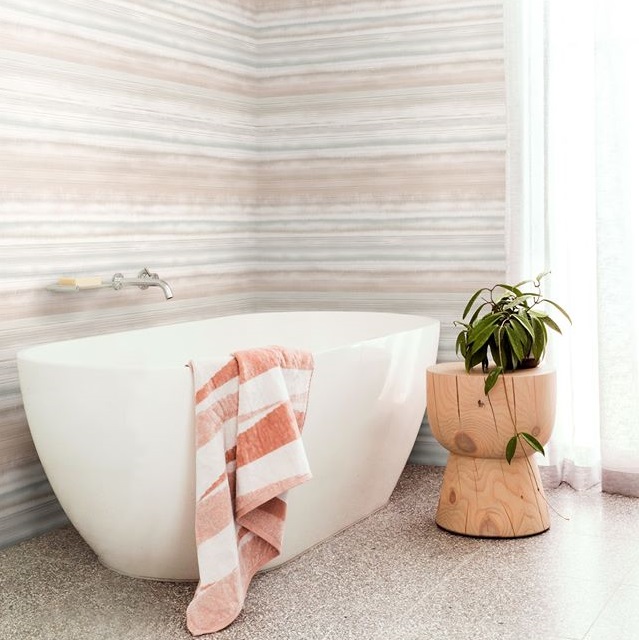 Wallpaper as a Historic Home Finishing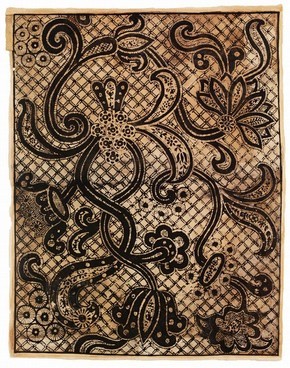 Sheet of wallpaper from late 17th century, image from the Victoria & Albert Museum's article "Textile influences on wallpaper," http://www.vam.ac.uk/content/articles/t/textile-influences-on-wallpaper/
Wallpaper became popular in 13th century Europe as a way for the poorer classes to demonstrate piety through hand-painted images of religious icons (referred to as "domino" papers). Wallpaper dating to the 15th and 16th centuries in Europe was primarily printed by hand with a woodblock printing technique but was still popular only amongst the poor until the late 16th century. This period of wallpaper design took inspiration from luxe woven tapestries, including the still popular damask design, though most often printed solely in a black outline.
By the 18th century, images from classical architecture and colorful designs from the East had made their way into wallpaper, with the latter featured in elaborately hand-painted scenes imported from China. The Victorian Period was the first period in which wallpaper was considered an essential design element for interiors, partially due to the innovations in mass-production of textiles, paper wall-coverings, and furniture elements, and partially due to the 1836 repeal of the Wallpaper Tax, which had plagued England for over a hundred and twenty years. It was during this period that striped Victorian wallpaper became popular both in Europe and on the Continent.
A Brief History of Striped Wallpaper in the USA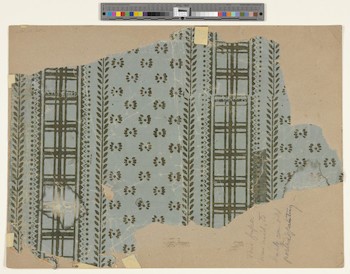 Wallpaper Fragment from Harwich, Massachusetts, Block-printed paper in dark green varnish on blue ground, 1810-1815, image from Historic New England's Online Wallpaper Collection, https://www.historicnewengland.org
Striped wallpaper initially featured additional imagery, from floral motifs, to chevron, to checks and animals, as can be seen in the fragment pictured above dating to between 1810 and 1815. Other popular striped wallpapers in the States during the early to mid-19th century were those of the Renaissance Revival variety, all of which incorporated additional elements to accompany the stripe pattern. Most of these wallpapers were imported from England and France; it was after French designs that most American-manufactured wallpapers were modeled. The French manufacturer Jean Zuber contributed significantly to the popularity of striped wallpaper around Europe and in the US by developing a machine that would print the stripes perfectly evenly. From the 1820s to the 1850s, several exciting innovations in home décor could be attributed to Zuber and his industrial approach.
However, in the 1870s American buyers began to turn away from elaborate French designs and towards a simpler English sensibility, made widely popular after the publication of Hints on Household Taste by Charles Eastlake in 1868.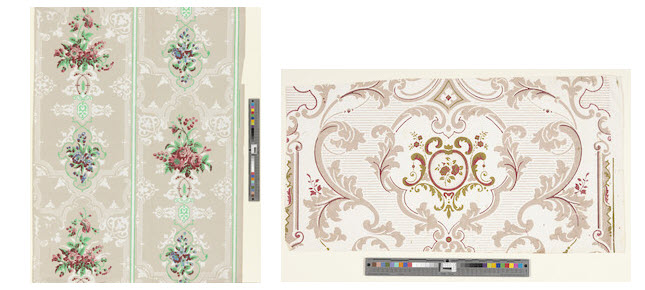 (Left) Renaissance Revival Floral Stripe wallpaper, Roller print, Paper, 1845-1855, (Right) Renaissance Revival Medallion Stripe wallpaper, Roller print, Paper, 1850-1860, images from Historic New England's Online Wallpaper Collection, https://www.historicnewengland.org
Until the 1940s, when the bold Regency Stripe style was revived, most striped wallpaper incorporated additional design elements, though the nature of those elements became increasingly graphic as time wore on. During the 1880s, a wider stripe was added to popular wallpapers, making it the star of the covering rather than the backdrop to sprigs, flowers, and medallions. These additional images became smaller and more muted over time, until they would see a resurgence in Reproduction Wallpapers of the 1950s and beyond. Today, striped Reproduction Wallpapers provide owners of historic houses with the opportunity to recreate a period living space.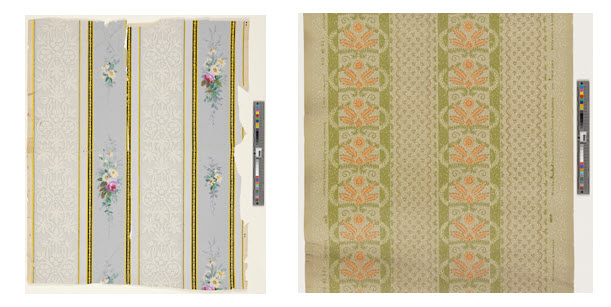 (Left) Unused Fragment of Floral Stripe wallpaper, Roller print, Paper, 1870-1885, (Right) Reproduction Wallpaper, "Dandelion Stripe" pattern by Katzenbach and Warren, Roller print, Paper, 1959-1960, images from Historic New England's Online Wallpaper Collection, https://www.historicnewengland.org
Modern Striped Wallpaper
We can thank the 1960s for the bold, color-blocked, and grayscale striped wallpapers most popular today. It is to this decade that many contemporary designers harken back when creating new prints. An article published by the Victoria & Albert Museum argues that the modern obsession with bold prints in wallpaper has evolved out of the idea of a "feature wall," while advancements in printing and digital design have ushered forward a renewed love of wallpaper, especially striped and patterned wallpaper, an interest that was largely coopted by paint manufacturers in the 1980s. Fashion designers like Ralph Lauren (image above), Vivien Westwood, and Maison Martin Margiela, who in 2014 participated in a stunning wall coverings collaboration with Omexco, have designed much-loved striped wallpapers over the past couple decades.
Choosing the Right Stripe

(Left) LUMINESCENCE BLUE ABSTRACT STRIPE WALLPAPER, 2927-10604 from Wallpaper Boulevard, image from Wallpaper Boulevard, https://www.wallpaperboulevard.com/product/luminescence-blue-abstract-stripe-wallpaper-45975.aspx, (Center) "Staccato" Striped Wallpaper from Wallpaper Boulevard, image from Wallpaper Boulevard, https://www.wallpaperboulevard.com/product/staccato-10082.aspx, and (Right) ANAHEIM STRIPE NAVY BLUE Wallpaper from Wallpaper Boulevard, image from Wallpaper Boulevard, https://www.wallpaperboulevard.com/product/anaheim-stripe-navy-blue-11258.aspx
Popular stripes today include gradient or ombre, traditional pastels, floral-embellished, coastal-inspired seersucker, color-blocked, curvy, and grayscale "zebra" stripes. So many styles and orientations are available that it can be difficult to choose one that best fits the space requiring wallpapering. Striped wallpaper can be used to decorate an entire room, a feature wall, or elements of a wall, such as above a dado. While placement is the first choice to be made when choosing a wallpaper, the second is the orientation and width of the stripe.
Vertical or Horizontal Stripes

(Left) White & Navy Striped Wallpaper, SD36124, from Wallpaper Boulevard, https://www.wallpaperboulevard.com/product/margaret-stripe-32165.aspx and (Right) Horizon Wallpaper,VA1276, https://www.wallpaperboulevard.com/product/horizon-39673.aspx
Vertical stripes are typically employed to visually extend the wall upward, making the ceiling appear vaulted higher than it actually is. As such, vertical stripes are more commonly used in small spaces and to complement additional architectural elements, like dados (a waist-high design element that cuts a wall horizontally). One might find vertical stripes in a bedroom or a formal dining room, where a vaulted ceiling is desirable. Horizontal stripes are used to make a room feel wider and more expansive and are typically employed in living rooms, waiting areas, and parlors. Wide stripes are often used in horizontal orientations of striped wallpaper.
Thin or Wide Stripes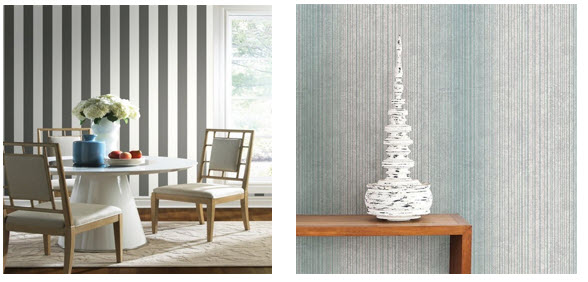 (Left) Interior with 3" STRIPE WALLPAPER, SA9175, from Wallpaper Boulevard, https://www.wallpaperboulevard.com/product/3-stripe-10479.aspx and (Right) Closeup of Interior featuring INSIGHT BLUE STRIPE wallpaper from Wallpaper Boulevard, https://www.wallpaperboulevard.com/product/insight-blue-stripe-6385.aspx
The desired effect achieved by vertically oriented stripes is often complemented by a series of fine or thin stripes, as they increase the illusion of a higher ceiling. Thin stripes are typically daintier but busier than wide stripes and have a quieter appearance. Thin stripes can often better communicate an ombre pattern or form a softer background for other design elements that might be placed on the wall such as paintings or photographs.
Wide stripes are much bolder and more graphic; they can be used to communicate coastal and period themes and are often used in contemporary living spaces, kitchens, and children's rooms. Many reproduction wallpaper styles include wide-set stripes with added elements, such as a lace or floral overlay. Despite the varied elements and uses of wide and thin stripes, both can be toned down in neutral colors to better blend with other furnishings (e.g. velvet couches, textured cushions, and bright curtains).
Where to Use Stripes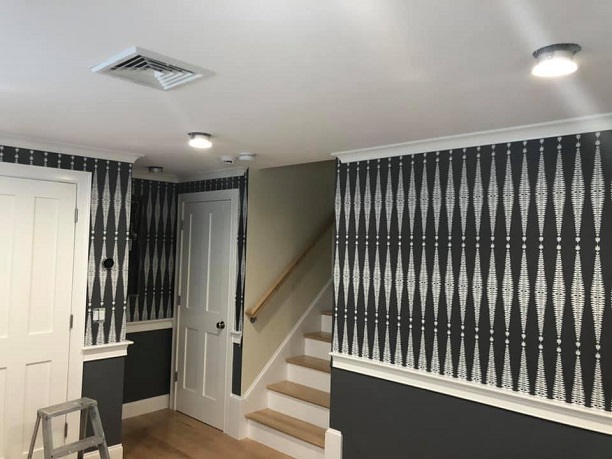 (Above) Schumacher Modern Striped Boho Wallpaper In Downstairs Living Room
Stripes are nearly universal in their design potential; they are not limited in the ways that floral, checked, polka dot, and other patterned wallpapers are. Striped wallpaper can be placed on a kitchen or dining room wall just as effectively as it can be pasted on a bedroom wall. As always, considering the strength of the wallpaper's adhesive (or the additional adhesive used in pasting it to the wall) is essential when choosing where to place any wallpaper; for example, a wallpaper might fare perfectly well in a parlor, living space, or even half bath, but may suffer in a high humidity environment like a full bath.
Decorating Around Striped Wallpaper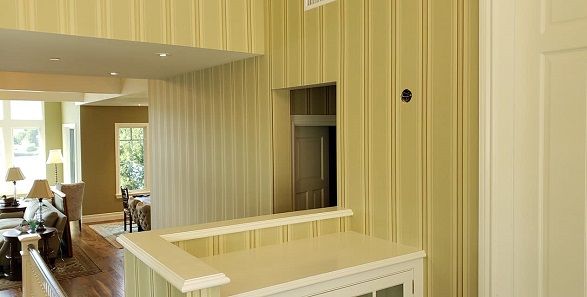 (Above) Designer Thibaut wheat colored striped wallpaper
One may assume that a striped wallpaper would always be the boldest design element in a room, but there are many neutral, soft wallpapers that serve as excellent backgrounds for other furnishings in the home. Bold stripes of a single or few colors in varying tones can also function as neutrals. Using a similar stripe pattern with varied widths and color tones in textiles around the room (as seen in the pillows on the couch in the image above) such as rugs, throw pillows, and upholstery, can tie the room together without sacrificing the designer's daring vision.
Adding florals and other prints like chevron can add interest without overpowering or fighting against the striped wallpaper. Design elements that contribute to a theme, should the room have one, can also tie the stripes into existing décor (e.g. a nautical or coastal design). Choosing earth tones (as seen in the above photo on the left) in couches, chairs, and other elements will help balance the effect of a bold stripe while also placing emphasis on your choice of wallpaper. Sticking to an all-white theme (as in the photo above, right) or another monochromatic color palette will place positive focus on the wallpaper.
Finally, striped wallpaper can also be used to decorate non-wall elements, including the faces of sideboards, cabinetry, etc. Striped wallpaper can even be used as a decorative element under stairs and in oddly shaped architectural elements. Using striped wallpaper as an additional design element, perhaps in a different room from which it has been used as a wall covering, can tie a theme together perfectly!