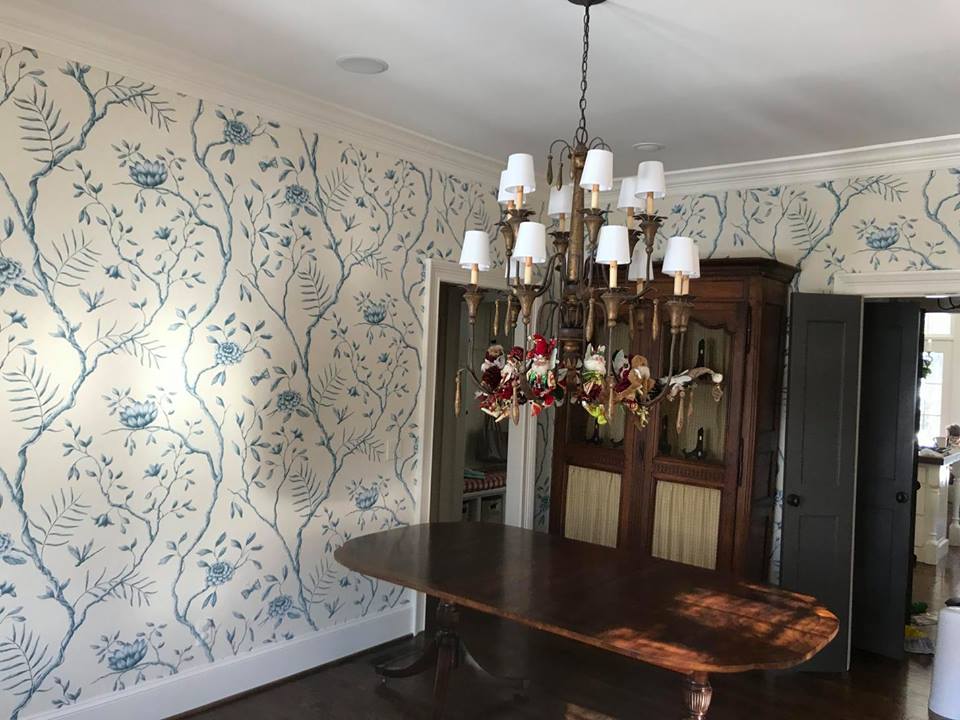 Wallpapers are an incredibly popular design choice nowadays. With the resurgence of this incredibly versatile, expressive wall covering option, comes many new developments in wallpaper material.
Gone are the days of frustrating wallpaper that is difficult to install, and even harder to remove. Now you can enjoy a variety of materials that are all easy to install and remove.
You can choose the best design and material for the room you're outfitting, and the one that is most compatible with your own design tastes.
Paper Wallpaper
This wallpaper is just made from paper. That's it! Just 100% paper.
It tends to get overshadowed by the newer ones which is ironic, because it's the original. No frills or thrills, just wallpaper made out of paper that comes from trees.
Most of the higher end wallpaper will be paper or non-woven because the other types tend to have a glossier finish. Wallpaper that is paper or non-woven typically has the classic matte finish that many people desire. Paper backing requires glue.

Non-Woven Wallpaper
Non-woven wallpaper is a combination of natural fibers and vinyl mixed together to create a breathable, flexible, and more durable than regular paper backing wallpaper.
You could say that this is the next evolution to standard paper backing but not a full vinyl. Note: some non-woven wallpapers have no vinyl in them and are just made from natural and synthetic plant fibers. When installed on a prepared surface, it's made to go up and come down in long flowing sheets. Non-woven backing requires glue.

Vinyl Wallpaper
Vinyl wallpaper is the most durable wallpaper option. It can take a beating and keep on ticking in comparison to paper and non-woven wallpaper. Vinyl is a common recycled plastic used to make records, food wraps, carpet, Linoleum flooring and many indoor and outdoor signs. Vinyl is a very large section and can be categorized into three sub-sections (explained below).

1.) Solid Vinyl
This is a full 100% vinyl wallpaper. When you see the word "solid vinyl," you are looking at the vinyl of all vinyls. It's highly washable, scrubbable, and scratch resistant. Many people chose to put this in their kitchen, bathroom, powder room and laundry room for this reason. Solid vinyl is also easy and inexpensive to produce so it will give you the most bang for your buck when compared to all the other wallpaper options. That is not to say that all solid vinyl wallpaper looks cheap. Some have lovely silk and faux fabric textures that appear very intricate and rich, albeit without a high price tag. Most solid vinyl wallpaper currently on the market is prepasted.
See: Prepasted Solid Vinyl Collections
We need to note that there is an ongoing debate related to the harmful effects of long-term exposure to vinyl on the wall since it is plastic. You will have to make your own decision but we can say that the solid vinyl made by most US wallpaper manufacturers now (at least all the brands we carry) are PVC-free that do not emit harmful dioxins into the air.
2.) Vinyl Coated
Vinyl coated wallpaper contains less vinyl than solid vinyl wallpaper. It does have vinyl but like the name implies, it's coated onto the paper. This gives you a nice medium between non-woven (will be a little stronger and more durable) and sold vinyl wallpaper.
Note: vinyl coated is less glossy and more matte than sold vinyl but can still have a subtle shine to it.
3.) Fabric Backed Vinyl
This is the strongest of all types of wallpaper, combining the strength of vinyl and heavy-duty fabric together. Whenever you see the word "fabric backed" or "fabric-backed vinyl" think of industrial grade material that is used in hotels, office buildings, large event corridors, or airports. You can't scratch or tear this wallpaper unless you're as strong as the Incredible Hulk. While this type is primarily used in commercial areas, many homeowners choose to hang this in their homes because they like how well it holds up. Most fabric-backed vinyl comes in large 30-yard bolts which is a hindrance for most people since they won't need that much for a standard sized room. However, there are several collections that offer this type of wallpaper in standard 27 in x 27ft or 20.50 in x 33 ft double rolls. Vinyl wallpaper typically comes prepasted or peel and stick but can also be non-pasted.

Prepasted Wallpaper
This wallpaper has glue embedded into the back of it. You won't even notice it on the back, either by look or feel, until it becomes activated by adding water. Some people do this by spraying the back with a sprayer or water bottle and others unwind the rolls and dunk each sheet into a trough filled with water. As stated earlier, prepasted wallpaper can either be non-woven, vinyl coated, or sold vinyl.
There are three wallpaper manufacturers that make prepasted wallpaper: York Wallcoverings (Sure Strip), Brewster Home Fashions (Easy-Walls), and Norwall Wallcoverings (no brand name for their prepasted line).
Note that more expensive higher-end wallpaper, over $50 per single roll, will never be prepasted.
For a list of prepasted collections click here.
Prepasted wallpaper requires no glue.

Peel and Stick Wallpaper
This wallpaper goes one step further than prepasted paper. The backing is sticky and ready to be applied without any additional glue or water. All you need to do is peel the thin plastic from the back and hang your wallpaper. This is made for people who are looking for more temporary wallpaper options, including renters. You can hang it and take it down when needed. It's also reusable so when you take it down, you can hang it back up in a new room.

Though marketed this way, we don't think or promote peel and stick as being any easier than other types of wallpaper. For one, you will need to hang it on a smooth and primed wall for it to look good. So, this part stays the same. We say this because we see most people just try to hang this on bare drywalls, sometimes textured, without any prep work and the result is air bubbles visible throughout the wall. Not a pretty sight! Secondly, the sticky adhesive on the back makes this type of wallpaper very hard to maneuver and slide into position. Professional installers hate it and many don't want to deal with it because it makes their process slower than normal. The installers who will work with peel and stick, usually end up adding paste
to the back anyway so they can easily slide each sheet into position on the wall. By doing this, the wallpaper is not easily removable nor reusable in the future. Peel and stick wallpaper requires no glue but many people use it anyway.

Natural Grasscloth
Like the name implies, this wallpaper is made from natural grasses and dried reeds woven together on a paper backing. You will often see the word "sisal" used, which is just a fancier name for the same thing. Almost all natural grasscloth is made in Asia and then shipped to the United States. This wallpaper gives a room a very earthy look, feel and yes, smell. The smell is what really separates natural from imitation (faux) grasscloth. They can be similar in sight and touch but natural grasscloth fills the room up with an outdoorsy grassy scent that is unforgettable.
Natural grasscloth wallpaper will always have visible seams. This is an important characteristic to be aware of prior to finalizing your selection of wallpaper. This means you will see multiple lines on your walls once the installation is complete. It is designed to be part of "the look" and should be expected. Most people do not have a problem with this, however, it can irritate those who are more particular about visible lines. We want to prevent anyone from investing thousands of dollars on wallpaper and installation only to have it removed once noticing the seams.
Stains should be spot treated and dirt should be vacuumed with a clean vacuum cleaner brush.
Natural grasscloth installation requires both glue and medium to advanced expertise.
Also See: The Complete Guide To Buying Grasscloth Wallpaper
Organic Textures
This is almost identical to (real) grasscloth in that it's made from all natural fibers. Most of the time it will be a linen fabric, but it can also be other raw materials like cork or wood. We do not recommend a DYI install due to the delicate nature of this type of wallpaper. A seasoned installer who knows how to handle specialty material like this is highly recommended. Because this and natural grasscloths are the most expensive types of wallpapers, it is in your best interest to hire a professional installer. Mistakes can become costly and time consuming when reordering materials to restart the process. Organic textures require glue and an advanced level of expertise.