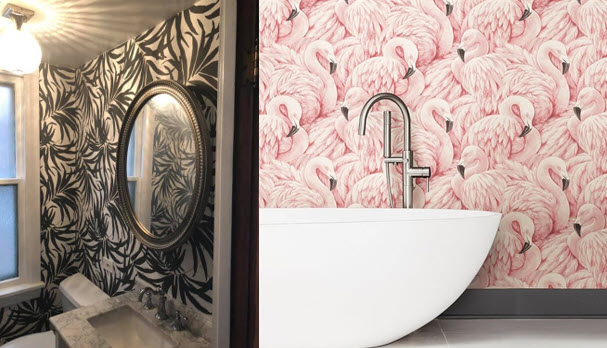 Two ways to use a bold, patterned wallpaper in your bathroom. (Left) A Wallpaper Boulevard customer photo from their bathroom remodel, featuring one of our wallpapers! (Right) Wallpaper Boulevard's HORACE LIGHT PINK FLAMINGOS WALLPAPER
Often small and off to the side, bathrooms are left out of the equation when it comes to decorating one's house. Bathrooms are perceived as being difficult to decorate because of their fluctuating temperatures and relative humidity levels. Splatter from sinks and bathtubs, soap scum and dew point moisture turn homeowners away from using expensive paint or fun wallpaper in their bathrooms. Homeowners -- and some decorators -- assume that wallpaper cannot stand up to the wear and tear -- and near constant use -- bathrooms are subjected to. The question remains for each of us: can I really use wallpaper in my bathroom? Follow below for detailed answers to this question -- as well as a few tips to get started.
Debunking Bathroom Wallpaper Myths
Most Wallpapers Will Peel Off When You Don't Want Them To -- But Won't When You Do

One of the primary concerns expressed by bathroom redecorators is that the wallpaper will peel off within a few months. It is assumed that the wallpaper will bubble in reaction to fluctuations in temperature and relative humidity. This is not an unfounded concern. Wallpapers of the past -- many of which were applied with actual glue -- did peel off the wall when exposed to dew point moisture followed by low relative humidity. It is important to understand why wallpapers of the past peeled and why today's wallpapers are very unlikely to. Wallpaper from centuries and decades past was applied to walls with glue, not adhesive. "Glue" is an adhesive derived from the skin of animals.
Glue is hydrophilic -- meaning that it responds to moisture -- while many modern synthetic adhesives are hydrophobic. Today's wallpaper pastes are synthetic and hydrophobic. This means that they are unlikely to expand and contract when exposed to moisture or changes in relative humidity. Today's synthetic adhesives are typically pressure-sensitive. "Pressure-sensitive" means that wallpaper pasted to the wall with these adhesives can be set by holding down and removed by peeling off.
Wallpaper Can't Be Cleaned of Splatter

The misconception that wallpaper cannot be cleaned of splatter or other deposits is patently false. Even many textured wallpapers can be gently cleaned of spilled food, drink and other messes. In her article "Everything You Need to Know About Cleaning Walls and Wallpaper" for HGTV, Emily Fazio explains how to clean your bathroom wallpaper. Fazio writes that many modern wallpapers come coated, making them washable. She warns against "scouring cleansers or abrasive cloths that can more easily score the finish or sand away color." Fazio encourages homeowners to gently dust the walls first to remove any surface dirt you can without applying moisture.
For spills and other splatter, Fazio instructs homeowners to use a "natural sponge wet with soapy water" that has been "wrung out very well." You can "wipe the sponge across the wall surface gently, being cautious so that the wallpaper doesn't get too wet." Finish up by running a dry cloth over the cleaned area to wick up any excess moisture. If you expect your wallpaper to experience frequent spills and splatter -- such as that applied in a bathroom -- Fazio recommends choosing "washable wallpapers [that] are more durable -- [like] vinyl." However, you can use other non-vinyl wallpapers in areas of your bathroom not as prone to splashes. You should apply vinyl wallpaper to walls behind the toilet or around the shower.
Any Wallpaper Will Become Moldy

Wallpaper can become moldy if your bathroom has little to no ventilation. However, most bathrooms have windows, vents and fans -- virtually absolving this concern entirely. In her article "Can You Use Wallpaper in a Bathroom?" for Houzz, Erin Carlyle writes that "you generally don't want to get wallpaper wet, not only because it could damage the wallcovering itself (especially if the material is paper or fabric), but because damp wallpaper can develop mold or mildew behind it." However, when Carlyle refers to "wet" wallpaper, she means wallpaper that becomes soaked and then does not quickly dry. If you have "a great fan," your bathroom can handle wallpaper. If you have "children where there's a lot of splashing" though, "it's probably not the best option."
My Bathroom Isn't Big Enough for Patterned Wallpaper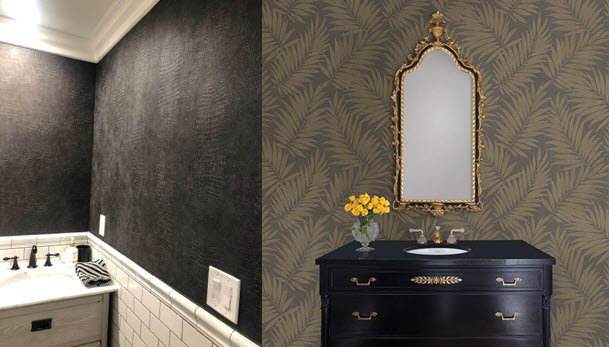 Bold, textured wallpaper like this black mock-snakeskin wallpaper works perfectly in small bathrooms because it adds drama and bounces light around the room. It also distracts from corners, which are typically shadowed and make a room feel smaller, by blending them with the rest of the space. For a truly special bathroom or powder room, consider Wallpaper Boulevard's Edomina Dark Brown Palm Wallpaper.
Another common concern is that your bathroom is not large enough to handle a printed wallcovering. In the past, interior designers and decorators have recommended sticking with neutral paint colors and unfussy designs in small spaces. They argued that loud prints or large-scale motifs would overpower a small space and make it feel closed off. The same argument applied to dark paint colors. However, wallpapers are actually a fantastic design choice for small bathrooms -- especially those with a metallic sheen. Jillian Knox Finley debunks this myth in her article "Designers Reveal How to Pack Big Style Into a Small Space" for My Domaine.
For her article, Finley asks designers what they consider to be the biggest "mistake people make when decorating a small space." Interviewed designer Kyra Hartnett defines the biggest mistake made in small spaces as "playing it safe!" Hartnett explains that -- contrary to conventional wisdom -- "using small patterns or patterns on only one wall makes the room look smaller." As such, bold patterned wallpaper is perfect for small bathrooms! Hartnett notes that "installing wallpaper with a big pattern on all the walls" will make the "ceiling of the room expand in size." Optically vaulting the ceiling will create the illusion of a larger bathroom.
How Do I Choose the Right Bathroom Wallpaper?
Determine Where You Want to Put It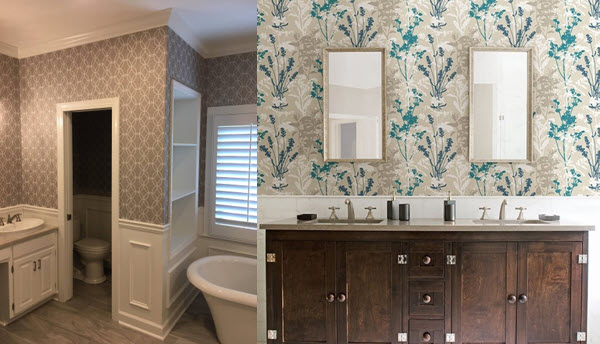 Two ways to use wallpaper in your bathroom above the dado. (Left) A Wallpaper Boulevard customer photo from their bathroom remodel, featuring one of our wallpapers! (Right) Wallpaper Boulevard's PIPPIN BLUE WILD FLOWERS WALLPAPER.
According to the HGTV article "How to Pick Wallpaper," "the best way to pick wallpaper is to decide where it's going first." After you decide where to put it, you should "then factor in the durability." For example, a delicate, "fragile paper could work in a master bedroom," but would be a disaster in a "kid's bathroom." The same goes for which wall and which part of that wall in your bathroom you would like to hang your wallpaper. Vinyl wallpaper is the most durable of all wallpaper types, so opt for this in areas prone to splashes and splatter. As mentioned above, vinyl should hang around the shower and behind the toilet. It can also surround a vanity if the counter includes vessel sinks -- rather than recessed sinks -- which are more likely to spray water.
According to HGTV in their article "How to Pick Wallpaper," vinyl wallpaper is also more affordable. The article notes that vinyl wallpapers "look like the real thing at a fraction of the cost." They are also significantly "easier to hang and will last much longer than a natural product." For powder rooms or half baths, virtually any wallpaper is appropriate. Delicate wallpapers can also be used in full baths as long as they hang on walls opposite showers, tubs and toilets. You can also elevate wallpaper -- e.g. hang it solely above the dado -- around a sink or elsewhere in the bathroom. You can always add a varnish to the wallpaper to seal it -- especially recommended for grasscloth, cork or other textured papers.
Consider Your Bathroom's Climate/Use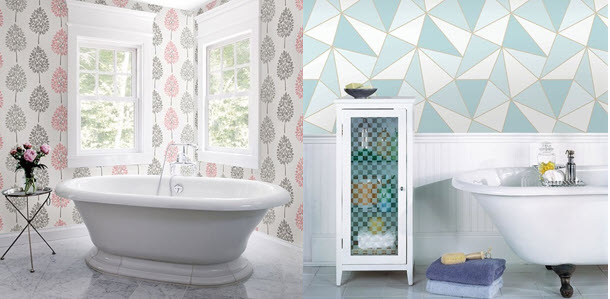 (Left) SAAR PINK TREE WALLPAPER by Advantage Bath, Available through Wallpaper Boulevard and (Right) APEX BLUE GEOMETRIC WALLPAPER by Advantage Bath, Available through Wallpaper Boulevard
Before you decide which pattern or style of wallpaper you want to use, make sure it can hold up to the bathroom's climate. If you have children and know they will flood the bathroom from time to time -- either through playing or leaving the tub's tap on -- consider less traditional wallpaper applications. Coral Nafie offers a few options in her article "Five Smart Ways to Use Wallpaper in Your Bathroom" for The Spruce. Nafie writes that homeowners with children should "consider a wallpaper border below the ceiling or around a mirror, window, or door." This is preferable in such situations to wallpapering the entire bathroom. As you prepare to wallpaper your bathroom, you should also consider the paper's durability. You should also fully understand the application instructions and know how to remove the wallpaper. Nafie recommends first "checking with the guidelines of the paper and adhesive you're considering" before purchasing or applying the paper. Start by reading "the installation instructions and preparing the walls carefully."
By following each of these tips -- and not getting discouraged by the size of the space -- your bathroom will become yet another beautiful place in your home!