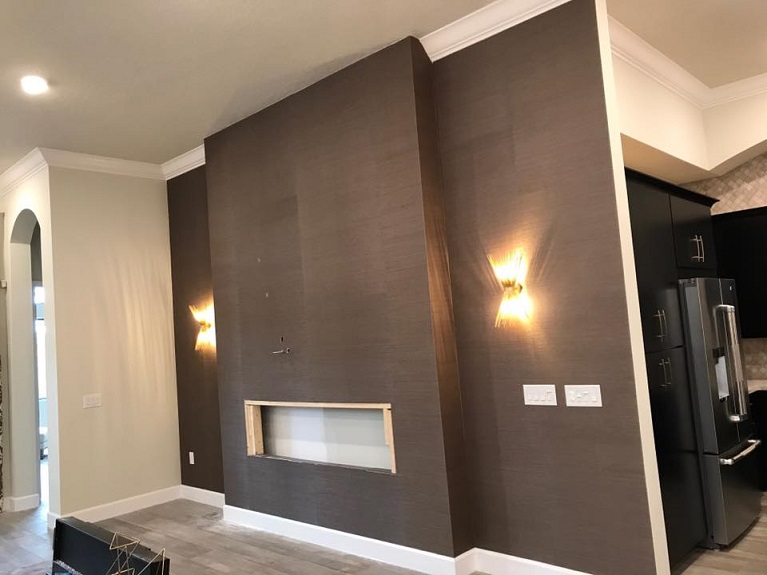 Grasscloth is one of the most natural and beautiful wallpaper designs. It can create a sense of peace and relaxation that is nearly unrivaled by other designs. You can sit in a room that has grasscloth wallpaper on the walls and feel a connection to nature that puts you at ease.
Materials and Process
Part of its charm and what makes it so distinctly different from other wallpaper designs is the use of a complex framework that includes all-natural materials. The sense of tranquility can come from one of several types of natural materials:
Arrowroot
Cork
Hemp burlap
Java/triangle grass
Raw jute
Reed
Sisal
The natural material is woven into the wallpaper through a highly complex process that includes the use of other natural materials. The most common combination of materials is thin cotton threads and sea grass strands which are fastened to a rice paper backing. The end result is an incredibly lightweight wallpaper that is both delicate and eye catching.
Because it is lightweight and delicate, it is not a good wallpaper for areas with high traffic.
Despite this, the popularity of grasscloth wallpaper has been steadily rising over the last decade. The end result of a hand-woven wallpaper that includes natural plant fibers creates a singular look that has benefits beyond just being beautiful.
See Also: A Complete Guide To Buying Grasscloth Wallpaper
The Beauty Is in the Constant Changes
Unlike most wallpapers where you spend a lot of time trying to match each of the different sheets, there is no way to perfectly match grasscloth. Each strand of grasscloth has its own color and texture, making it an impossible task to match the rolls if you tried. It is these imperfections and variations that make the wallpaper to attractive.
Unique Packaging and Backing
Not only is it impossible to exactly match grasscloth, it doesn't even come in the standard width (21 and 27 inches wide) like most other type of wallpapers. The grasscloth wallpaper comes in a double roll that is 36 inches by 24 feet.
Grasscloth is almost never sold with prepasted backings. To properly install it, you will need to prime the walls and then add a specialty wallpaper glue to apply the grasscloth.
A Unique Hanging Process
The average cost of grasscloth per single roll ranges from $50 to $250. To ensure you do not damage the wallpaper or ruin the unique effect, it is best to hire a professional to hang it, unless you have a lot of experience hanging wallpaper.
To help you understand some of the issues with hanging grasscloth, the following are the two primary components that make it difficult to work with.
- It expands when it is wet. This means it must be wet before it is hung to prevent bubbles from forming. This requires smoothing to get rid of the air bubbles, which increases the risk of tears and rips.
- Glue cannot be wiped off of grasscloth surfaces without leaving marks. While grasscloth creates an elegant look because it is unique, the smudges and markings left from glue detract from the appearance.
The best way to work with grasscloth is by putting the adhesive substance directly on the wall. Once you complete that, you can apply the pre-soaked grasscoth. This keeps the grasscloth from expanding while avoiding getting the paste on the front.
Grasscloth in the Bathroom
Most people enjoy relaxing in the bathrooms, but for a long time putting grasscloth in bathrooms was discouraged. However, most bathrooms today have good ventilation and ways to remove humidity. As long as your bathroom has a way to remove humidity, you can add grasscloth wallpaper to create a more natural look. We do recommend avoiding installing it near toilets since the wallpaper is nearly impossible to clean once it is stained.
An Alternative – Faux Grasscloth
If you do not want to pay the higher price for grasscloth or if you want to do the installation yourself, you do have an acceptable alternative in faux grasscloth. Typically, these rolls are made of vinyl, giving you the same ease of application that you find with other wallpapers.
Technology is also making it easier for manufacturers to create a much more realistic fake grasscloth, so that it is harder to tell if it is real or not without touching the paper itself. You have the added advantage of being able to more easily match colors if you prefer something more uniform. If you want to add a faux grasscloth to high traffic areas, you will be able to do so without worrying about it being harmed.