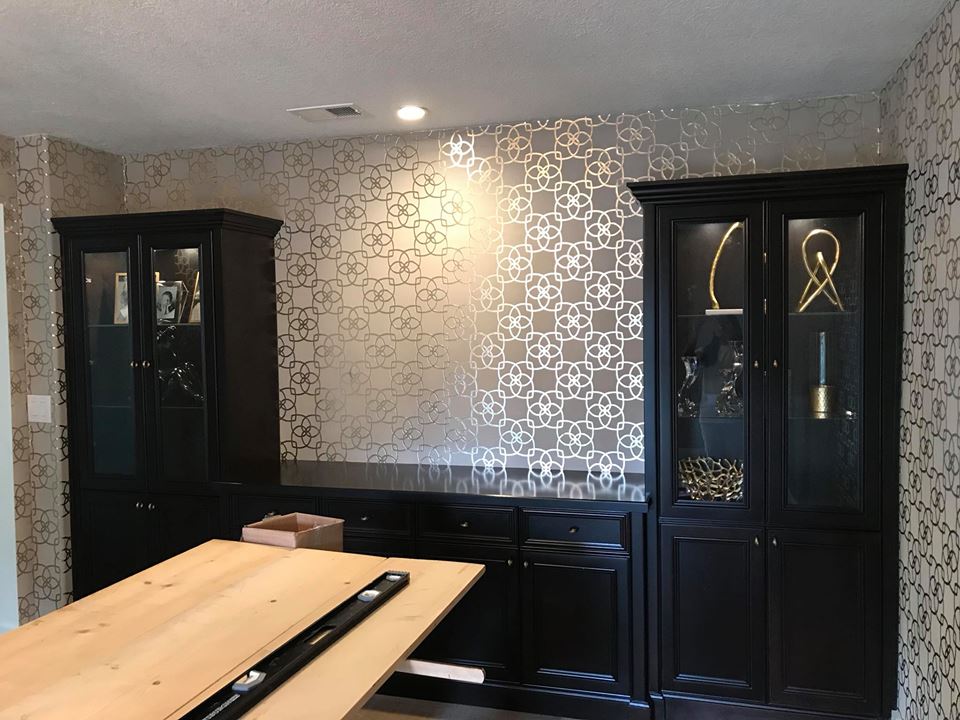 If you're considering hanging wallpaper in your room, then congratulations. Wallpaper is a beautiful design element to any room, and a strong statement of your own personal taste. If you haven't looked before, you may be surprised to find a huge variety of patterns, colors, and material choices available in wallpaper on the market today.
This large variation also means some variation in cost. Average cost to install wallpaper in your home can range between $150 and $1,000 all depending on a number of factors. Fixed costs will include the market price for the wallpaper and the material used to hang it. The rest is completely dependent on you and your home.
Hire or DIY
If you are experienced with hanging wallpaper, or you study up well, you can choose to hang wallpaper on your own. Make sure you learn as much as you can about the particular type of wallpaper you've chosen, and be sure that you've selected the right materials for that paper. Take your time, and if you find it's a little more work than you thought, you can always bring in someone with more experience.
If you choose to hire a professional, you may pay more. But, you you'll save a lot of work you'd have to do on your own, and potentially a stress induced headache or two. Either way, you can enjoy beautifully hung wallpaper when the job is done. Professional wallpaper installers, those for whom it's their primary expertise, are available in most areas.
Ask for a list of references, and make sure you look them up with the Better Business Bureau and some consumer websites before hiring. You can also ask your wallpaper store for suggestions. They may offer installation services or refer you to someone they trust.
The Paper
There are a few different varieties of wallpaper available, all of which range a bit in price. Basic paper will be up to about $50 per roll. Designer paper may run up to $250 per roll. Add $30 to $70 per roll if you're hiring a professional to hang the paper for you. Although a single roll typically covers 28 square feet, you'll want to add in extra for cutting and waste. When you're doing the math, therefore, assume you'll get about 25 feet per roll. Additionally, make sure you understand the difference of single rolls vs double rolls. If not, you may find out that you do not have enough coverage to finish the job once the installer arrives.
The Room
Obviously the bigger the room, the more expensive the wallpapering job will be. Also consider the look you're going for. If you plan to cover a room in which you do a lot of entertaining, then you might want to consider spending a bit extra on high quality paper. Even if you've found a great deal on paper you kind of like, compared to spending a bit more on paper you love, remember you'll be looking at the paper potentially for years. So choose wisely.
Geography
Market prices do fluctuate, especially in labor costs. If you live in an area of the country with a high cost of living, you may want to lean towards the DIY option as long as you feel comfortable doing so. Most modern wallpaper is much easier to hang than paper of the 80's. Also, non-woven and easy-walls wallpaper are both very easy to install. And, you can peel them off easily in case a mistake was made.