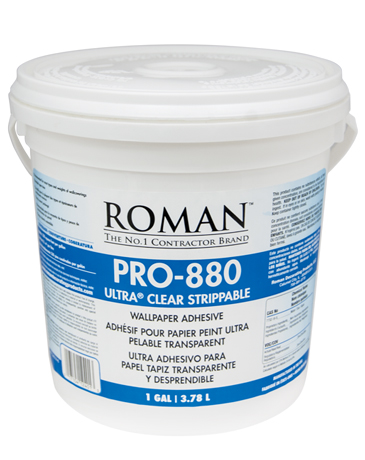 Not sure which glue to use for your next wallpaper project? We spoke with several paperhangers to see what their go-to glue is and almost all of them said the same thing – Romans Pro 880.
It's a starch based clear wallpaper adhesive that can be used for any application.
The 880 blend is literally the most versatile option on the market right now. Romans Pro-880 comes in a 5-gallon bucket or 1 gallon pale and can be used for both commercial and residential jobs.
For residential jobs you dilute the paste with up to a pint of water and for commercial jobs you apply the paste to the wallpaper undiluted.
Romans makes 5 other wallpaper adhesives but like Goldilocks and the Three Bears, we found that Romans 880 is just right.
A good glue needs to be strong, lightweight, readily available and not dry too fast. Clay based adhesives are stronger but tend to dry before the installer has a chance to set the paper.
Other Benefits
One gallon covers 330 square feet
Contains biocides that resist mildew from forming underneath your wallpaper
Can be used with almost any primer
Can be used with non-woven, vinyl coated, sold vinyl, Type I vinyl and Type II vinyl wallpaper
Easy to clean up
Non-Staining
Spreads and flows easily
VOC (Actual): 0%
VOC (Regulatory): Zero (As calculated per EPA Method 24)