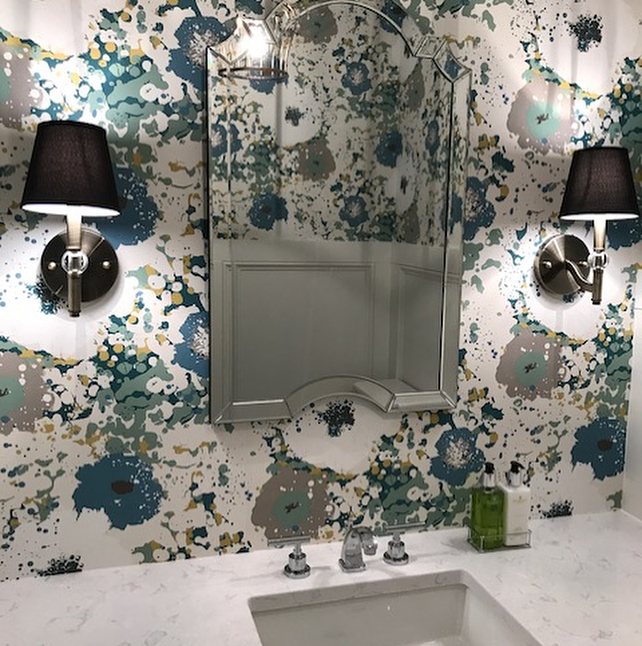 This is for people who are relatively new to wallpaper or haven't purchased wallpaper in a long time. Consider this a quick a refresher course that will save you a lot of time and aggravation! It will take you less than three minutes to read and make your experience, whether you buy from us or someone else, a whole lot easier.
First, you need to determine the approximate budget you want to spend. If money isn't an issue, then skip this step. Most rooms will take 6 single rolls to wallpaper and the average price of wallpaper is $35 per roll. So, your typical person will be looking at $210 for the wallpaper. Just remember that not all rooms are the same and your specific amount of wallpaper needed may vary.
Are you going to hang the wallpaper yourself or hire someone? We recommend hiring a professional paperhanger. This will add another $200-$300 to the total cost. This isn't something you will have to do for years to come and an experienced hanger will make sure it's done right. However, many patterns are made for the average person, without any prior know-how, to be able to hang without any assistance. The whole manufacturing process has changed over the last 20 years and wallpaper is made now to easily go up and come down without taking apart your entire drywall.
See Also: What Is the Average Cost of Wallpaper?
See Also: Is It Cheaper To Paint or Wallpaper A Room?
See Also: How Much Does It Cost To Install Wallpaper?
DECIDE WHICH ATTRIBUTE IS MOST IMPORTANT
Our website, along with many others, is organized to allow you to shop by color, design or room. Pick one of these options and start here. We have found that starting with "Shop by Color" is the best since most people have a color in mind that will match with the rest of the furniture and flooring.
ALSO
Don't rely on someone else to tell you the color of the wallpaper you see online. Everyone's concept of color is different. What may be a true-blue color to you could looks slightly more turquoise to someone else. Purchasing a sample of the patterns you are interested in first is the best way to match up the color perfectly and know what you're getting before you purchase it. We cannot tell you how many times customers come back to us wanting to return wallpaper because the color is how the expected it to be from purchasing it blindly online. It's frustrating for both us and the customer. Samples will save you loads of time AND money. Trust us, restocking fees are no fun and we hate charging them just as much as customers hate having them.
We have numerous other articles about this but, decide early if you want wallpaper that already has glue on the back or not. If it's pre-pasted then all you need to do is wet the wallpaper with water to activate the glue. If it's unpasted then you will need to go to a local home improvement store and purchase the glue or adhesive. Keep in mind that none of the designer wallpaper is made with a prepasted substrate so if you want a higher end paper, you or your installer will need to purchase glue.
See Also: What Is Prepasted Wallpaper?
See Also: Difference Between Prepasted and Unpasted Wallpaper
See Also: What Does Non Woven Mean?
MATCH TYPE AND REPEAT TO ACCOUNT FOR WASTE
Wallpapers with a random match will no repeat and no waste. Most textured, solid color, and striped wallpaper will be a random match with no repeat to worry about. Straight match and half drop match will have a repeat and you need to be aware of the possibility the half the roll will be wasted when being hanged because the repeating design will need to align together. The bigger the repeat = the more waste.
A good rule of thumb that always works for us is to take your wall's total square footage, minus the square footage of the windows and doors, and then divide that total by 21. For instance, if you have 150 sq. Ft to cover you will need 7.14 single rolls. Wallpaper is only sold in multiples of two so in this scenario, you would require 8 single rolls (or 4 long double rolls).
See Also: Understanding The Different Types Of Wallpaper Matches
See Also: What Is A Wallpaper Repeat?
SINGLE ROLL VS DOUBLE ROLL
This is a huge one! Read this carefully. Wallpaper in the United States is priced in single rolls but only packaged in long double rolls. If you were to order 8 single rolls then you would get 4 long double rolls. A double roll is twice as long as a single roll. This way of buying wallpaper goes back to the 1920's and was never reversed. Strange, we know, but that's the way it is and will be for the foreseeable future.
See Also: The Reason For The Double Roll And Why You Can't Buy Single Rolls?
It makes no difference if you go into an actual store (although there aren't many left) or buy your wallpaper online. You need to purchase a sample and bring it to your home. Hold it to the wall. Visualize it. Do not expect the image you see on the computer screen to be the exact representation of what the pattern looks like. It's a digital copy and may look different. And again, don't rely on someone else (i.e. customer service) to tell you what the color of a particular wallpaper is. Color is subjective to each person and different people can see colors differently than others. The only way to truly know what you're getting is to order a sample of the wallpaper first!
ORDER A LITTLE MORE THAN YOU THINK YOU NEED
Here is a real-life example that happens every day. Your wallpaper arrived a week ago and you have scheduled an installer to come out. You have guests coming in a week and you're excited about how your new room will look. The installer gets to work. An hour later he tells you that you do not have enough. Now you need to order more. That wallpaper could take another week to arrive or, worse yet, be out of stock- or even worse: be out of stock AND discontinued. Even if you can afford to wait for the back-order the new wallpaper is not going to be the same run and the color tones may not match perfectly. Was all this trouble worth saving the money on one additional double roll of wallpaper? Probably not.
See Also: Wallpaper Dye Lots, Runs, And Batches