Removable wallpaper is exactly what sounds like: a wallpaper option that is easy to remove. You may also know it as peel and stick or temporary wallpaper. Whether you are a renter, in college, or just like change, removable wallpaper is an affordable and amazing solution to add character and color to any dull room. A new and growing trend in home design, it offers a less-permanent option that can easily be peeled off when you are ready to try something new.
Although removable wallpaper works, when choosing your color or pattern it is important to look for the right quality of paper. There are so many different options to choose from, so choosing one that will be most effective may seem difficult. Here are some things to look for when selecting your perfect paper:
Choose a peel and stick application. Many removable wallpapers require manually putting an adhesive onto the paper. This can be quite messy, and makes the process long and difficult – especially if it is your first time hanging up wallpaper. Choose a peel and stick option. It will save you a lot of time, and will save you from the mess!
Look for good quality paper. Choose a paper that feels like good quality, and not one that just looks good. A good quality paper should be slightly weighted, and not too sticky. When you are hanging the paper, making mistakes can happen. It is best to have selected a paper that can be smoothed out and placed again if a mistake is made, rather than thrown away.
Choose a reusable wallpaper. A major way to benefit most from your investment, is to look for a reusable option. This will allow you to transfer the paper to different rooms or even store it for later use when you are ready to change things up again.
Take a look at this Tempaper design that was used on the stairs. 👇👇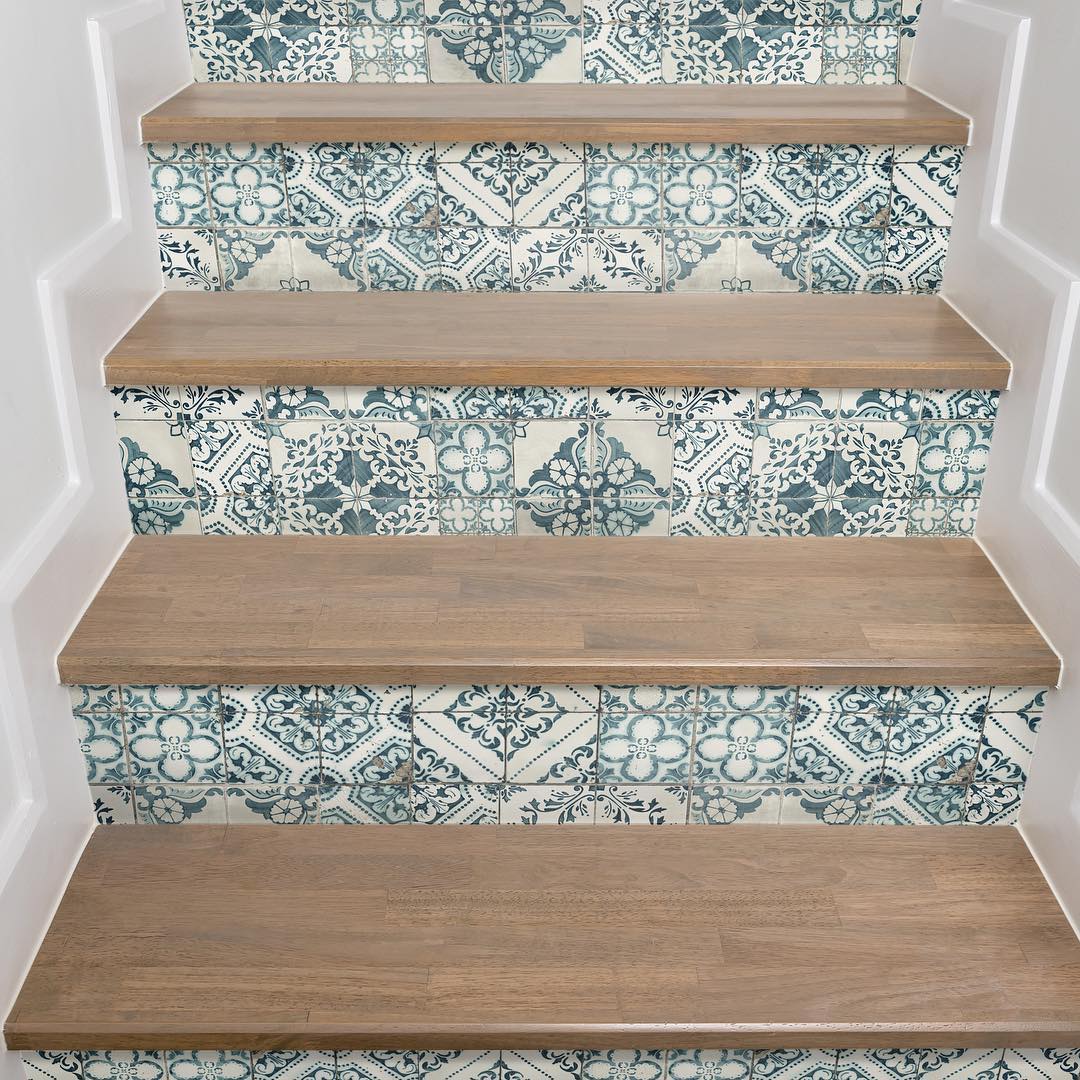 As long as you choose a wallpaper of good quality, hanging removable wallpaper should be easy. The installation process can sometimes take as long as hanging regular paper, however it is definitely worth the effort. For the best outcome, we recommend following a few simple tips:
Make sure the walls are dry. No wallpaper can be placed on wet walls, as the adhesion won't stick – and you will wind up with a big mess to clean. What many people don't know, however, is that it is best to wait at least 20 days after painting to begin putting up wallpaper. This will enable the wallpaper to get a better stick on the wall, and even last longer. It may seem like a long wait, but it will definitely be worth it.
Make sure that the walls are clean. Clean the walls like you have never cleaned them before. For best end results, the walls should be free of dust or dirt. (But, before hanging the paper, make sure that the walls are dry – wait approximately 24-48 hours after cleaning the walls to put the paper on.)
Don't damage the walls. Cutting the wallpaper with a utility knife or box cutter can not only cause the wallpaper to look uneven, but it can ruin the appearance of the walls itself. If you need to trim the wallpaper while installing it, place something smooth underneath the paper to keep from scratching the walls.
Save the backing. If you plan on reusing the wallpaper in the future, it is important to remember to save the backing of the wallpaper. Keep it in a place where it can be laid down flat, so that the wallpaper can be placed on the backing when removed.
As long as you choose a good quality paper, the installation should be easy. Although installing wallpaper may seem like a long process, it is definitely worth it.
Design Notes
The words removable, peel and stick and temporary wallpaper are used interchangeably. They all have the same meaning
Removable wallpaper is marketed by manufacturers as easily installed. Many installers will disagree and actually argue that the stickiness makes the wallpaper harder to position on the wall.