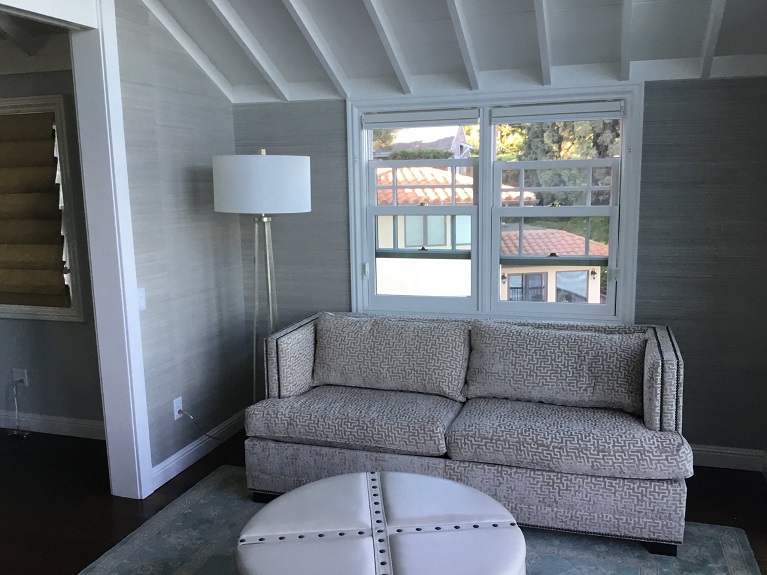 Grasscloth wallpaper looks amazing and can bring an earthy, peaceful feel in any room. It's the perfect blend of outdoors and sophistication. Over the past decade it has made tremendous gains in popularity, both in the residential and hospitality sector. However, not all grasscloth is the same. The following will help you distinguish between the the different choices you have to choose from.
Determine Which Grasscloth You Want
There are two major types of grasscloth wallpaper:
- Natural sisal
- Faux vinyl
As you can probably tell from the description, one is the real thing and the other is meant to imitate the real thing. It's similar to real hardwood flooring vs laminate flooring. Not one kind is better than the other. It depends on your needs and tastes. There is a wide range of quality and cost with both options.
Natural Sisal Grasscloth
Real natural grasscloth is handwoven from real grass materials. Some grasses are more expensive than others and considered a luxury item like arrowroot, hemp, and jute. These types of wallcoverings are usually marketed to people with expensive tastes, with each pattern being given a highly exotic name to denote exclusivity. Grasscloth is one of the more expensive types of wallcoverings because it's very time intensive to produce.
An easy way to tell if a pattern is natural grasscloth is by looking at the width in the product specifications. This is a dead giveaway. Natural grasscloth will, 99.9% of the time with few exceptions, be 36 inches wide. If you see a grasscloth pattern that is not 36 inches wide then there is a good chance it is a faux pattern.
Faux Vinyl Grasscloth
Faux grasscloth is meant to mimic natural grasscloth. Some patterns do a really good job of it, where you can barely tell it's not real natural grascloth, in both look and texture, and some look like a cheap imitation. The price per roll will determine how close you can get. For instance, Modern Rustic and Weathered Finishes, have several faux grasscloth patterns that look amazing. Warner Textures V and Textures & Weaves also have faux grasscloth patterns that look and feel amazing. But there are some cheaper collections that look decent but do not come close to looking like the real thing.
A big advantage of faux grasscloth wallpaper is the durability and upkeep. It's usually solid vinyl which means it can be easily installed, cleaned, and later removed. Natural sisals are much more difficult to install and easily damaged. One would definitely not recommend natural grasscloth for high traffic areas while vinyl faux grasscloth is a great choice.
Natural Versus Vinyl - Who Wins?
Natural grasscloth has texture and an asymmetrical beauty that draws the eyes to admire the entire room instead of a small aspect (such as a repeating design). It is often handcrafted, giving a room a very elegant appearance, albeit one that comes at a high price. The grass fibers are built into the wallpaper, so that when you touch it, you can actually feel all of the different textures that make up the wallpaper.
Vinyl grasscloth is made by machines and lacks the texture of the natural grasscloth wallpaper, though they can come close. While it lacks some of the elegance of natural grasscloth, it is usually less expensive and considerably more durable. Manufacturers have even found ways to create the illusion of a natural grasscloth so that the only way to tell that it is vinyl is by touching the wallpaper.
See Also: The Complete Guide To Buying Grasscloth Wallpaper
Five Most Popular Grasscloth Wallpaper Designs
One of the primary attractions to grasscloth (besides the interesting texture) is the earthy tones and colors that make a room feel more natural. The following are the five most popular grasscloth colors and designs on the market.
Amber – This color and tone creates the feel of a sunrise or fiery sunset, making a room feel warm and inviting.
Brown – This color creates a much mellower and subtle feel to a room. It can mimic a wide range of different earthy tones, such as wood, chocolate, and bronze.
Gray – If you want a muted and calming room, gray is probably your best option. It goes well with a room that has a modern feel because gray grasscloth wallpaper is reminiscent of slate, concrete, and powder, sometimes it may have a little blue mixed in.
Green – Reminiscent of woods and fields, green is very popular because of how natural it looks and feels. You have a wide range of choices in the green shades, from soft pastels to vibrant greens.
Yellow – For a relaxing and warm feeling, yellow if the perfect grasscloth. Use a soft cream color in a living room or a brighter, more friendly yellow for dining areas.