In light of recent events, millions of employees found themselves working at home for the first time. Many entrepreneurs have been working from home for years, and their home offices have been the perfect balance of productivity and comfort. They know that even a small space can be a fertile garden for business growth. Unlike corporate cubicles, the home office is entirely customizable, so choosing a great wallpaper can turn your home into the workspace you've always wanted.
Whether you want your home office to be your personalized hobby haven, a trend-setting creative zone, or the pinnacle of productivity, proper design can turn your dreams into a reality. We've matched ten key workplace attributes with new wallpaper ideas to turn your home office into the most inspirational corner of your home.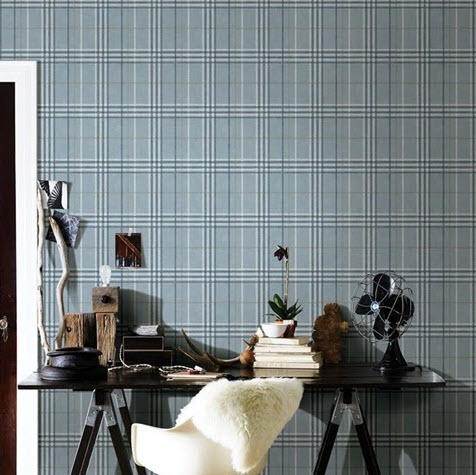 Focus
Are you easily distractible? Fidgety? Often interrupted? Working at home has plenty of advantages, but life's daily distractions are not among them. Get in the zone with home office design that puts your mind at ease. Choose relaxing colors, straight lines, and clean surfaces to erase the day's diversions. Delicate neutrals like these vertical stripes are distraction-proof while still adding interest to your room.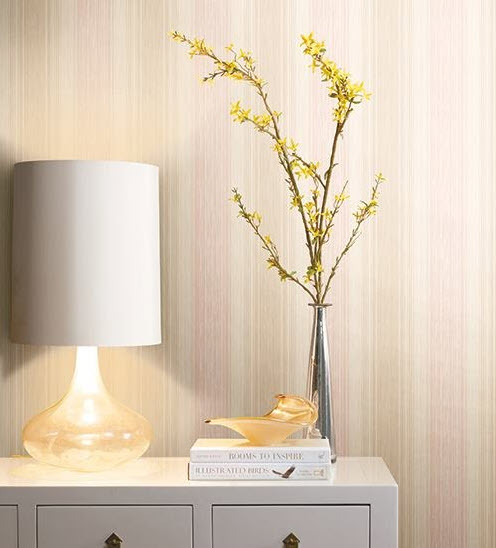 If your home office doubles as a study space, you could play up the theme with a print full of books. For a more subtle approach, we like this nautical chart pattern that would coordinate well with nearly any decorative taste.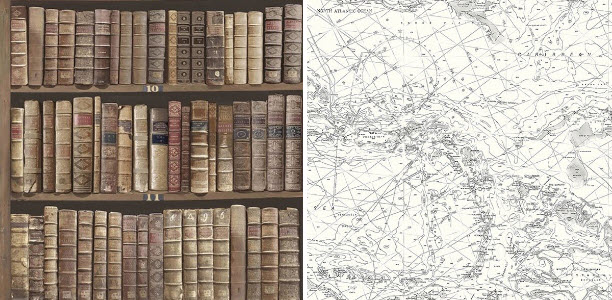 Serenity
High-stress jobs take a lot out of a person. Even at home, taxing jobs take their toll. When you find a moment to look away from the computer screen, a busy wallpaper background might not help you regain your calm. A better choice would be a relaxing blue or a serene green with an interesting texture or subtle design. This timeless botanical pattern with plenty of soothing white space makes a pastoral escape from the daily grind.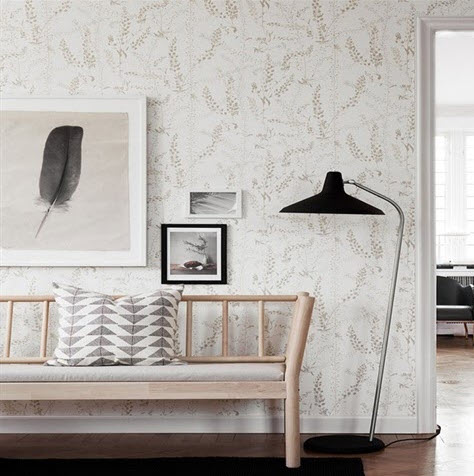 Maybe warm colors or rich textures bring you peace. Cool colors may work for some, but if you prefer to feel cozy and snug in your study, try rich reds or browns. This weathered oak panel printed wallpaper is a comforting neutral with the added textural interest of faux woodgrain.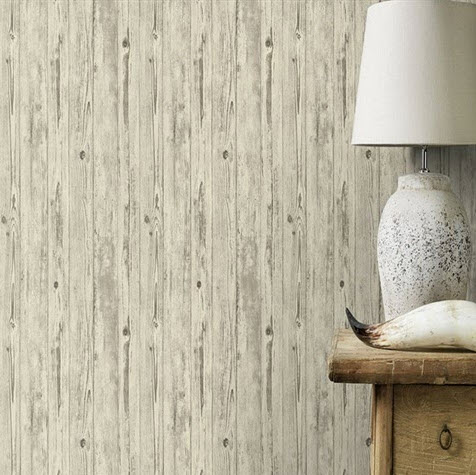 Energy
A low-key room is great for relaxing and reducing distraction, but if you need your home office to perk you up and ready to face the day, bold is the way to go! Bright colors and enthusiastic geometrics get your energy up. Try an exciting color with a lot of visual activity to keep your mind active and generating new ideas.
If your home is generally decorated with a reserved tone, spice up your office with adventurous choices. "Geometric shapes and patterns are being featured heavily in modern design plans, and it can tie into a classic, old-school design plan as well as more minimalist plans. A unique pattern can become the focal point of any room," says designer Tiffany Brooks. We think this dynamic pottery motif fits the bill perfectly! Balance the busyness of this pattern with smooth lines and a tidy workspace or use it as an accent wall. Play up the color palette with furnishings to match or try a punch of contrasting colors for even more inspiration.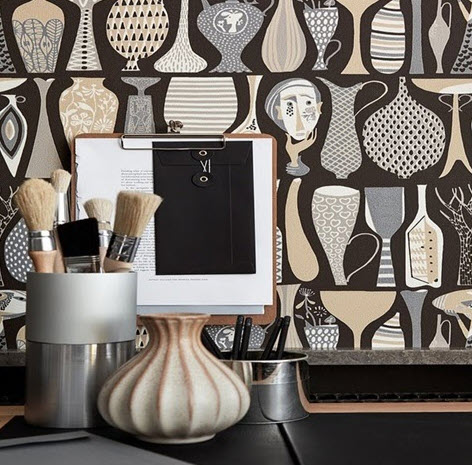 Balance
Balancing work life with home life is every worker's biggest challenge. It's essential to keep work at work, but it becomes complicated when your office is part of your home. If you have a separate room for your home office, highlight the shift with unique wallpaper that stands out from the rest of the house. Try a color that isn't used elsewhere or a pattern that speaks to the type of work you do. Even a different motif in the same color palette will be enough to help you mentally shift gears.
Maybe the "home office" is really a multi-purpose room or guest bedroom. In that case, separating the work area from the public area may help keep your mind on task. An open floor plan can make it even more difficult to keep your two lives separate. Setting up your laptop in a tucked away corner while the rest of the house buzzes around you may be convenient, but it's important to be able to step away from work at the end of the day. Define your work zone with your own distinctive wallpaper. "Wallpaper is also a great way to demarcate smaller areas within an open space," says House Beautiful's Dani Arps, and we like this delicious mustard floral pattern for a cozy creative work zone.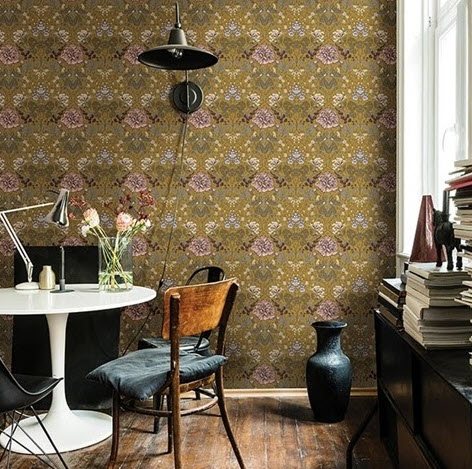 Quality
Your successful business ventures deserve the best. Luxurious naturally-sourced wallpapers like cork, grasscloth, or natural wood veneers are a perfect way to enjoy the fruits of your labor in your home office. These high-quality papers are much more than wallcoverings -- they're centerpieces. What better place than the home office to explore the highest quality design with carefully crafted natural materials? Handsome wood veneers and eco-friendly cork will last a lifetime. Inimitable grasscloth is handmade from several varieties of grasses and plants, making each roll and application unique. Available in a wide range of colors and printed patterns from Wallpaper Boulevard, wallpapers from organic sources are varied and full of visual and textural interest.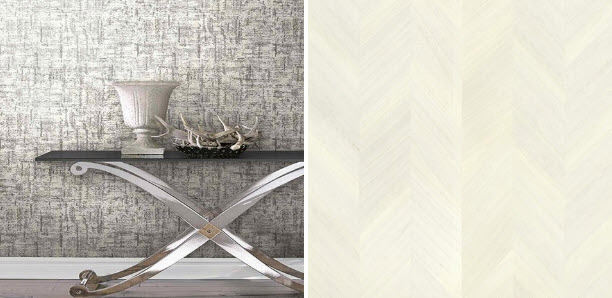 Individuality
One of the best things about working from home is the escape from the cubicle. Your home office is your space. Without corporate restrictions, you're free to customize your office and reflect the things you love. If your passion is travel, keep your eye on the prize with fresh wallpaper that's covered with vintage luggage tags. If you'd rather be gardening, this fresh green floral print will inspire you while you work. Explore Wallpaper Boulevard's many woodland options for hunters, fishers, and animal lovers. Even if your favorite hobbies are a bit outside the box, a splash of colorful specialty wallpaper can make you feel more at home while you work.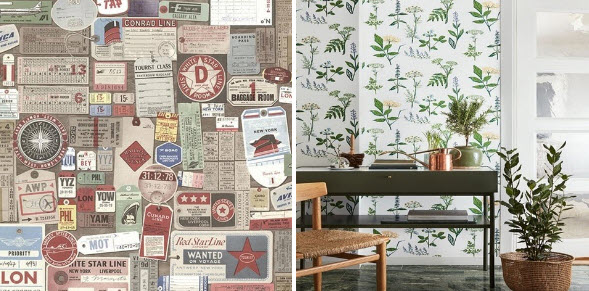 Innovation
If your career has your thumb on the pulse of today's tech trends, you'll need sleek colors to impress. Black, white, and gray all speak to modernity and innovative ideas. We love metallics and foils for a gleaming surface in the contemporary home. These silver angles shine in a room for cutting edge creators -- the sharp angles inspire anyone from fashion designers to app developers. For faux texture, Screwed Up is a unique choice for the modern home office.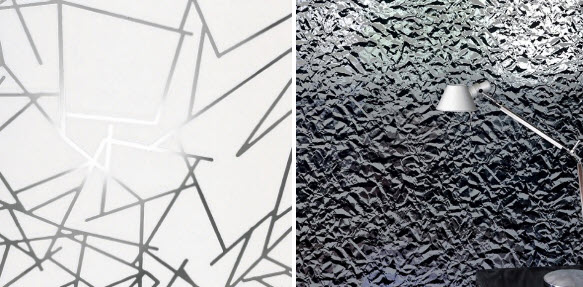 Integrity
Do you invite clients to your home office space? Open the door to opportunity with an elegant office that demonstrates your integrity. Choose a structured motif that embodies your character and embraces your clients' needs. A design that looks simple from a distance, but is intricate up close is a great way to represent your business acumen. This gold and black lattice is a perfect choice for an office space that inspires you and your clients with a sense of creative readiness. A shimmering silver metallic wallpaper shows you in your best light a modern home office.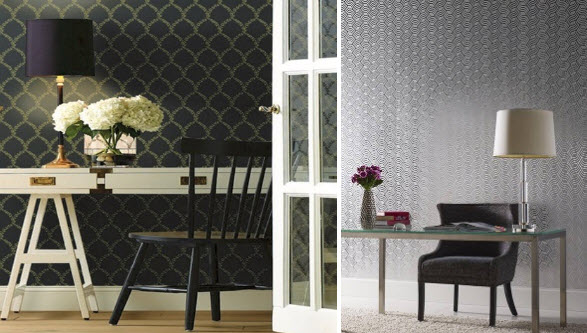 Some clients will prefer to do business with a family-owned company that has withstood the test of time. Classic designs like scrolls, florals, and antiques indicate a well-established brand. Choose an unobtrusive pattern paired with family heirlooms to showcase your generational business.
Creativity
Not all home offices are built for data entry. Artists, writers, musicians, designers, and other creators find inspiration in their home offices -- blank, unadorned walls probably won't spark many genius ideas. An enthusiastic wallpaper choice is a fast way to get the creative juices flowing. Take your home office space as an opportunity to speak to your inner muse and choose a wallpaper that ignites your creative passion. Any recording artist would feel inspired in a space dedicated to music with this modern wallpaper; the flexible gray and white color palette is spiked with yellow arrows to move you forward. Press play on your imagination!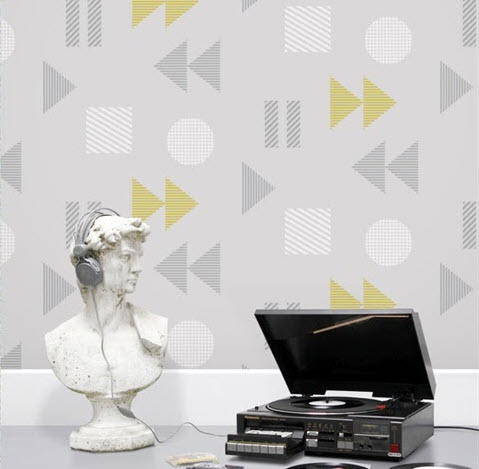 Performance
Make the most of a small workplace with well-chosen wallpaper. Tiffany Brooks offers some great color advice for expanding a small space: "Dark colors are usually used when creating a warm and cozy feel. Using lighter colors, especially on the walls, brighten up the place and make it feel bigger. But that doesn't mean you can't add a pop of color to give your walls some personality." When your desk and decor are all brown, black, or gray, enliven your home office with fresh color and visual interest, like this pink bamboo trellis pattern.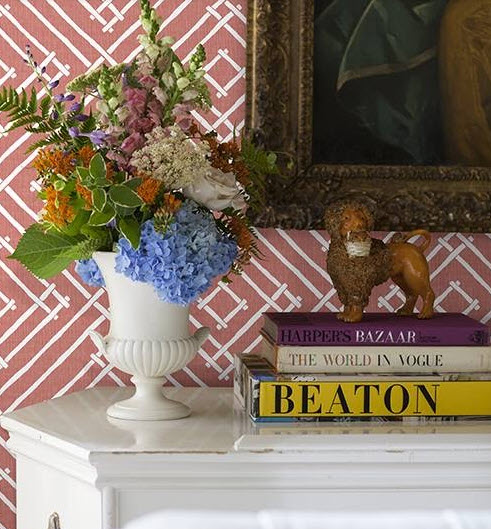 Rough and tumble wallpapers can take anything you throw at them -- literally. Vinyl wallpapers are washable, scrubbable, and highly durable. Wallpaper Boulevard carries a rainbow of hardwearing wallpapers for any home office. We think washable faux grasscloth paper strikes a great balance between style and function.
If you've recently joined the ranks of millions of people who now work from home, mark your productive territory with unique home office wallpaper. Whether you prefer to coordinate with the rest of your home, but switch up the color palette, or break away from the grind with bold colors and intricate patterns, Wallpaper Boulevard has the style for you.