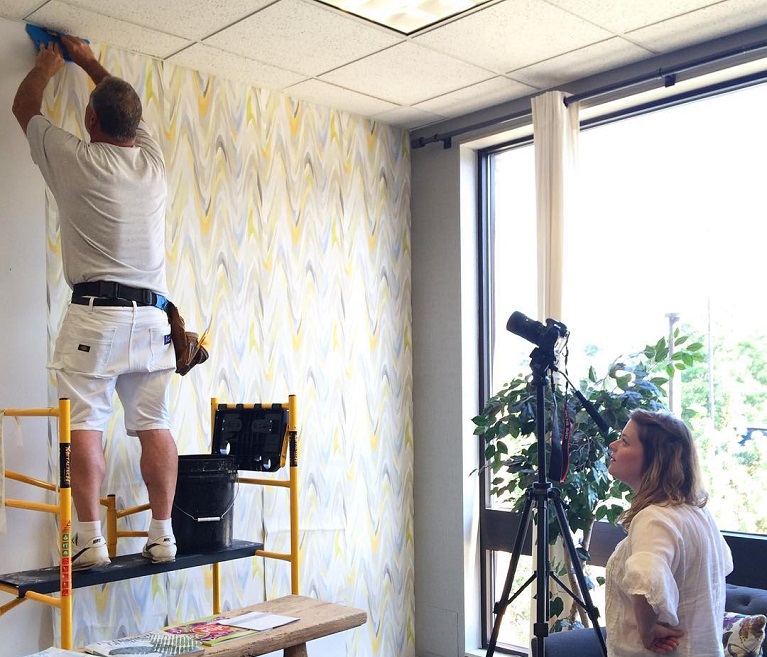 Preparing your room for wallpaper can be a simple or more complicated process depending on the current condition and surface type of the walls. Painted drywall is fairly easy to prepare with a quick wash and a coating of primer/sealer. Older walls, or walls that have wood paneling or other types of alternative surfaces, may take a little more work. Follow the right steps, however, and just about any wall can be effectively prepared for your new wallpaper.
The best way to ensure your wallpaper will adhere nicely to your wall is to finish any preparation with a coating of acrylic primer or sizing. Applying acrylic primer or sizing to your wall is like creating an entirely new surface to which your wallpaper can adhere most effectively. It also protects the wall from the moisture of the wallpaper adhesive which can cause the wall to weaken or be exposed to mildew growth.
See Also: Homeowner's Guide to Paint Primer
Painted Drywall
To prepare painted walls that are already in good condition, simply wash them with a multi-surface soap and then let dry. Add an acrylic primer, and allow that to dry fully before hanging wallpaper.
If the painted walls have holes, dents, or cracks, be sure to fill them with vinyl spackle. After the spackle has dried completely, smooth it with wet sandpaper before applying an acrylic primer. If your walls are lightly textured, you'll need to sand the entire surface lightly before washing and priming.
See Also: How Soon Can You Wallpaper Over Freshly Painted Walls?
New Drywall
If your drywall has not yet been painted or primed, your best bet is to use a alkyd (oil) primer followed by an acrylic primer. Alkyd primer is excellent at protecting drywall from mold and mildew, which is important for such an absorbent surface like drywall. Follow that up with one coat of acrylic primer, and your drywall will be ready for wallpaper.
See Also: How To Prep New Drywall For Wallpaper?
Wood Paneling
Wood paneled walls may take a little more work, but in the end you won't believe the paneling is even underneath the paper if you do it right. You'll need to wash the walls with a de-glossing solution. Then the grooves between each panel need to be filled with spackle and sanded even. Wash the walls and let dry, and your walls are ready for primer and wall paper.
See Also: Can I Hang Wallpaper Over Wood Panels?
Plaster Walls
Older homes typically built before the mid 20th century often have plaster walls. Alkyd (oil) primers or good to use if there are repairs to the wall you've had to make. Follow one coat of alkyd primer with a coat of acrylic primer before wallpapering.
See Also: How To Wallpaper or Paint Directly On Plaster?
Existing Wallpaper
The best way to deal with old wallpaper is to remove it by stripping it away. You can use a wallpaper remover solvent, or a wallpaper steamer for hard to remove paper. Once your wallpaper is removed, fill in holes and smooth damaged areas out with a good sanding. Apply the appropriate primer based off the type of wall that's underneath.
See Also: Can I Hang Wallpaper Over Existing Wallpaper?
Heavy Textured Walls
If your walls are especially textured, and sanding is not sufficient, you can use lining paper to create a smooth surface for your wallpaper. Prepare the wall in much the same way before hanging your liner paper. Hang the wall liner and then hang the wallpaper over the liner. This is your only option for surfaces that you cannot smooth out by other means.