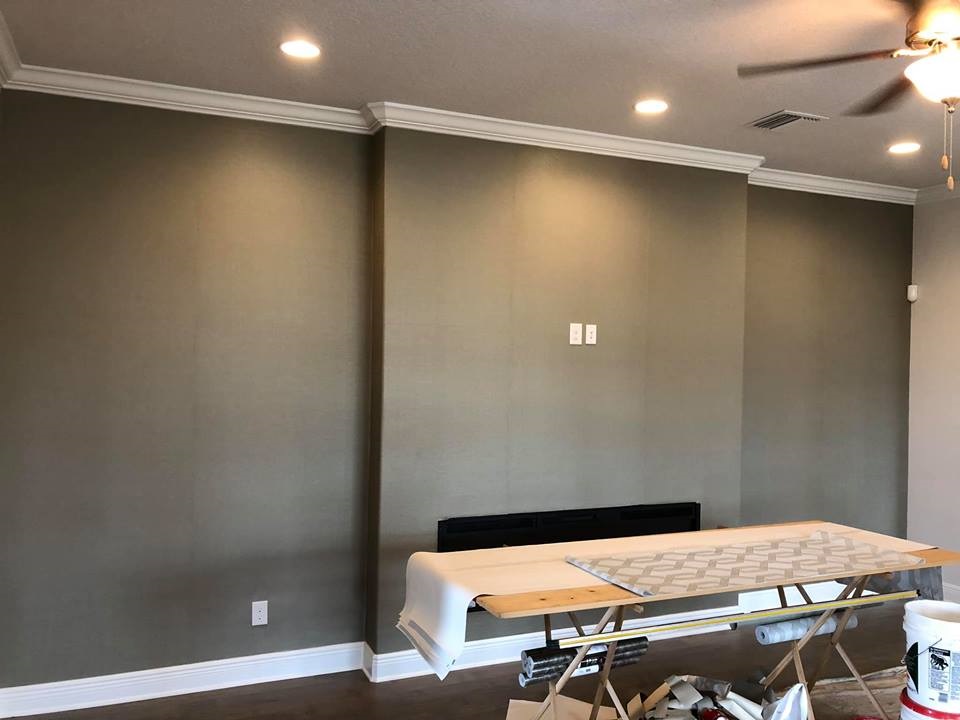 Wallpaper is a timeless decorating medium and the new patterns, with their dramatic combination of color and design, ensure that there is something for every taste and budget.
Even the process of removing old wallpaper and installing a new one has been streamlined using removers and adhesives from manufacturers like Brewster, York, Wallquest and Romans.
There is no reason to avoid beautifying your home with one of the hundreds of options available to you in today's wallpaper design catalogs.
So, what are some of the different types of wallpaper and how do the installation procedures differ from one another? That is what we will discuss in this article.
Vinyl Based Wallpaper
Vinyl wallpaper is one of the most popular styles on the market because it is practical in so many ways:
Durable, lasting up to 20 years.
Resists fading better than most other styles.
Competitively priced compared to other materials.
Easy to clean.
A large variety of patterns and colors are available.
Imitates stone, wood, and other natural elements.
Embossed vinyl wallpaper can help hide imperfections in the wall.
A disadvantage with solid vinyl wallpaper products is that vinyl does not easily breath and therefore should be avoided in areas of high humidity such as bathrooms and kitchens.
Since the moisture cannot pass through the surface of the paper, fungus could form on the wallpaper.
Please note, this doesn't mean you can't use vinyl wallpaper in these areas. It just means that you need a proper ventilation system in these areas to take out the moisture, which most modern homes have. An alternative for bathrooms is to use vinyl coated paper instead.
Most vinyl wallpaper sold in the United States will be prepasted but there are some unpasted vinyl options as well.
Unpasted is installed by applying adhesive to the paper and or wall. A good adhesive many installers recommend is ROMANS Pro-880.
Pre-pasted is installed by activating the adhesive already on the paper with water. You can dunk it in a trough or spray the back with a sprayer filled with water.
Wall Liner Paper
This product is not decorative and is not intended to be the final finish. Rather it is used as a foundational layer that will cover minor imperfections on the wall surface allowing you to paint or apply your designer wallcovering over it without fear of the blemishes below showing through.
A wall liner is also used to cover any strong colors that might bleed through a lighter wallpaper or paint finish.
Note, however, if there are large cracks in the surface of the wall, these should be filled with drywall mud and sanded smooth before installing the wall liner.
How to Hang Wall Liner
The wall liner is usually hung horizontally with a small gap between sheets and about an inch short of the top and bottom of the wall to ensure the finish wallpaper bonds directly to the original wall surface. The wall liner can be installed using a contractor-grade wallpaper adhesive and after installation, it should be primed prior to installing the finished wallcovering.
Make sure you purchase enough to complete your job as well as a little extra. Wallpaper and wall liner are manufactured in batches and you want to ensure that you purchase all of your product from the same batch to avoid variations in colors and print. Even small variations may be noticeable in the finished product.
Non-Woven Wallpaper
This product is relatively new to the wallpaper market and the unique feature is that you don't paste the paper, you paste the wall and take the paper to the wall, dry, to install it. The ideal adhesive for this type of paper is a universal wallpaper adhesive. You can roll it on the wall or brush it on.
Another great benefit of non-woven paper is its ease of removal, but this does depend on how the wall was prepared prior to installing the paper. If the wall is prepped with a latex primer, the removal is easy:
Score the wall with a scoring tool.
Using a garden sprayer, thoroughly wet the wall.
Starting at the bottom, peel the wallpaper off.
Textured Wallpaper
Textured wallpaper comes in many unique and beautiful patterns and designs and some of these products can be painted over. Often the texture gives a 3D look to the wallpaper making wood, floral and stone patterns come to life. They will typically be installed in the same fashion as other vinyl wallpaper. Advantages include:
Help to hide imperfections in the wall.
Beautiful patterns whether painted or used as is.
If you choose not to remove the previous wallcovering, this is a good choice to cover it with.
Textile Wallpaper
Textile wallpapers are manufactured with natural fibers layered to a paper or acrylic backing. They are beautiful, durable, and have a strong sense of dimension. Synthetic textile mimics the look but is not a laminated wallcovering. They are more durable and therefore appropriate for areas where high traffic is expected. Natural textile wallpaper is a premium product and requires an experienced installer to ensure the paper is installed correctly.