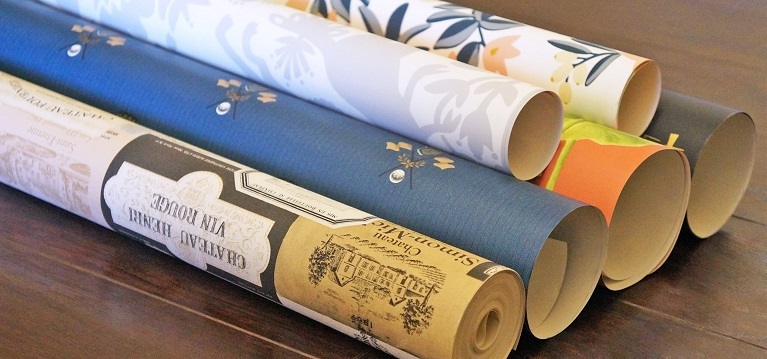 If you have shopped for wallpaper in the past few years, you may have been confused (or even upset) by the fact that pricing is for a single roll, but wallpaper only comes in double rolls. This is actually the result of the evolution of wallpaper packaging based on who installs the wallpaper.
Single, Double, and Triple
If you have paid attention, you may have noticed that there are actually three types of rolls:
- The single roll, which is purely for pricing (you cannot buy a single roll)
- The double roll, which is the predominant type of wallpaper sold
- The triple roll, which provides additional wallpaper compared to the double roll
The vast majority of wallpaper is sold in double rolls; however, there are triple rolls available for rooms with high ceilings. This is one of the reasons why wallpaper is sold by single roll – it would be far more confusing to buy a roll and a roll and a half, depending on your needs.
The Rise of Do It Yourself
One of the main drivers for the switch to only selling double or triple rolls is the sudden boom of home owners who prefer to do it themselves. Wallpaper is a lot trickier to apply than most people realize, so it quickly became evident that additional wallpaper was required to ensure the customer had enough to compete the project after a few mistakes. Typically, clients buy just enough, then find that they require more, but it is more difficult to get the right lot number to keep a consistent look. To fix this, the industry switched to double rolls so that customers have a little extra in case of mistakes, tears, or miscalculations.
What It Means
The term double roll applies only to the length of the wallpaper, not the width. When you estimate how much wallpaper you need, you will need to take into account the width of the rolls that you are interested in purchasing. Though a particular roll may appear to be more expensive, the cost may actually be less if it is considerably wider than the other patterns you are considering.
The length also varies a little, between 56 and 58 square feet. To determine if the double roll will stretch the full span of the wall (ceiling to floor), you will need to double the length of the single roll. Typically it is between 27.5 and 29 square feet for the single roll.
This is one of the most confusing and frequently misunderstood aspects of wallpaper shopping. If you need assistance determining the right type of roll or estimating the amount you need, you can feel free to contact us.