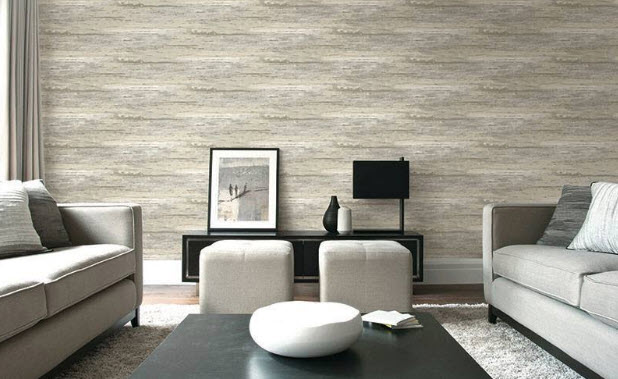 The living room is where the family spends most of their waking hours at home, so the wallpaper you choose will be the backdrop for all your family photos and memories. Decorating this room involves some major decisions, but choosing the wallpaper doesn't have to be a difficult choice.
First you need to decide your level of formality. Is your living room for you, or is it for your guests? Do you want a neutral room to last a lifetime, or do you want to use the living room to showcase the best parts of your family's personality and tastes?
Next, consider durability. Do you have rough and tumble kids, or is your household tidy and reserved? Nylon and non woven wallpapers are washable, so these are probably your best options if there's a potential for crayon wall art. For a home full of adults, the living room can be a great place for luxurious specialty wallpapers.
We've highlighted some of our favorite living room wallpaper ideas here. Which style suits you best?
Formal Front Room
Traditional wallpaper patterns like damask, toile, and classic flowers are perfect for a formal living room. Design your historic home around priceless antiques, but use 21st century wallpaper. Modern wallpaper is more durable, easier to apply, and is readily available in practically any style you like. Today, you can design your home to look historically accurate without worrying about antique wallpaper. Delicate decor with subtle damask in a neutral color palette makes this champagne living room the very picture of luxury.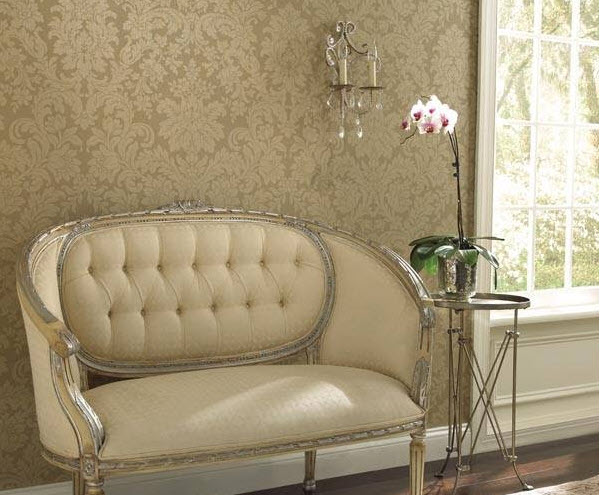 Antiques are beautiful, but formal doesn't have to mean traditional! Gorgeous geometrics elevate the living room to mid-century chic and beyond. These beautiful gold foil wallpapers catch the light against a backdrop of rich, contemporary colors. Minimal decor and sleek design perfects this modern look.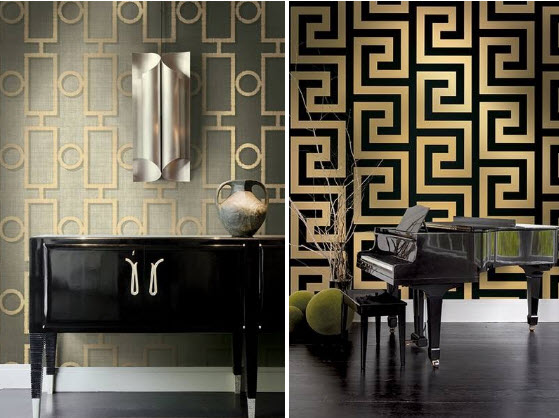 Comfortable Den
Maybe fragile antiques and modern geometrics are too serious for your taste. Maybe you call your living room the den and really understand the concept of "hygge." For you, comfort is king, and wallpapering your living room calls for warmth and a sense of hominess. Natural colors and textures will make your living room the perfect place to settle in.

Faux wood and stone are the perfect way to bring your love of the outdoors inside. Wood paneling and shiplap are popular in living rooms around the world, and Wallpaper Boulevard's faux wood make the look accessible, customizable, and unique. For an urban comfort look, stone and exposed brick are great choices, but they can be heavy and irregular. Faux stone wallpaper takes away any irregularities in the stone while providing a lightweight look to an old classic.
Florals and leaf patterns bring a sense of softness into a room. Gentle greenery is welcome in any home, and leafy wallpaper is the easiest way to bring a natural look to your living room. From traditional roses to flourishing tropical leaves, Wallpaper Boulevard's refreshing selection is sure to satisfy any plant-lover.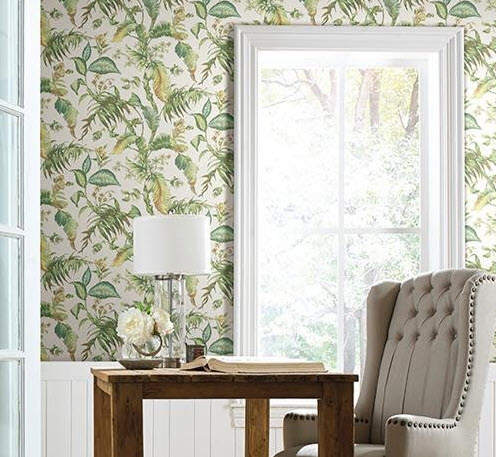 Family Room Fun
Family rooms are just that -- a room for family time, fun, and relaxation. A formal look may not be appropriate for families with fun-loving kids and pets. Pick a wallpaper that specifies that it's washable or scrubbable. That way, you'll be able to clean up accidents and spills that come along with all the fun. This home is cozy and fun with an amusing pug pattern from Wallpaper Boulevard's Madcap Cottage collection.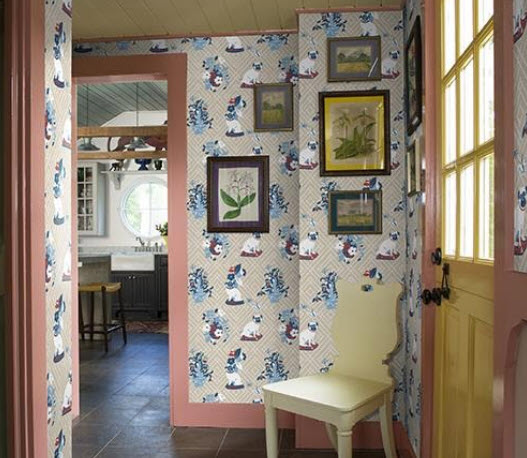 And don't be afraid to get silly in your living room! If your favorite color is bright orange, no need to settle for pastels. The living room is the hub of your family's day, so feel free to express your personality. Bright colors, vivid geometrics, and family-friendly patterns are right at home in the living room.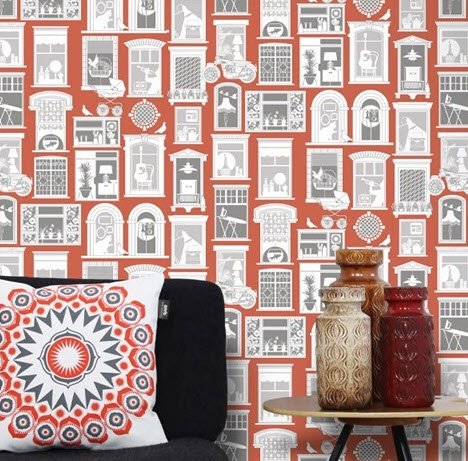 Textural Interest
Exploring textured wallpapers in the living room is the perfect way to add depth. Touchable faux woodgrain not only looks like wood, but has its signature texture. These geometric diamonds are raised for visual interest that plays with light.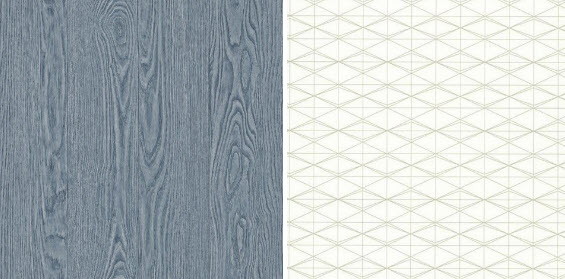 Just like the fabric, linen wallpaper feels woven. Ridged wallpaper hung vertically makes the ceilings look taller and the room looks bigger. These are great options for rooms that don't need any more visual interest, like this rich red entryway. Check out the subtle coordinating neutral wallpaper on the landing!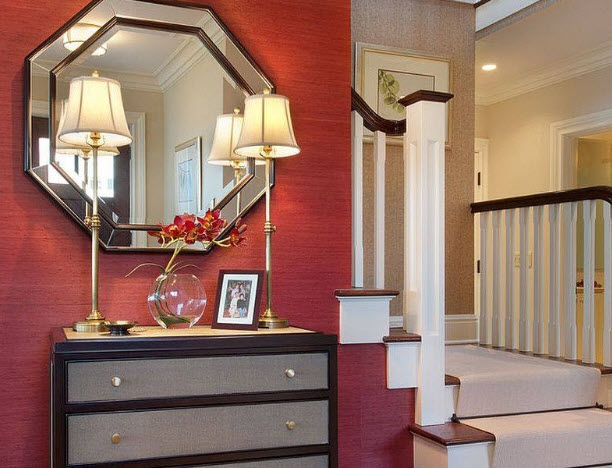 Silk wallpaper has the look and texture of silk or satin. The discreet sheen brightens any room, adding interest without being ostentatious. From classic embossed florals to rich damask to a subtle sheen, silk wallpaper adds a little something extra to matte prints.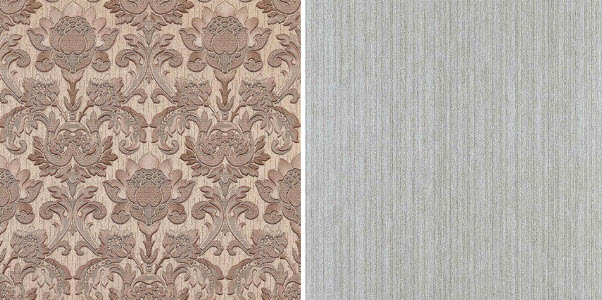 Something for Everyone
The living room is a shared space, so when one person in the household likes bold stripes and another prefers pastel florals, a compromise must be reached. Neutrals are the first choice for many families. Ivory, white, or tonal eggshell wallpapers appeal to everyone. This pearly floral wallpaper adds just a touch of visual interest to an otherwise cream wall. Look closely to see the beautiful roses and vines.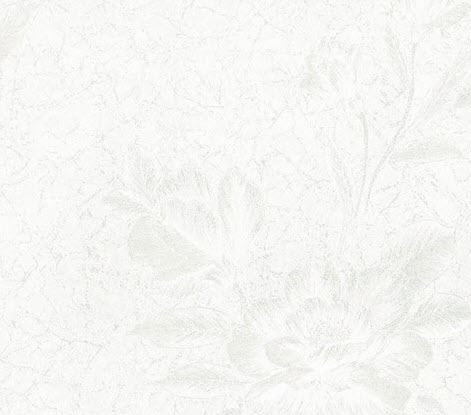 But if a room full of white walls feels too stark for your family, consider an accent wall. This off white living room pops with intricate blue and cream scrolls. Keep the decor simple along the accent wall, but don't forget to tie in the dynamic wallpaper color.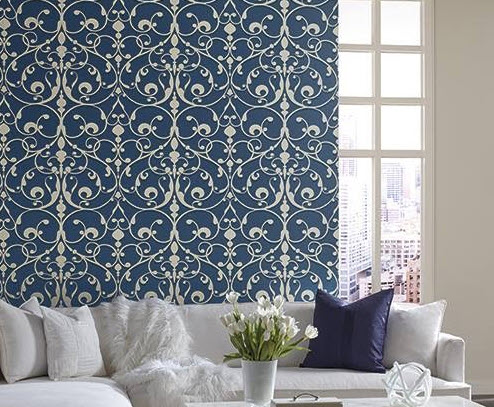 Structure and Flow
For visual interest in a neutral color palette, these tonal geometrics are simultaneously subtle and bold. These two-tone textured geometrics can be used in any style of home. They are modern classics.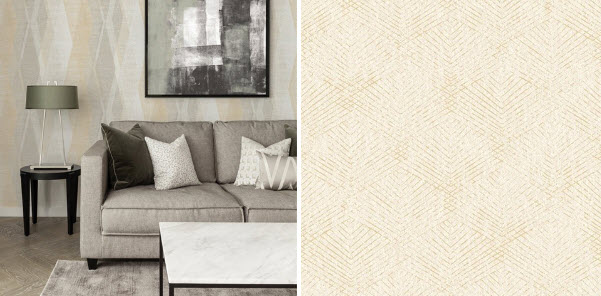 Neutrals may be timeless, but a fresh color enlivens any living room. Blue is a classic living room color choice, and these diamond patterns spice up this blue and cream living room. Soothing green lattice looks great in this comfortable modern room.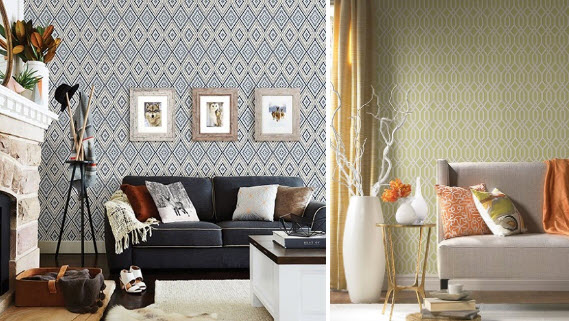 Express Your Passion
If your enthusiasm knows no bounds, express yourself in the living room. Wallpaper is available in classic styles, simple geometrics, flowers, textures, and scrolls -- but what about patterns that share your love of books and music? Play/Record is perfect for a musician's living room. Does your living room look like a library? Find wallpaper that looks like calligraphy or even book print.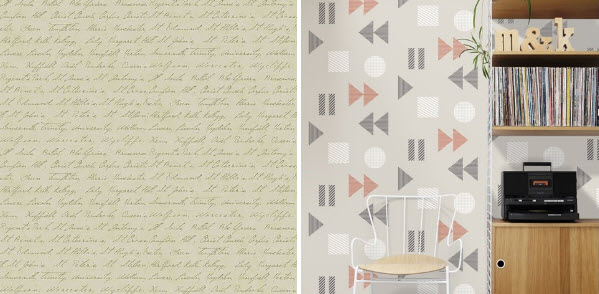 Life on the beach calls for tropical or nautical prints, like this map pattern. There are hundreds of handsome blue waves, fish, ships, and other nautical themes for lovers of the sea. Animal lovers will adore leopard spots and peacock feathers. Nature-themed options range from intrepid jungle scenes to subtle snakeskin textures. Try a delicate pattern featuring birds in your living room for a sweet look with a twist.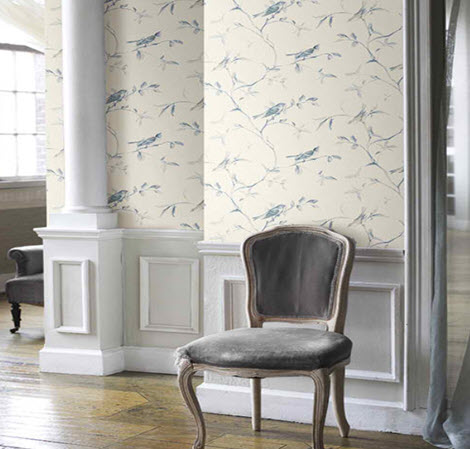 But if you've ever said, "I'd rather be fishing," handsome wallpaper will remind you of your love of outdoor sport. Hunters can enjoy birch trees, woodland scenes, or even discreet damask wallpaper with stags hidden in the pattern.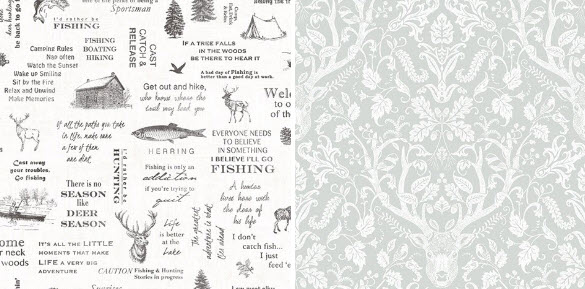 Coordinating with Furnishings
If your passion or color tastes don't translate well to your decorating style, consider your taste in furniture. A love of heavy antiques calls for delicate classic patterns, like scrolls or florals with a light touch. If you prefer fine furniture with sleek, straight lines and intense colors, try either more straight lines with bold geometrics or embrace contrast with curving curlicues or trellises.
This mid-century paisley embraces color fashioned around retro shapes in the furniture. From a distance, it looks like a neutral, but up close you can see a rainbow of colors. Any colorful decor would coordinate with a pattern like this one.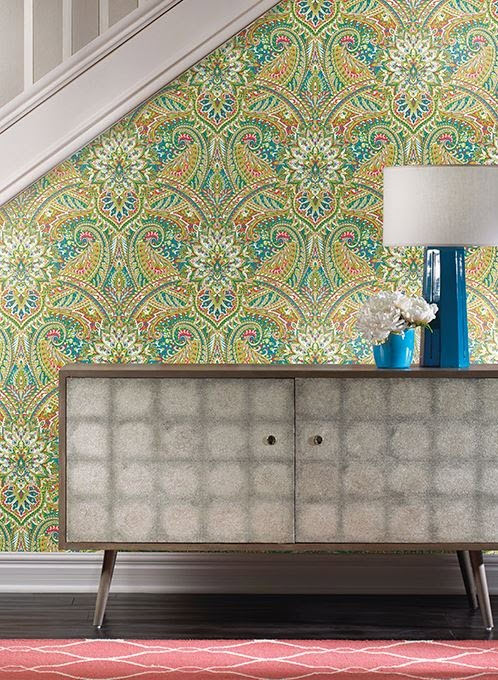 A room with a fireplace may feel like it already has all the decor it can handle, but chances are wallpaper would elevate the feel your living room. Match the color and shape of the mantle with the flow of your wallpaper. It may be a large enough piece that you'll prefer two-tone neutrals or solid-colored textures. This is the best option if you prefer to hang plenty of art pieces or collect knickknacks. More streamlined styles can handle adventurous wallpaper choices. This living room uses sharp lines against a soft-focused wallpaper pattern to draw the eye to the fireplace and modern furnishings.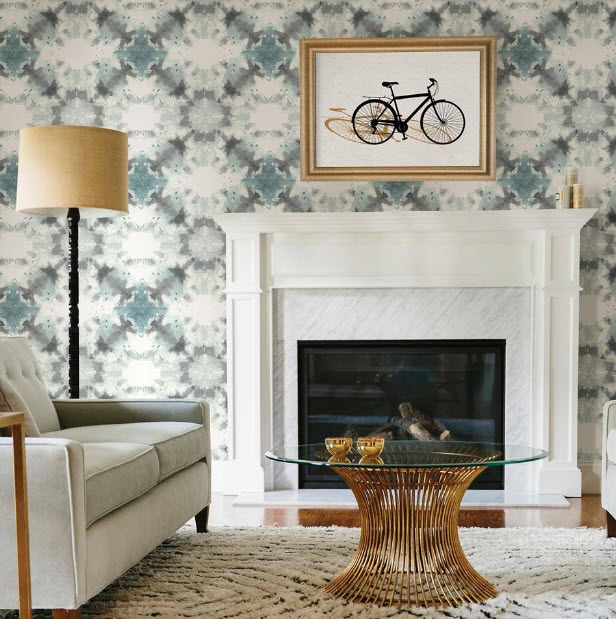 Still not sure which wallpaper suits your living room best? Don't worry! Stylecaster says, "wallpapers are such an easy way to elevate your home without doing major renovations, so choose your favorite now, and keep it as long as you love it. You'll be amazed at how much a few pieces of paper can change the look and feel of a space." The options are nearly endless, but there's little risk in trying out wallpaper in your living room. For some, wallpapering the living room is a commitment; for them, Wallpaper Boulevard offers durable, high-quality papers in timeless patterns that will last a lifetime. But for families whose tastes change like the weather, wallpapering the living room is a fun and easy way to keep your home in style and on-trend.