Chances are, your bathroom's furniture and fixtures are plain white or beige. Why settle for more of the same? It's one of the most used rooms in the home, but the bathroom is often overlooked as a decorative space. Make your bathroom a showcase room with a splash of bold wallpaper.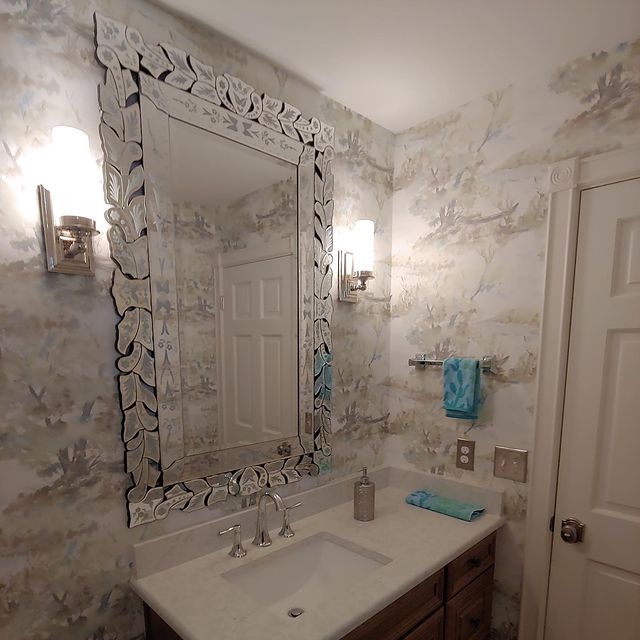 Bright and Bold
The bathroom may be a small room, but that doesn't mean you shouldn't go bold! An eye-catching design with bold colors will enliven your bathroom. Outdated decorating advice, such as never using dark colors or bold prints or high contrast motifs, can go out the window. Bathrooms are perfect for experimentation and excitement. Most people don't want to spend any more time than necessary in their bathrooms, but exciting patterns will make your bathroom a centerpiece.
Wake yourself up with wallpaper full of sharp contrasts and bold colors. If your bathroom isn't an oasis, but an exciting room full of adventure and character, try black and white with a loud color pop in your modern home.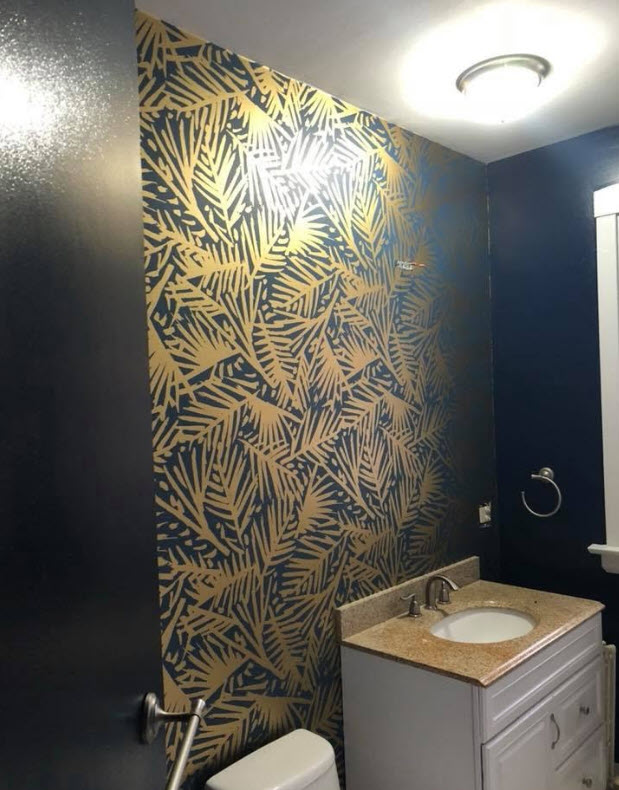 Big Patterns
Overhaul your bathroom in a snap with big, bold colors. Tiny patterns aren't your only choice for bathroom wallpaper. Don't worry about your large-patterned wallpaper making the room feel small; even the most audacious choices are tempered by accent walls, solid-colored fixtures, and simple decoration.
If you choose an oversized pattern, the eye is drawn around the room, making the room feel bigger and more alive with drama and dimension. Try placing a large mirror in the center of the pattern to emphasize the illusion of movement.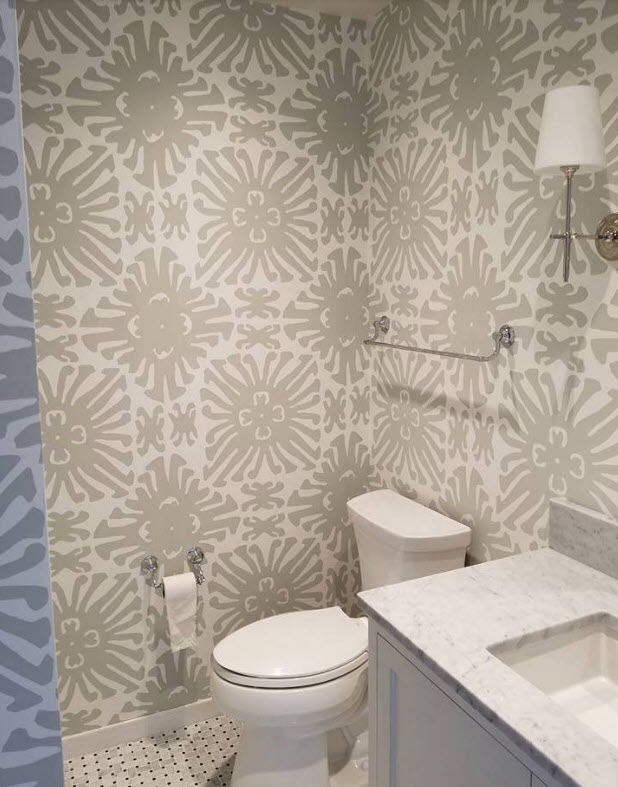 Straightforward Stripes
Maybe you're not the bold bathroom type. Maybe the bathroom is your retreat, your den of solitude. For you, a subtle paper will maintain your sense of peace. These stripes are broken up to introduce visual interest, but the colors are still relaxing for your oasis.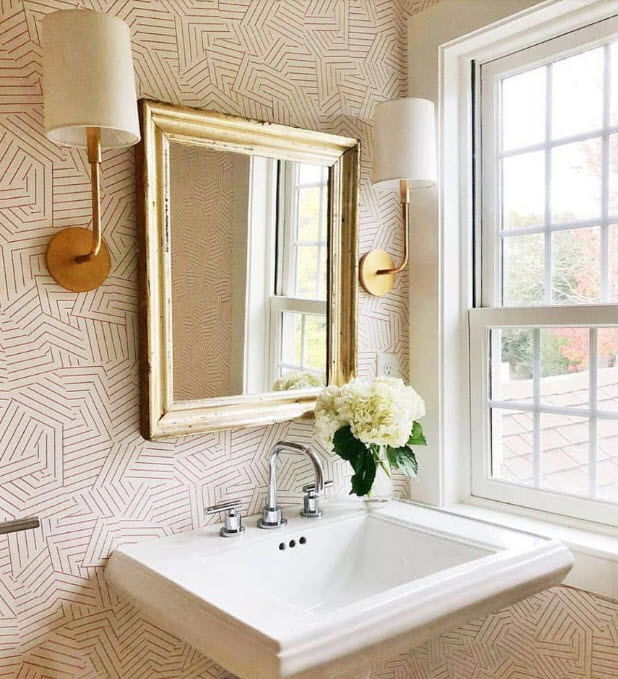 Stripes have never gone out of style, but they don't have to be boring. Wallpaper Boulevard has a wide selection of striped wallpapers ranging from traditional florals to textures to classic two-tone stripes. To break up the monotony, match your striped wallpaper with a high tiled backsplash and a solid border.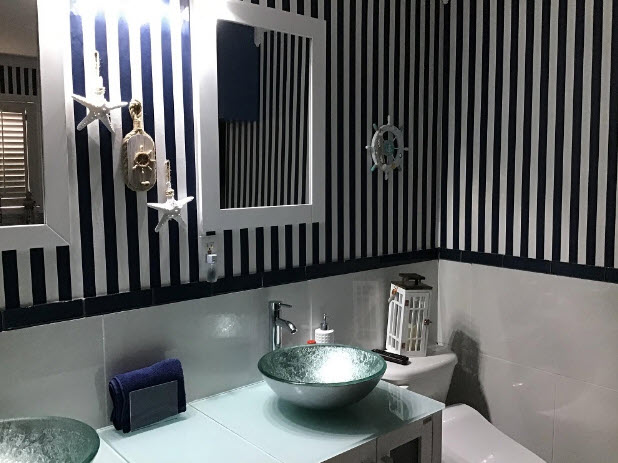 Nuanced Nauticals
Nowhere else in the home would a nautical theme be more welcome than the bathroom. Nautical bathrooms have been popular forever -- sea waves, anchors, knots, seashells, or simply shades of blue are almost synonymous with bathroom decor. Wallpaper Boulevard's Hudson Bay Nautical paper is patterned with finely-sketched ships on a cobalt-blue sea; an elegant interpretation of the classic.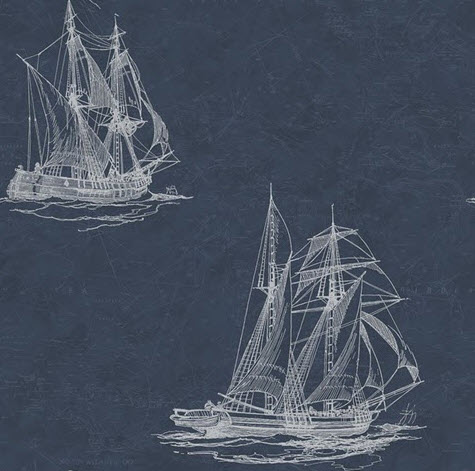 Fresh Florals
Different floral patterns evoke different feelings. A delicate rose pattern is perfect for a formal look or nostalgia, but modern homeowners may prefer bold monstera leaves. Historic homes frequently featured floral wallpaper, so consider a true-to-home option to stay period.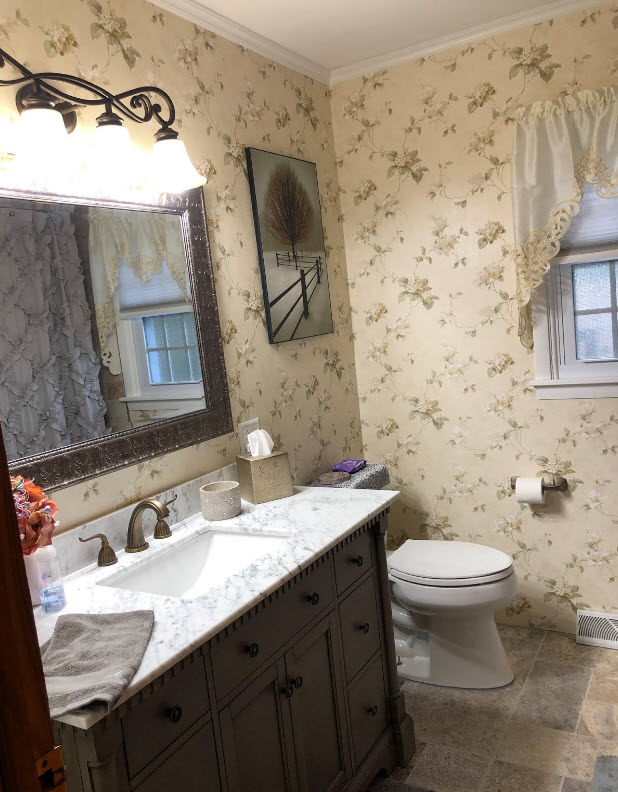 Houseplants are on trend right now. They're always in season, and require little more than sunshine and water, but green leafy wallpaper patterns are even easier to care for! Wallpaper Boulevard features leafy patterns ranging from subdued ferns to bold tropicals.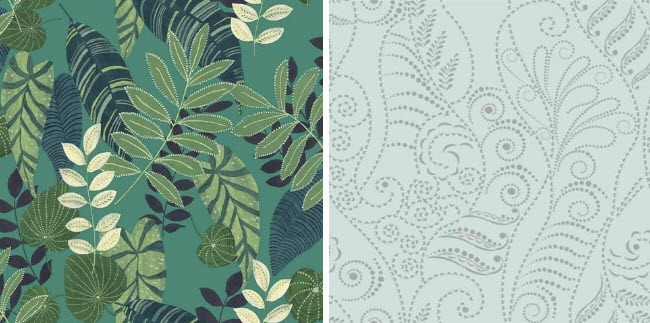 This high-contrast tropical floral wallpaper strikes a balance between classic and modern tastes. Leaf patterns are suitable in any room of the house, but really blossom in the bathroom.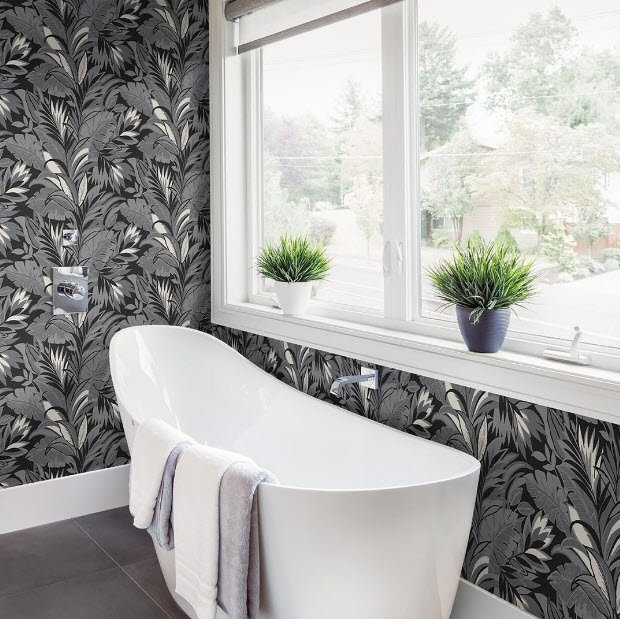 Luxurious Metallics
For a high-gloss modern look, metallic or foil paper will make your bathroom sparkle. Hadley Mendelsohn of House Beautiful loves wallpaper, especially in the bathroom. Mendelsohn says, "...you don't need a ton of natural light for a wallpaper to really pop, so it can embolden even a low-lit or lackluster bathroom." This is especially true of metallic wallpapers, which truly shine with direct bright lights.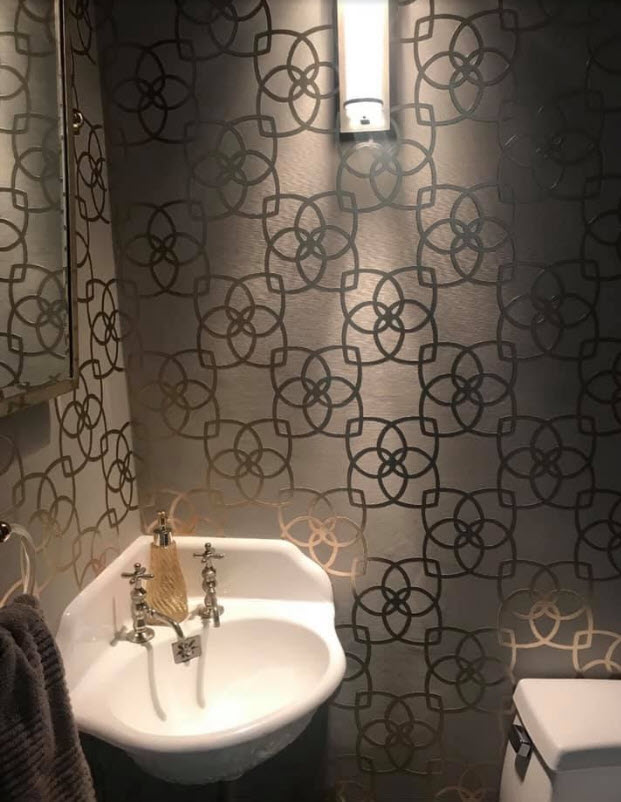 Nearly-Touchable Textures
Natural fibers, such as grasscloth, and novelty textures such as glitter are too delicate for the bathroom. Instead, go for optical depth. Faux animal skin, leaves, grass, and basketweave are all handsome options for the bathroom. Pair deep, rich textures with creative lighting to enjoy a muted bathroom that speaks for itself.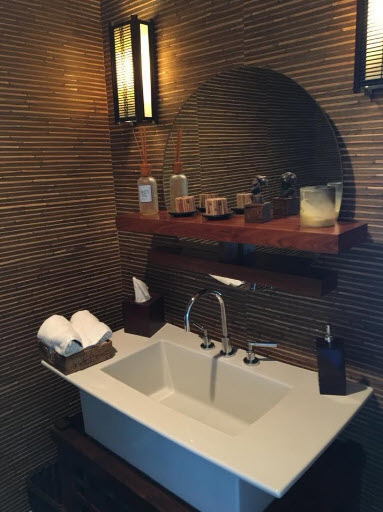 Modern Motifs
However you decide to decorate, your new wallpaper will be uniquely "you." Don't hesitate to choose a motif that speaks to you, even if you don't find that pattern in other rooms of the house. Wallpaper Boulevard has dozens of options from curly scrolls and damask to geometrics and trellises to delicate feathers and scenes.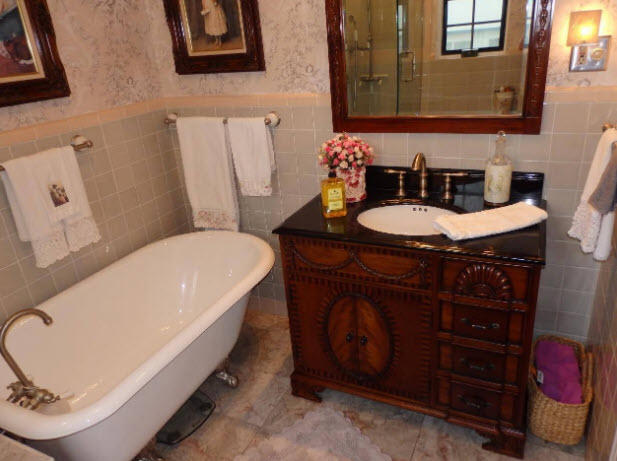 Bring the 1920s to the 2020s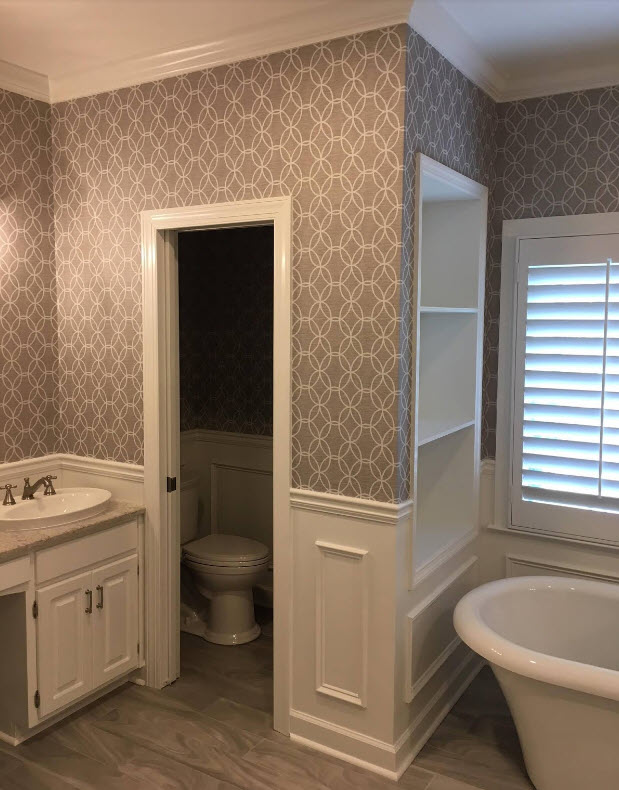 Bold geometrics are a solid choice for any room of the house, but work exceptionally well in the bathroom, where busy patterns are broken up by fixtures, appliances, and mirrors. Popular in the 1920s, art deco motifs are still showstoppers today.
"If there's a color that's roaring back in 2020, it's green," say Drew and Jonathan Scott. Green is a classic color choice for serene bathrooms, and in combination with art deco designs, it never goes out of fashion. Find art deco geometrics from The Scott Living collection at Wallpaper Boulevard.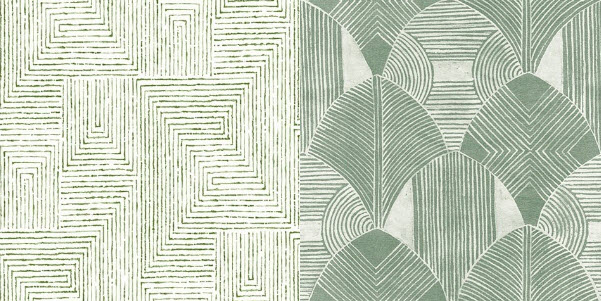 Accent walls
Not ready to commit to a fully papered bathroom? If your choice is high contrast or a colorful piece, an accent wall may be your best option. Leave the rest of the walls a solid paint color, or choose a coordinating wallpaper for the other three walls.
Revamping your bathroom with an exciting accent wall is a great way to dip your toe into designing with wallpaper. This is a fantastic option for renovators on a tight budget!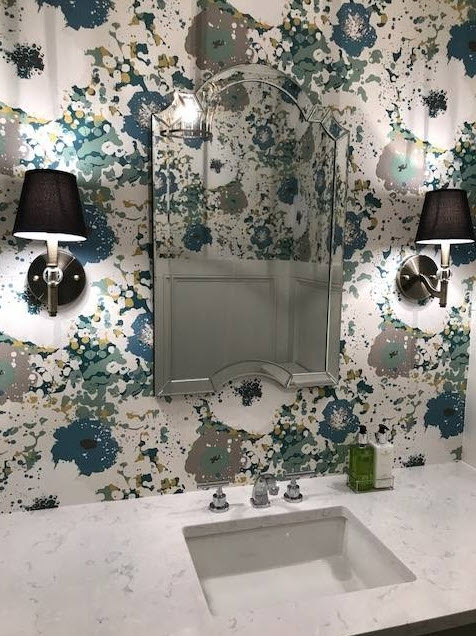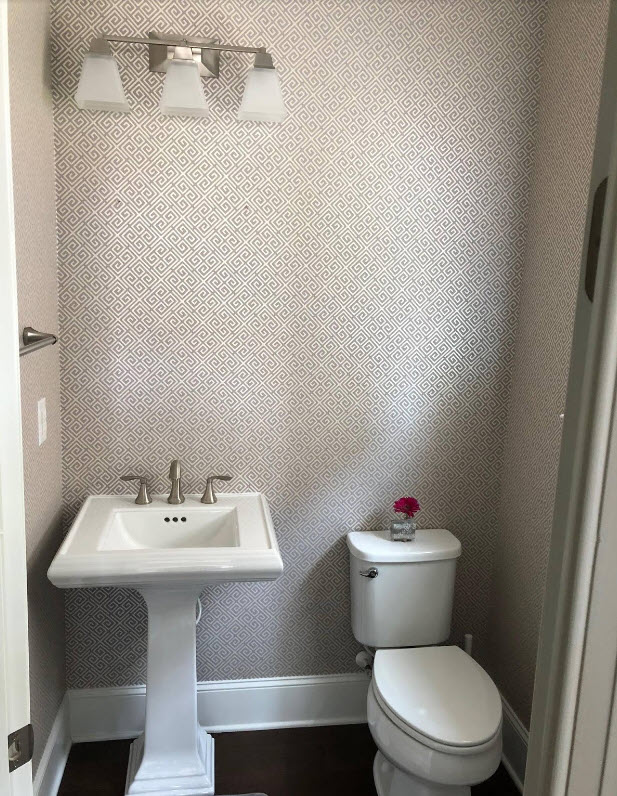 The Natural Look
Maybe instead of a bathroom, what you really wanted was a sauna. Replicate that relaxing Nordic feel with a wide, horizontal wood pattern (left). Add an orchid and galvanized bathtub, and you'll swear you're relaxing at the sauna. More of a spa person? Get that zen look with narrow bamboo-patterned wallpaper.
Joanna Gaines shiplap (right) is super popular and works well with nearly every style. Try it as the only wallpaper in the room or as the main paper to highlight an accent wall. Using real wood in the bathroom can be risky when it comes to potential water damage. Woodgrain wallpaper gives you the look without the risk or the expense.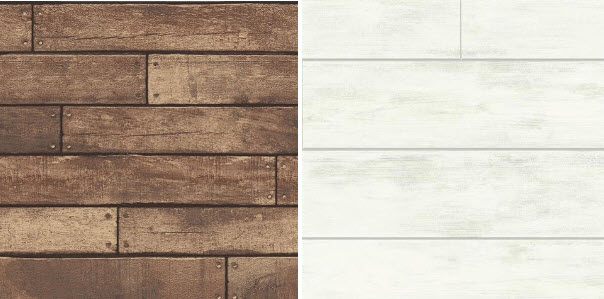 Why So Serious?
Not all bathrooms are meant for grownups! Express your little ones' personalities with novelty wallpapers and loud colors. Go overboard a pirate ship print in the kids' bathroom, but try to keep the paper away from the bathtub (aka: splash zone).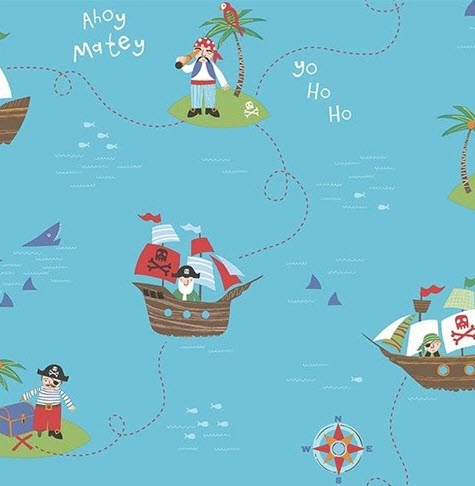 Welcome, 2021
The Pantone 2021 color of the year (well, color combination of the year) is "Ultimate Gray" and "Illuminating": a sunny yet creamy yellow. Stay on trend with a cheerful pattern of yellow and gray wallpaper. Try this simultaneously cutting edge and retro look with a yellow and gray selection from Wallpaper Boulevard's Mini Moderns collection.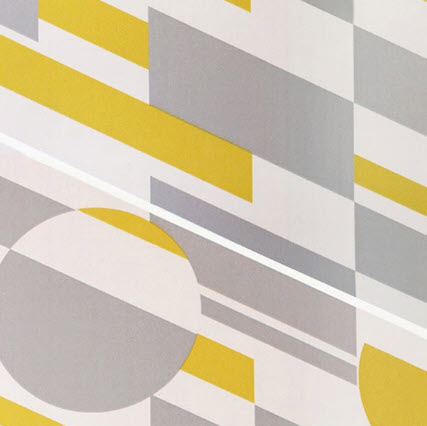 But should I really wallpaper the bathroom?
Yes! One of the first rooms new homeowners renovate is the bathroom. Why? This is because the rooms are often outdated or just don't accommodate for the owners' tastes, unless the home was built and decorated for the owners. They're also small enough that inexperienced DIYers don't feel too overwhelmed. It's a great way to make your mark on your new home or try out a new style. The bathroom is a perfect place to experiment!
How do I take care of wallpaper in the bathroom? Won't it get wet?
The humidity levels of the bathroom are often a concern for decorators, but if your paper has been applied correctly and you've installed a good-quality vent fan, the steam shouldn't cause any issue at all. The moisture in the air dissipates quickly enough that it won't loosen the adhesive.
Try to be careful with water splashes and maintain a strong ventilation system, or your bathroom wallpaper could become stained. According to Bob Vila, "whether it's mildew or tannins, try a bleach or white vinegar solution" to deal with stubborn stains from water damage. If you've maintained adequate ventilation and hung your wallpaper correctly, it's unlikely you'll need to know this trick.
Before you apply your wallpaper, always prime the walls. Use primer to improve the adhesion of the paper so that it has something to stick to. Applying paper directly to drywall which could damage the wall or create bubbles - a major fear for bathroom wallpaperers. HGTV's Miriam Parsons says, "[using primer] will ensure good adhesion and easy removal down the road."
Since the bathroom is a high-traffic room and requires frequent cleaning, choose a durable washable wallpaper when possible. Look for the words non-woven, washable, vinyl, or scrubbable. Your wallpaper won't need to be washed very often, but if it does, wet cloth with warm soapy water, wring it until it is just damp, then carefully wipe down any messes or stains. Promptly dry your wallpaper with a dry towel. With proper care, your bathroom wallpaper will last for years!
So what are you waiting for? Whether you're new to the world of wallpaper or an experienced interior decorator, the next room on your to-do list ought to be the bathroom!