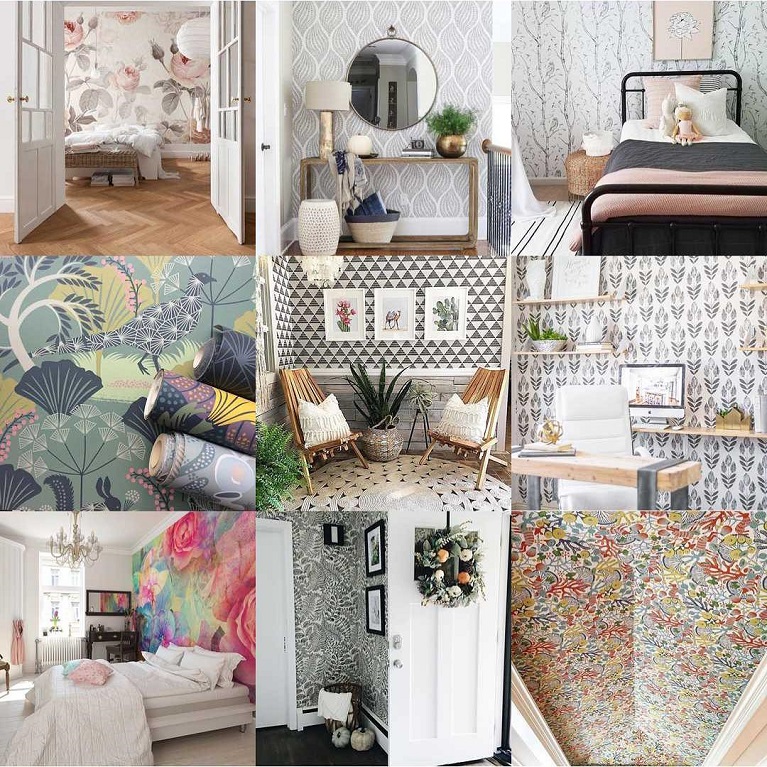 There are three main ways people shop for wallpaper – by color, design or room. This article will explain the 22 main designs in the wallpaper industry.
Animal Prints
Like the word sounds, animal print wallpaper typically has animals (or animal attributes) in the design. Bird designs are, by far, the most popular. However, these designs do not always have cute animals in them. There are also "skin effect" wallpapers like zebra texture, leopard print or snakeskin. Don't be caught off guard by the name, this category includes colorful safari wallpapers you may put into a kid's room or solid vinyl designer alligator textures you could install into a powder room accent wall.
Brick & Stone
This design category is very en vouge right now. Brick and stone can compliment many types of accent walls, though we see homeowners most often hanging this in their kitchen or as small living room accent wall. The prints found here are meant to imitate real brick and stone, with some of them looking very realistic. You really cannot tell it's not a brick wall with some of the fantastic textured faux brick patterns on the market today.
Candice Olson
This is more of a designer brand than an actual type of design, however, Candice Olson is so popular we created a category just for her. Within the wallcovering industry, Candice Olson has one of the most sought after and recognizable lines. She is known for putting a modern twist on classic patterns. She combines timeless classics with modern elegance that people with discerning tastes adore! Her patterns tend to be on the more expensive side, but there are no better designs that will make your walls pop, and stand out from the crowd, like hers.
Coastal
Have a love for the beach, the sand, or the ocean and want to bring that to your walls? Beach and coastal wallpapers bring a playful and nautical feeling to your home. These wallpaper designs are primarily used in bedrooms, laundry rooms, and hallways.
Contemporary
This is a huge design category that encompasses a lot! Technically, anything that isn't traditional can be categorized as contemporary, or modern, wallpaper. If it's not something you would see on Downton Abby, then it can be placed here. We do, however, try to limit this category to wallpaper that looks distinctively modern.
Cork
Not a huge popular design due to its high price point but appealing to a select group of people. If you have ever opened a wine bottle, then you know what cork feels like. Cork wallpaper is produced from that same material or meant to imitate it. It can range from $29.99 a single roll for faux cork to over $200 a single roll for real cork.
Country
The love of country wallpaper will always be one of the most popular categories! There isn't a set definition of what constitutes "country," but you know it when you see it. From berry spots to barnyard prints, these prints bring a sense of old time nostalgia to your walls. People hang these prints everywhere: kitchens, bathrooms, bedrooms and laundry rooms! They can range from being slightly campy rooster designs to subtle country cottage cabin boards.
Damask
Damask is one of the oldest types of designs; it is THE Classic Wallpaper Design. Created in the ancient city of Damascus, hence where the name came from, it has been around since the 13th century. While some people view this as a more tradition type of pattern, damask wallpaper has undergone a major overhaul as of late. It could easily be a very modern pattern depending on how its made. However, no matter what style of damask it is, two words that can be used to describe this design is regal and stately. Damask wallpaper commands respect and is the focal point of any room when hung.
Designer
What sets designer wallpaper apart from standard wallpaper? Really, not much. We guess you could say the price, though it would be a mistake to think that non-designer wallpaper is made from any less quality. Honestly, it's a very subjective category. For our website, we have reserved this group of papers to include wallpapers from brand names and designers who are considered "designer." This includes Candice Olson, Stacey Garcia, Ronald Redding, Antonia Vella, Carl Robinson, Kenneth James, FSchumacher,Ralph Lauren, Versace, Rasch, Erica Wakerly, Magnolia Home, and finally all Stroheim patterns.
Floral
Floral print wallpaper requires no introduction but for those who are new to the world of wallcoverings – it's everything with flowers in the pattern. From springtime tulips to summer hydrangeas, this category has wallpaper with every type of floral assortment imaginable. It's typically considered a classic design that is used in kitchens and dining room areas, but has also been modernized with metallics and intricate pattern designs.
Geometric
Geometric wallpaper is all about intersecting lines and shapes. Some of them are very complex and some are simple. Just don't fall into the temptation of thinking geometric prints have to be abstract and out there. These designs can be just as classy as more traditional wallpapers and depending on the pattern, can be hanged in a colonial styled home or a modern loft.
Grasscloth
Grasscloth has become one of the top categories in the past five years, both with residential and commercial spaces. It can be combined with paint and other types of décor. It's very classy but not overly pretentious in and of itself. However, before you start shopping, understand the difference between natural and faux grasscloth. Natural grasscloth one of the most expensive types of wallpaper because it's hand-woven, in Asia, from real grass. Faux grasscloths are less expensive because they are made from solid vinyl or non woven material. On our website, we have reserved this category for natural grasscloth and you can find the faux grasscloth in the textured design group.
Leaf
Leaf and floral wallpaper are similar. Many times, they are both within the same pattern. Obviously, you can't have leaves without having trees or flowers. The difference of whether a wallpaper falls into the floral or leaf category is this: what is more obvious in the pattern- the leaf or the flower? Leaf prints can however, be used in many different rooms beside the kitchen and dinning room.
Plaid
Plaid is a very classic and masculine pattern. It's used in bedrooms, country clubs, offices and libraries. Plaid wallpaper gives your walls a very serious English feeling. While there are some modern plaid wallpaper patterns, this is known as a very classic pattern.
Scandinavian
It's ironic that an area not known for color is known for producing some of the most wildly colorful prints on the market. Think bohemian + hippie + craziness mixed into one. These patterns can be out there! They are very similar to toile, and in fact, most of them are! Scandinavian wallpaper, produced in Denmark, Sweden and the Netherlands, are bold, colorful, and abstract. They are not for the faint of heart, but for the risk takers and design mavens.
Silk & Satin
If you like the look and touch of pure silk satin, then you will love these wallpapers. They aren't made from real silk but imitate it. The feel is soft, like a smooth and silky gown you could wear to a ball.
Stripe
Stripe isn't as popular as it used to be, but it still has its appeal with its core audience. Many rooms used to be decorated in stripe wallpaper but now it's typical used in rooms with a set theme. Take for instance a blue coastal themed room, with ships and coastal ocean themed décor. What could compliment a room like that more than navy and white stripes? However, like toile, it can overload a room that is not set up for it properly.
Textured
Our textured wallpaper has a beginning but no end. Half of the patterns being made today are textured in some manner. You can very seriously combine this category with every other one on this list. When a wallpaper is "textured," it means its inks are raised or it was printed and created with some sort of 3D texturizing effect. You can run your hand over it and feel it. Some of these wallpapers are very distinctly textured, meaning you can really feel it, and some are only slightly textured, meaning you can barely feel it and it's effect is subtle. The subtlety of the texture will depend on the design. Faux textured linen, for example, can really feel like you are touching a piece of cloth- or only appear as if it is a piece of cloth.
Toile
The best way to describe toile is a design that features a busy scene. Toile wallpaper tells a story, like a couple taking a picnic or an Asian garden. It's very visual and best used in small spaces or it becomes too overwhelming for most people. Used in the right way, it can really make a room come to life- but overused, it can overload the senses.
Traditional
Traditional, or classic, wallpaper is another massive category that can comprise of literally half the designs ever made! It's so huge that we must cut out half the patterns or the page would go on for ages. We tend to reserve traditional designs for patterns you would see in an older, classy looking dining rooms or bedrooms. It can include damask, medallion, stripe, or toile. As stated, this a very general category. A great place to start, but you may want to pick another design group if you want to limit your search for something more specific.
Trellis
Trellis is a subcategory of contemporary and geometric wallpaper. But, unlike all geometric prints, trellis has a distinct look of repeating vertical intersecting lines and weave in and out of one another. It's primarily used in kitchens, dining rooms and recently bathrooms.
Wood
This is also an extremely popular pattern that is meant to imitate all kinds of wood. Some of the wood designs have a very country feel while others, like the Joanna Gaines' ship lap, have a very chic modern feel to them. They make for a great complementary piece to paint. Adding wood wallpaper is a great way to break up the monotony of a single colored wall.