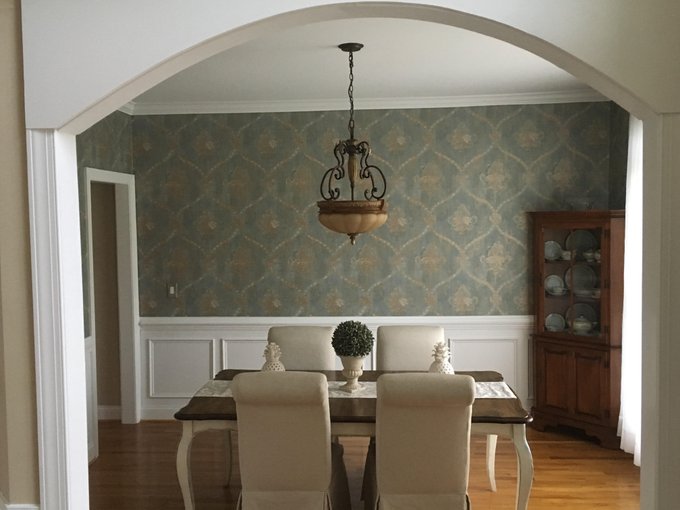 Damask wallpaper is by no means a fad or an old, worn-out tradition that has seen its final days. Quite the opposite, in fact. This design is growing in popularity with a resurgence in Victorian, antique, vintage, and elegantly styled homes.
When done right, damask wallpaper can complement your home and dramatically increase its appeal when the time comes to put it on the market. Prospective buyers love nothing more than a well-appointed home, staged to show off the grandeur, elegance, and possibilities in your dwelling.
History of Damask Designs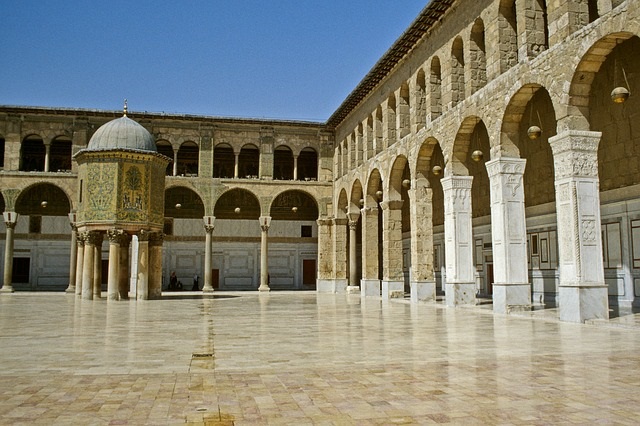 The damask pattern first originated in China in 300 B.C. as a weaving technique used for nobility and royalty. By the early Middle Ages, the damask pattern flourished and earned its name from the city of Damascus, a trading port on the silk road where it grew in popularity. Damask fabric arrived in Europe in the fourteenth century, and its first recorded use was in France.
Damask fabric was originally created by weaving intricate, reversible patterns into fabric. Many designs boast floral motifs, clean lines, and patterns with a sense of rhythm.
These designs became so popular that today, they're used in everything from wall hangings, upholstery, and tablecloths to clothing and wallpaper. Damask wallpaper designs come in a wide variety of sizes, styles, and colors to suit nearly any taste or room size.
How to Choose Your Damask Wallpaper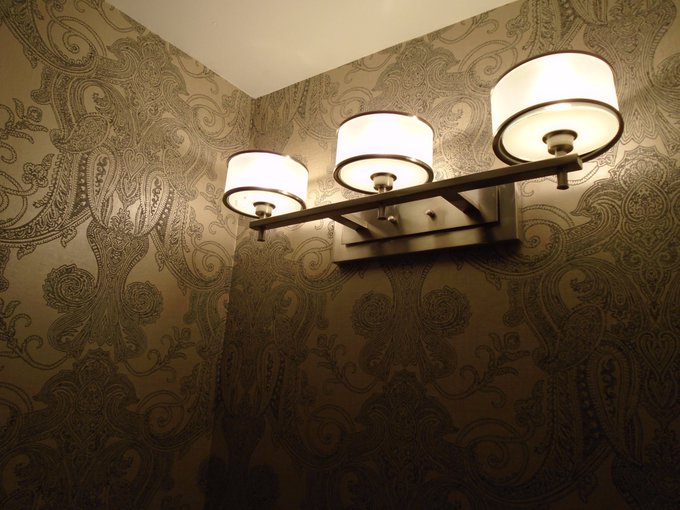 When most people think of damask wallpaper, the visuals of Victorian England, high tea, and Louis XIV of France generally come to mind.
But this beautiful, ornate design shouldn't be solely relegated to homes with crystal chandeliers and period furniture. Believe it or not, damask wallpaper can fit with numerous home styles and complement modern décor.
So how do you choose the right wallpaper without hiring an interior designer? First, let's examine some basic rules.
Room Size, Shape, and Function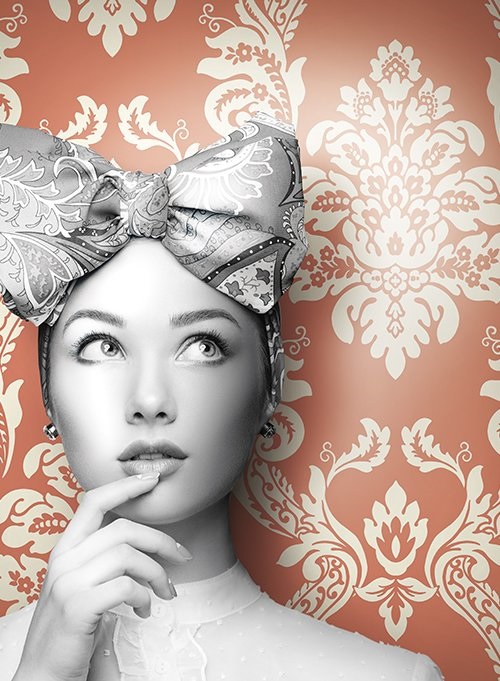 When considering the type of wallpaper for your home, look first at the room or rooms you're considering. Do you have a large room? Small room? Is it a playroom or a dining room? The answers to these questions will greatly determine what type of damask print you choose.
Small Rooms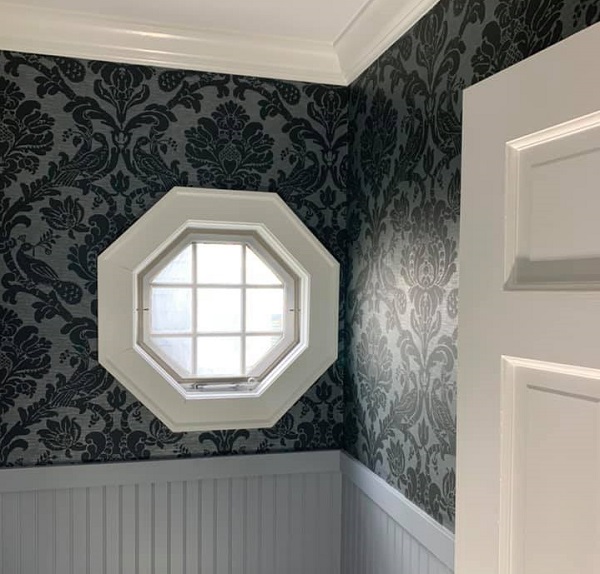 For smaller rooms, choose minimal patterns and lighter colors. Large patterns and dark or vibrant colors can make a small room border on feeling claustrophobic. You don't want your walls to overwhelm the rest of the room. Walls should be a complement, not the focal point.
The exception to this is if you're planning to have an accent wall. When only covering one wall with damask wallpaper, consider the overall look and feel you want to achieve, and choose a pattern that accordingly enhances your room. Accent walls are meant to 'pop,' so larger patterns and stunning colosr would not be out of place.
Large Rooms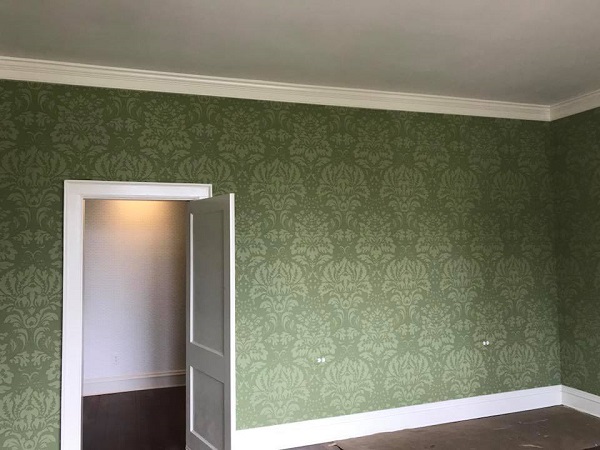 The larger the room, the bigger the pattern and more vibrant the colors you can choose. As opposed to smaller rooms, large spaces can accommodate bolder patterns and vibrant colors. In fact, you want to ensure your pattern isn't too small; otherwise, the design will get washed away and blend together, effectively looking more like paint than wallpaper.
If subtilty is your goal, a medium-size pattern is your best bet in large rooms. Whether you go for a medium or large pattern, choose a color and style that pairs well with existing décor, furniture, and taste. Match your wallpaper to your furniture or you'll be replacing furniture to match the walls.
Kitchens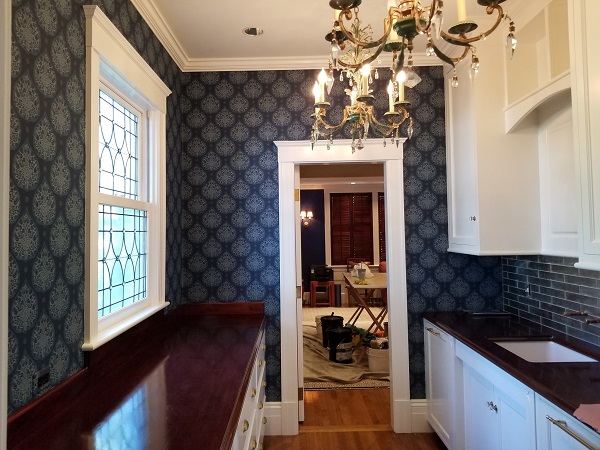 Any room in the house is an excellent candidate for damask wallpaper, and the kitchen is certainly no exception. Kitchens can boast nearly any style from shabby chic to rustic farmhouse, modern to antique and vintage. Wallpaper is a perfect way to carry the theme from the elements you have in your kitchen to create a cohesive look and feel.
When choosing patterns and colors, aim to match colors with the rest of your kitchen, so your walls accent the whole rather than serving as the focal point. Smaller patterns perform well unless you're going for a particularly bold style.
Bathrooms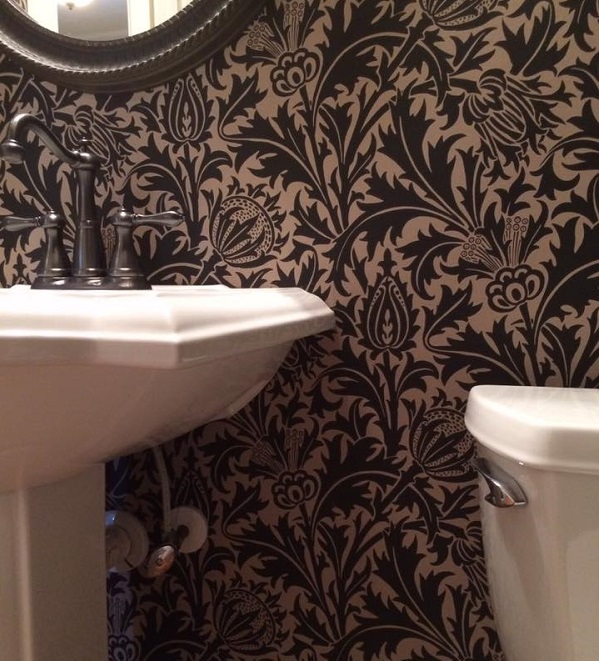 Bathrooms and wallpaper can be a bit tricky if you don't have enough ventilation. Most modern bathrooms don't have this problem, but if you live in a humid climate, you'll want to ensure you have plenty of ventilation to keep your walls looking sharp.
For bathrooms, choose smaller patterns in lighter or neutral shades that complement the overall tone and feel of your décor. This is one room where you don't need (and probably shouldn't have) big, bold patterns and bright colors on your limited wall space. Doing so will make your bathroom feel much smaller than it is.
Bedrooms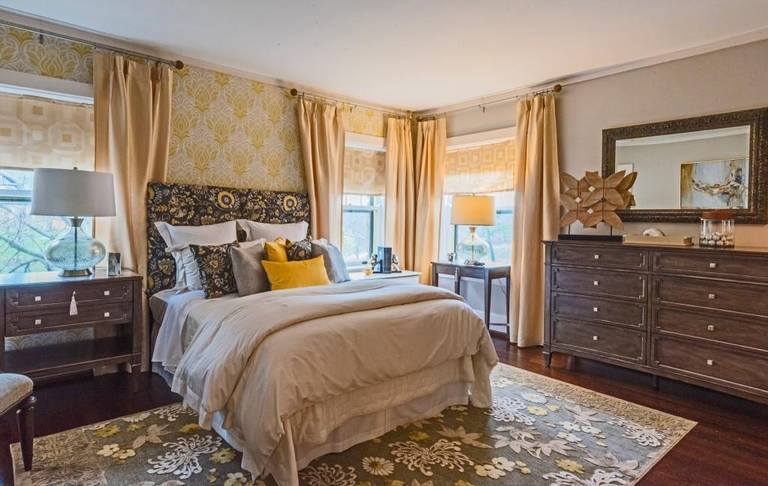 Whether you're looking to wallpaper your master bedroom or a child's playroom, choosing patterns and colors can go in several directions. First, look at the size of the room. In keeping with the general rules for choosing damask wallpaper, the larger the room, the bolder the pattern you can use. Smaller rooms should have smaller patterns on the walls. Nurseries and toddler rooms look best with light colors and small patterns.
Large master bedrooms can afford bolder patterns and distinctive colors. Guest bedrooms should have colors and patterns that cater to a more neutral and peaceful environment, rather than creating a statement. If you have more than one guest room, have fun choosing different styles and "feels" for each.
Living Rooms and Family Rooms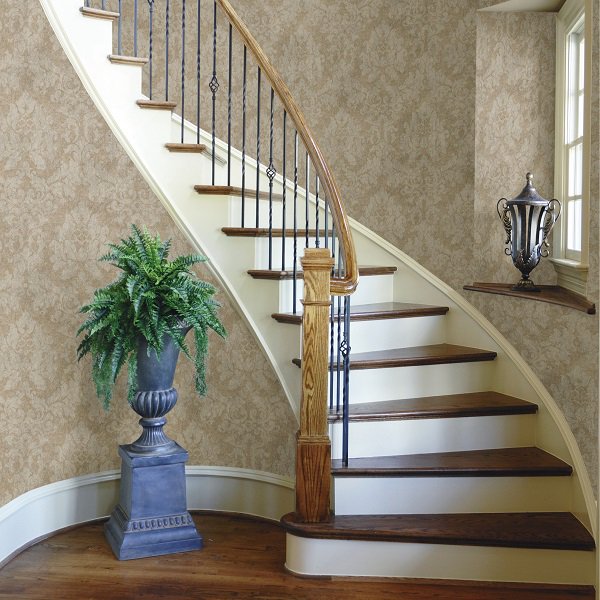 Living rooms and family rooms are perfect places to showcase unique damask patterns. Large living rooms and open floor plans that connect to the kitchen or an entertainment room are ideal for larger, bold designs that help tie in the overall look and feel of your home. Be sure that your pattern and color choices complete your style instead of detracting from it.
Damask Wallpaper Look and Feel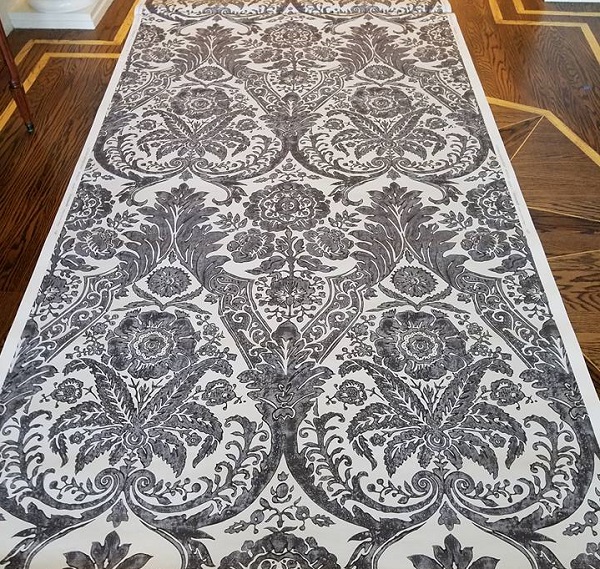 Thanks to the growing popularity of damask designs, you can now find wallpaper in colors and patterns that perfectly suit any room in your home and nearly any period building. Here are several to consider.
Grey Damask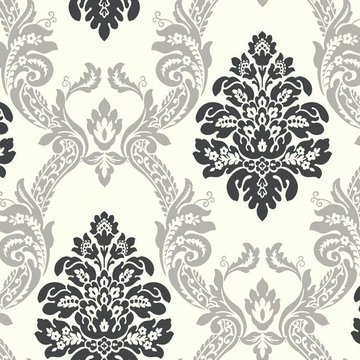 Grey has become the color du jour in many homes ranging from vintage to modern styles. Grey is a highly versatile color that can fit with numerous styles. To create a contemporary feel, choose larger, bolder patterns. Minimal patterns and color contrast are ideal for smaller rooms or those that have a softer look and feel.
Bold Tones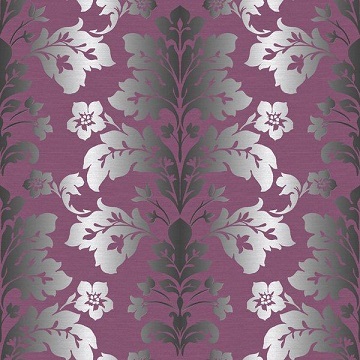 The larger the room, the bolder you can go. Accent walls are also ideal for bright colors and large patterns since they are confined to a specific area. The goal with bold hues and large patterns is to complement existing furniture and large expanses of space.
Metallic Tones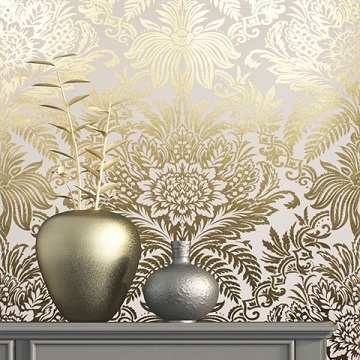 Damask wallpaper with metallic tones or patterns requires space with plenty of light to show off the design. For a classic style, patterns with hints of metallic designs are ideal. If you're going for a more modern feel, choose a glossy design that boasts metallic elements throughout both the pattern and the background.
Patterns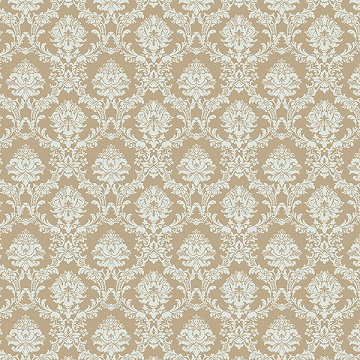 When choosing the pattern for your wallpaper, it's vital to consider the overall look and feel of your room. Beyond that, you can find designs that suit nearly any taste, color scheme, and style. Keep the general guidelines in mind, but have fun, mix and match, and choose patterns that reflect your personality and design sense.