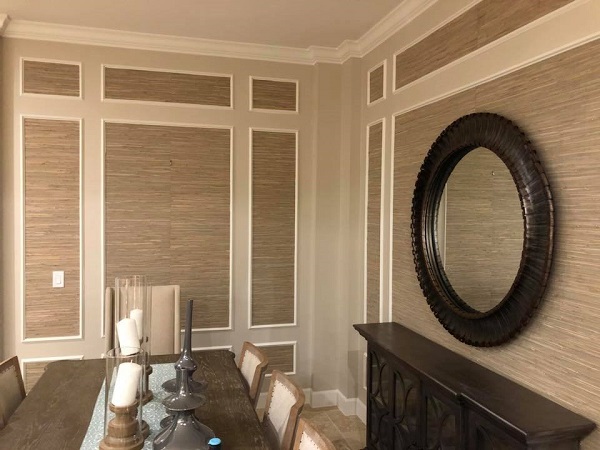 The dining room is your home's showcase. It's the hosting hub, center for your finest furnishings, and the heart of your decorating style. No matter your taste, the dining room exudes elegance.
Whether you love hosting swanky dinner parties or if the dining room is just the place where you eat reheated pizza, new sophisticated wallpaper is the perfect way to elevate the room.
Most dining room decorators prefer a lighter, gentler color palette than for other areas of the house, but stay true to your home's unique style.
Sleek colors are natural in a contemporary home, and dining room decor is no exception.
In your historic home, you may opt for rich jewel tones. Choose delicate florals for country cottages.
Splashy prints or bold colors may be more natural in casual rooms, but if you like to live out loud, we say go for it!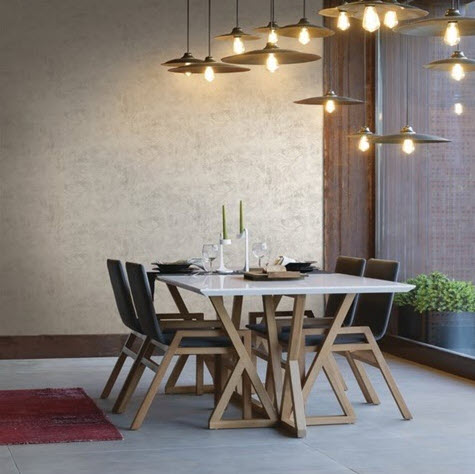 Neutrals in Vogue
"Once again, the trendy neutrals are in the spotlight when it comes to selecting the best design trends in the industry, thanks to its ability and versatility. These soothing colors can easily shine for themselves or even highlights the strongest hues in the Pantone color palette." Essential Home knows that in the dining room, the focus is often the food and the company.
Wallpaper design, however, needn't take a backseat. Neutrals can be found in handsome damasks, scrolls, trellises, or even textures.
The tasteful damask below brings the dining set to the forefront with a sense of intimacy and timeless elegance.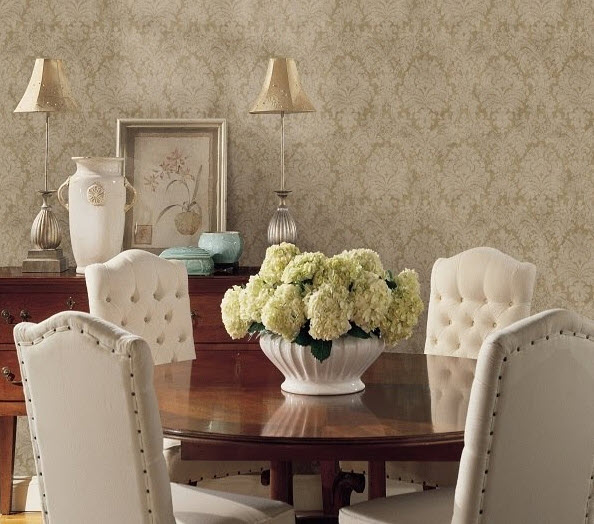 You can't go wrong with neutrals in your home, especially if you wish to showcase intricate dining room furnishings or your beautiful china cabinet.
Textured wallpaper in any room is warm and inviting. This handsome textured wallpaper (left) adds subtle interest and is compatible with almost any decor. For a modern twist, these textured triangles (right).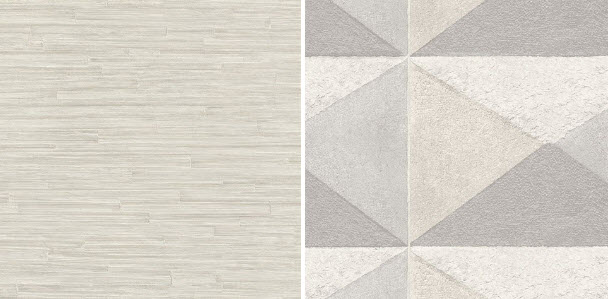 Faux Brick and Stone
We love the look of exposed brick, but it isn't always possible to apply heavy stone to interior walls.
Thankfully, Wallpaper Boulevard carries lightweight faux brick (right), tile, stone, and even marble. This gorgeous dining room features faux stone planks, emphasizing the room's natural beauty and lightness.
Try distressed brick for a modern urban room.
Add raw faux stone above painted wainscoting for a classic old-world look.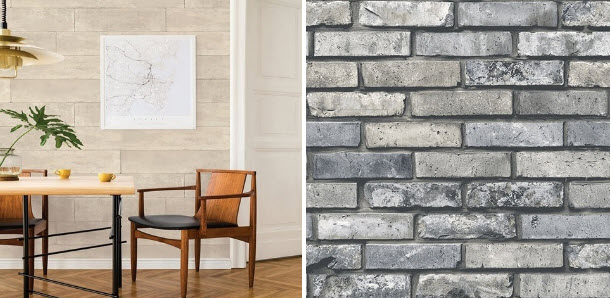 Fashion Forward Florals
Floral and leaf-patterned wallpaper work in every room of the house, and the dining room is no exception. After all, who doesn't love a beautiful bouquet of flowers as a table centerpiece?
Big poppies (left) in a soft palette are sweet and modern. This small-repeat flower and bud print from Rifle Paper Co (right) is so fine, it nearly begs guests to look more closely.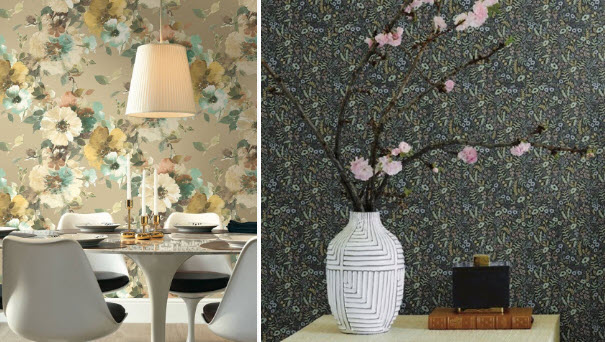 Shimmering Metallics
Are you the sort of decorator who can't resist art? Do you find yourself drawn to intricately carved furniture and fine crystal?
Tonal metallic wallpaper brings your art to the forefront with a glimmer. A rich dining room with dark wood would look incredible with a hint of shine from this pearly scalloped wallpaper.
For a room filled with fragile crystal and glass, try a shimmering neutral damask.
These two wallpapers rely on two-tone metallics to bring out their patterns without distracting from your decor.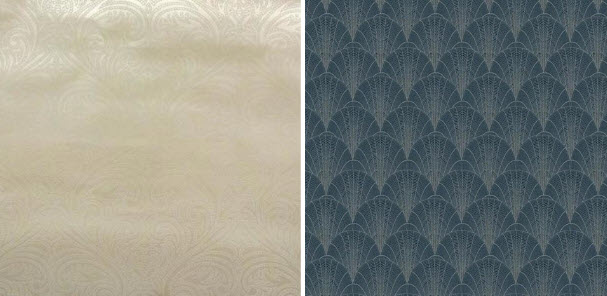 These metallics shine behind bold designs. Use these patterns sparingly or balanced with wainscoting or behind china cabinets in a small room, or immerse your dinner guests in opulence with a fully wallpapered dining room.
This large lattice pattern on the left boasts beadwork -- its thousands of tiny facets catching the light. This matte red damask stands out against a silky and sumptuous gold background.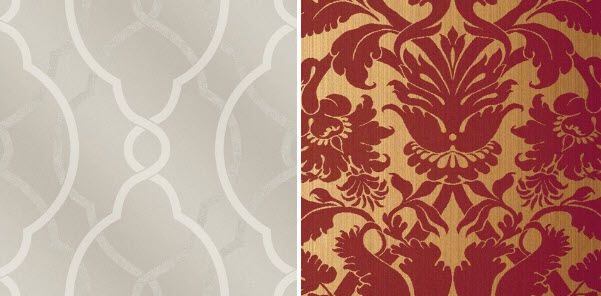 Classic Elegance
Damask patterns have been popular for centuries, and with good reason. It was a favorite pattern of kings and courtiers of old, and was revived in the 18th century. Fashionable aristocrats have favored damask for generations, and the classic pattern persists in today's elegant dining rooms.
Damask patterns vary in their design and intricacy, but no matter the style, this recognizable pattern is synonymous with dignity.
Wallpaper Boulevard's damask patterns range from bold black and white to subtle two-tones, so no matter your stylistic preference, damask is a solid choice for any dining room.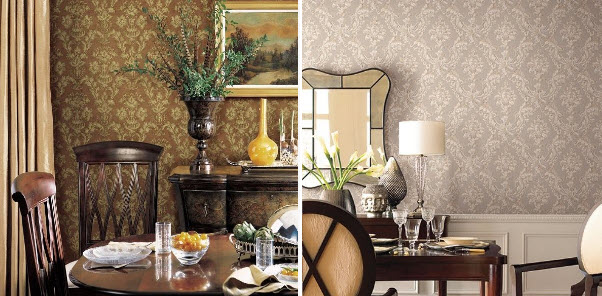 Playing with Shapes
HGTV's Drew and Jonathan Scott say, "strong geometric designs provide a masterful background to show off a well-placed bar cart, or any other refined furniture."
Stripes, geometrics, and bold motifs make a great opportunity to make your finest furnishings shine! This artful dining room pairs sharp herringbone wallpaper with curvy mid-century chairs.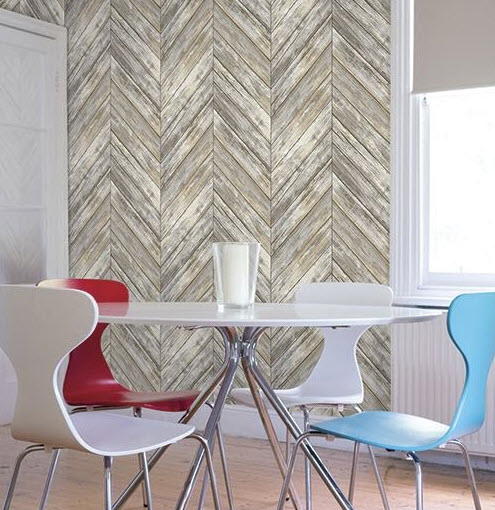 Scandinavian Design
"Scandinavian decor is marked by a focus on clean, simple lines, minimalism, and functionality without sacrificing beauty," according to Essential Home. "Its design concept is all about finding the natural beauty in the simpler details."
Simple details to some may mean unadorned outlines like the classic folk floral on the right, or these tessellated shapes.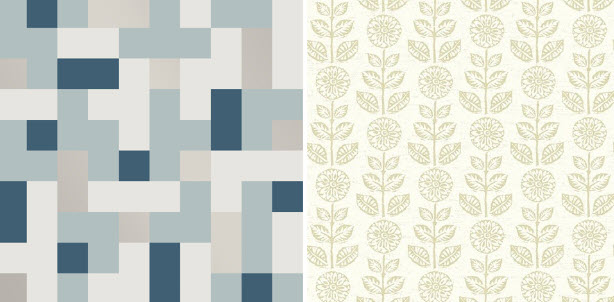 To others, simplicity means exciting scenes and images, but with a muted color palette or reduced detail.
Wallpaper Boulevard's Magisk Oasis paints a dynamic pastoral scene in evocative colors, while Pet Sounds puts a humorous touch on monochromatic musical instruments.
Scandinavian design ranges from gentle neutrals to daring scenes, but always tells a story without frivolity. Choose any Scandinavian design from Wallpaper Boulevard to bring your dining room to life.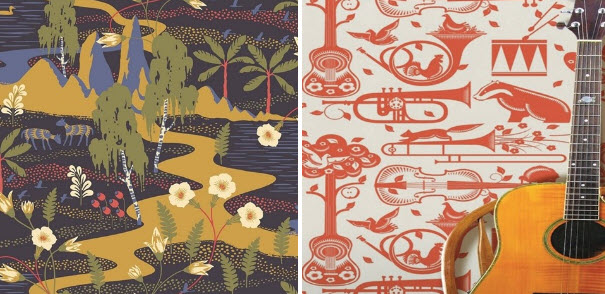 Mix It Up
Can't decide? We get it, there are a lot of options. But you don't need to choose just one design for your dining room. Pairing two coordinating wallpapers may be exactly what your room needs.
Even if your two favorite options are bold, matching colors will make them cooperate. Choose two small-repeat patterns to keep one wall from becoming dominant.
This open-floorplan dining room keeps the eye moving with two shades of blue in very different patterns. The effect is rounded out with sleek, smooth surfaces, and simple decor.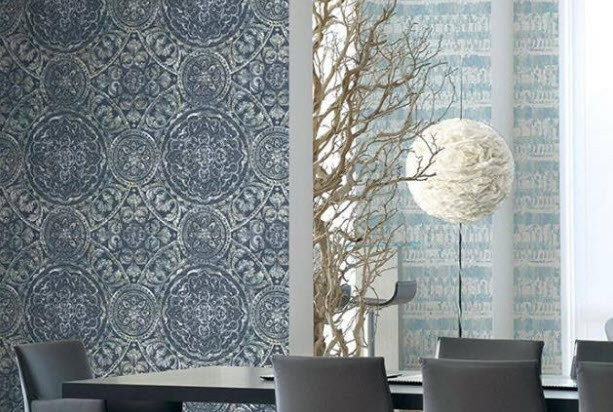 Your Daring Dining Room
If your decorative taste leans toward the bold, you don't need to hold back in the dining room. Choose a brightly-colored wallpaper (or two!) to bring your room to life.
The key is to make each piece strong enough to stand alone, but color-coordinated enough to synchronize.
Solid colored furnishings, smooth textures, and distinct lines make the decor in this orange and blue dining room harmonize beautifully with patterned wallpaper.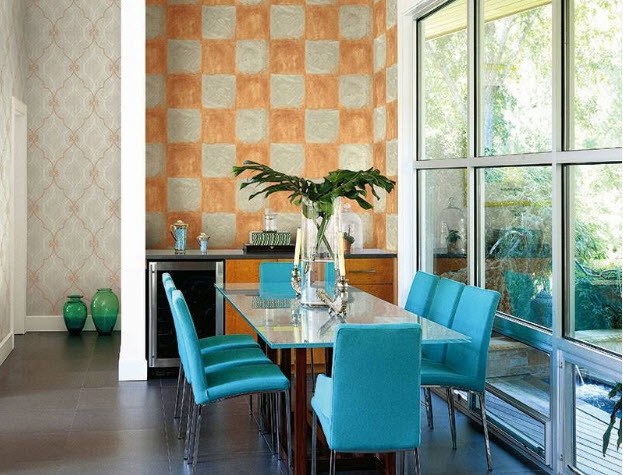 Unique Cork
Looking for a way to add interest without detracting from your home's signature style? Cork's neutral, natural colors and appealing soft texture makes the dining room a haven.
Cork wallpaper is made from the bark of cork oak trees. This natural product is much tougher than it looks -- cork is used on floors, after all -- so it can take some abuse. It's eco-friendly, since it's a natural, renewable product.
Harvesting cork from the cork oak does not hurt the tree. Premium cork wallpaper is paper-thin, but soft and durable. It is great for soundproofing and provides natural insulation.
Fragile and Formal
Laura Fisher Kaiser of This Old House says the lifetime of your wallpaper "...depends on the paper type and how much sunlight, moisture, and wear it gets. Most will last 15 years, but the trend is simple-to-remove papers so that you can update rooms more often."
The dining room endures a low level of wear and tear, so go ahead and choose that specialty paper. Your formal dining room is the perfect way to showcase your favorite wallpapers.
Grasscloth is a natural fiber wallpaper, making each installation truly unique. If you're concerned about pets, children, or clumsy guests bumping into your delicate wallpaper, try hanging grasscloth above some wainscoting paneling. Not only will it extend your wallpaper's life, but it will add visual interest.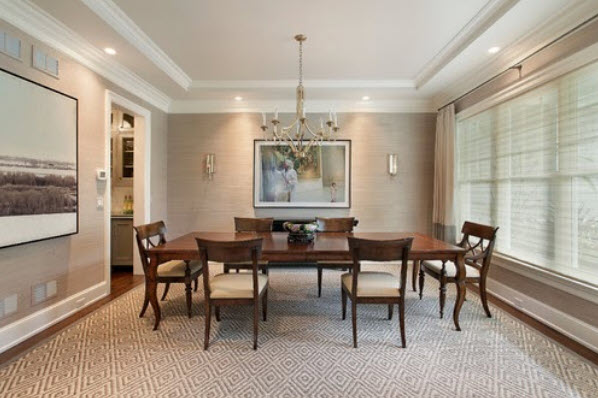 Working with Wainscoting
Does your home have wainscoting already installed? Does it feel like the room already has its design and couldn't handle wallpaper? Think again! Wainscoting makes a handsome frame for any wallpaper you like. A highly-patterned or brightly-colored wallpaper is easily tempered by the wainscoting, and subtle patterns are highlighted.
The formal dining room on the left has a curving lattice pattern despite the square motif in the wainscoting paneling.
On the right, white wainscoting breaks up a colorful wallpaper that would easily overwhelm this living room. Blending shapes while maintaining color coordination adds visual interest to any room, and it really shines in the dining room.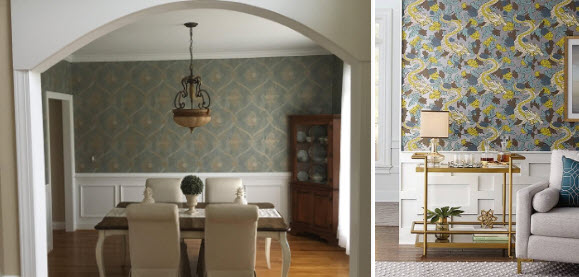 The dining room may not be the most used room in the house, but you can use this to your advantage.
Opt for luxurious specialty wallpapers that would not be possible in higher-traffic areas. Your dining room is the perfect place to explore luxurious decorating options.
A well-chosen wallpaper makes a statement. Even if your dining room is more like a dining corner, a splash of tasteful patterning can brighten up the space, making it the highlight of your home.